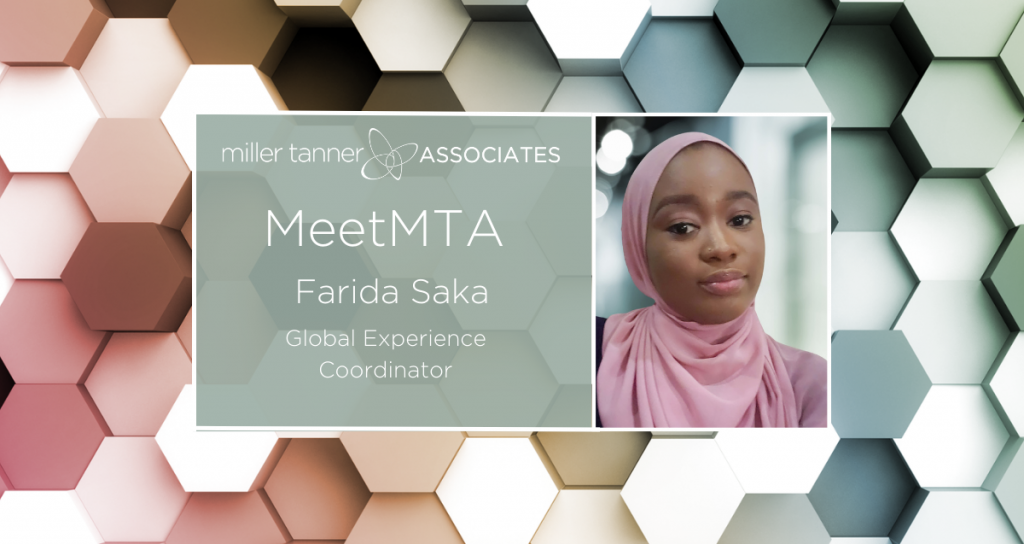 The Miller Tanner Associates' (MTA) difference is our people. That's why we want to introduce you to our team of superstars that brings our corporate meetings and events to life for our customers. Today we introduce you to Global Experience Coordinator Farida Saka. Farida brings her expertise in project coordination to our Global Experiences Team, helping tackle the essential details involved in the event management process.
Meet Farida Saka
Tell us about your current role with MTA?
As a global experience coordinator, I assist our Global Experience Team with projects and administrative tasks. 
What did you do before joining MTA?
Prior to joining MTA, I worked in higher education, specifically in international exchange programs. From the application process to graduation and beyond, I have had the honor and privilege of contributing to the education and cultural exchange of international students during their academic journey in the United States. 
What languages do you speak? I speak English, Yoruba, Hausa, and Korean. 
What's the best part of your job?
The most rewarding aspect of my job is working with a team of exceptionally talented professionals, who not only excel in their work but also share a genuine passion for what they do. The continued support of each other and learning opportunity creates a positive and dynamic work environment. 
Do you have a few great travel tips that you could share?
Yes, I have a few handy tips. First, take advantage of the free hand luggage check-in whenever the airline offers it. It'll make your life easier and more comfortable as you move around the airport. Second, always carry a small backpack or bag with your daily essentials, just in case your checked luggage goes missing or gets delayed. Third, dress in layers because the airplane temperature can be a bit unpredictable. It can be either freezing cold or scorching hot depending on the weather. And here is a pro tip: sign up for TSA Precheck and Global Entry. Trust me, they're total lifesavers. No one likes the hassle of taking out their gadgets at security checkpoints, especially when you have so many of them. These programs will save you a lot of time and frustration. 
What do you do for fun?
I love to explore different cuisines and, in my free time, I enjoy checking out restaurants with food from various countries. I am also a big fan of reading and binge-watching Asian dramas, reality TV, and variety shows. Lately, I've been trying new things and challenging myself to step outside my comfort zone by doing activities such as spending the day exploring my city and playing tennis. 
You are originally from? You currently reside in? What do you enjoy most about living there? Any favorite spots that you would recommend to tourists?
I was born and raised in Nigeria. I currently live in Philadelphia, Pennsylvania. Philly is an amazing city; it is so diverse, and you can always find a piece of home no matter where you go. One of the things I love about Philly is the easy access to various African markets and restaurants. Whenever I'm craving some authentic African meal, I know just where to go. The city offers a fantastic array of cultural food and drinks which makes it easier to hop from one restaurant to another exploring different flavors from around the world. 
What makes Miller Tanner stand out as meeting planning company?
MTA is rocking the event planning game.  They've got all the tricks up their sleeve, from creating their own system to forming great partnerships with clients and vendors.  With each event they tackle, MTA is all about leveling up the experience and making it even better. My favorite part about MTA is the awesome work culture of team spirit and personal growth. MTA has created a work environment where everyone can thrive and develop both as individuals and as a close-knit crew. It's the kind of place where you want to bring out the best in yourself. 
Why do you think that the MTA Workshops are important? What do you get most from this time together?
The MTA workshop is a fantastic opportunity for everyone to gather, connect, and celebrate the milestones of the past year while also gaining insights into what lies ahead. It's a perfect occasion to reflect on our accomplishments and look forward to the exciting prospects of the upcoming year. 
Visit www.millertanner.com to learn more about MTA and our associates. Get to know our associates by following us on Instagram for behind-the-scenes with our team.