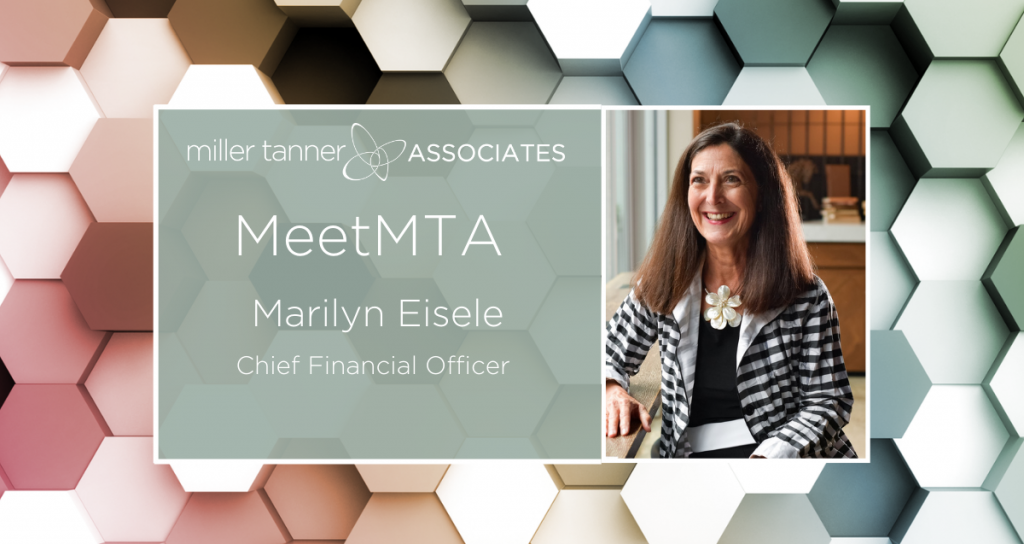 The Miller Tanner Associates' (MTA) difference is our people. That's why we want to introduce you to our team of superstars that brings our corporate meetings and events to life for our clients. Today we introduce you to Chief Financial Officer Marilyn Eisele. Bringing her expansive finance experience from a variety of industries, Marilyn is responsible for MTA's financing, development and execution of business strategies, leadership development, measurable growth and profitability improvement.
Meet CFO Marilyn Eisele
Tell us about your current role with MTA. What are your primary responsibilities?
Working in conjunction with the other members of the Senior Leadership Team (SLT), I help define and amplify the culture of MTA to both direct and inspire individuals and teams. SLT is responsible for articulating purpose, setting a clear and actionable strategy for achieving that purpose, and most importantly, motivating and empowering everyone else in the company to succeed.
My role as the CFO is to lead the company in sound business practices, to improve the effectiveness and efficiency of our day-to-day work, and to establish pricing mechanisms and financial management.
I also contribute to other areas of the company including risk management, treasury, cash management and human resources.
How long have you been with MTA?
I joined MTA in November 2020 as an independent contractor and moved to employee status in April 2021, closing in on two exciting years!
What did you do before joining MTA?
My career has been in finance and operations having served as the president or CFO for a variety of companies. Most recently I was the president of a microbiome products and data company. Prior to that, I served as president and CFO to an organization of companies developing and commercializing innovative neuro-device technologies.
I currently serve on two corporate boards and serve as a governor-appointed board member and chair of the board at Bowling Green State University in Ohio, "a public university for the public good."
What do you feel are the most fulfilling aspects of your job?
Helping MTA maneuver through the pandemic was very rewarding. I like bringing new perspective, ideas, best practices, and learnings from my many years of experience to the forefront to help MTA improve and grow.
I love working with team members to develop their skills, establish career development, and progression plans. Helping others move to the next level is always rewarding.
What are some ways that the Finance Team takes the burden off the client when planning an event?
The Finance Team has accomplished a lot in the past several years in terms of improving rate cards, pricing, contracting, integration of systems, billing portfolios, transparency, and reimbursements while also making these processes more efficient for internal and external users. This brings value to our clients in terms of automation, efficiency, and reducing their lift relative to any engagement and reporting.
What do you do for fun?
I love to travel to awesome places like Iceland (amazing!) and especially enjoy active trips consisting of hiking, golfing, snow skiing, and water sports such as kayaking, paddle boarding and water skiing. My husband and I have been enjoying recent trips to National Parks in Alaska, Utah, New Mexico and California. I do a lot of golfing in Cleveland and Hilton Head Island. And I love to spend time with our adult children in Cleveland, Chicago, and San Diego.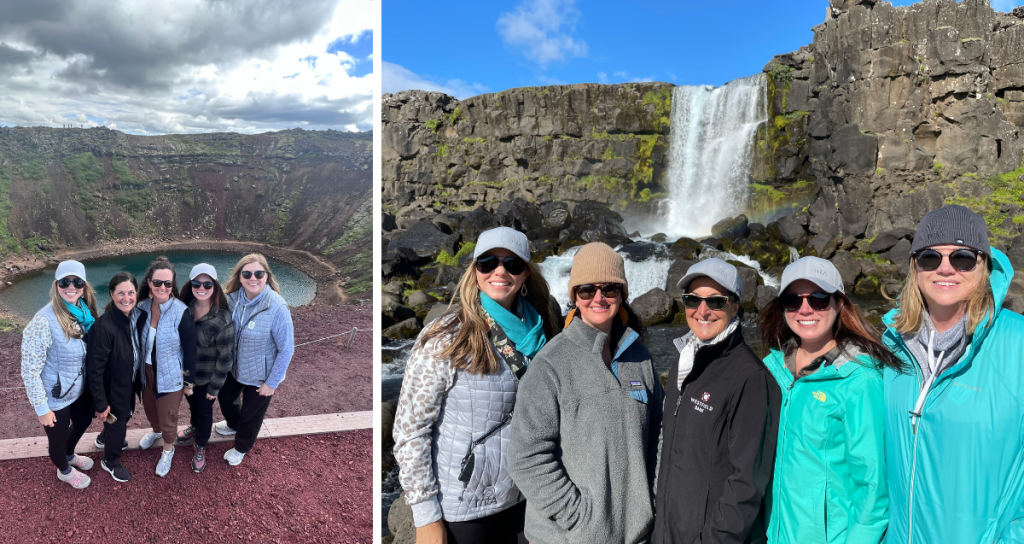 Why do you think that the annual MTA Workshops are important?
Work is a relationship! We must all work on building strong and healthy relationships and Workshops are a primary opportunity to build relationships.
I have now been to two MTA Workshops – 2021 in Boston and 2022 in Iceland. First, it is a wonderful opportunity to meet your co-workers and to collaborate. Establishing relationships is critical for respect, responsiveness, and working together more effectively throughout the year. I love the impromptu conversations that happen on the bus, on the whale watching trip, on a hike, or picking up litter on an Icelandic beach that help us gain perspective of each other's roles and challenges.
What makes Miller Tanner Associates stand out as meeting planning company?
Miller Tanner is very innovative in both planning and delivering events, making all events memorable, and more importantly, contributing to the success of our clients. MTA's proprietary processes and technology (EPIC and Attend) and use of state-of-the art applications are helping systematize our business and improve efficiency and we are continually improving upon these areas.
Where do you live and what do you love most about your state/city?
I split my time between Cleveland, Ohio, Hilton Head Island, and Utah. Being with a remote company sure has its benefits.
I love the good mid-western values and approachability of people in Ohio. It's an amazing and affordable place to raise a family. Some of the highlights of Ohio are Lake Erie (water sports and boating), Put-in-Bay, Cedar Point (one of the top amusement parks in the world), the Pro Football Hall of Fame, and the Rock and Roll Hall of Fame.
Visit www.millertanner.com to learn more about MTA or follow us on Instagram for behind-the-scenes with our team members.