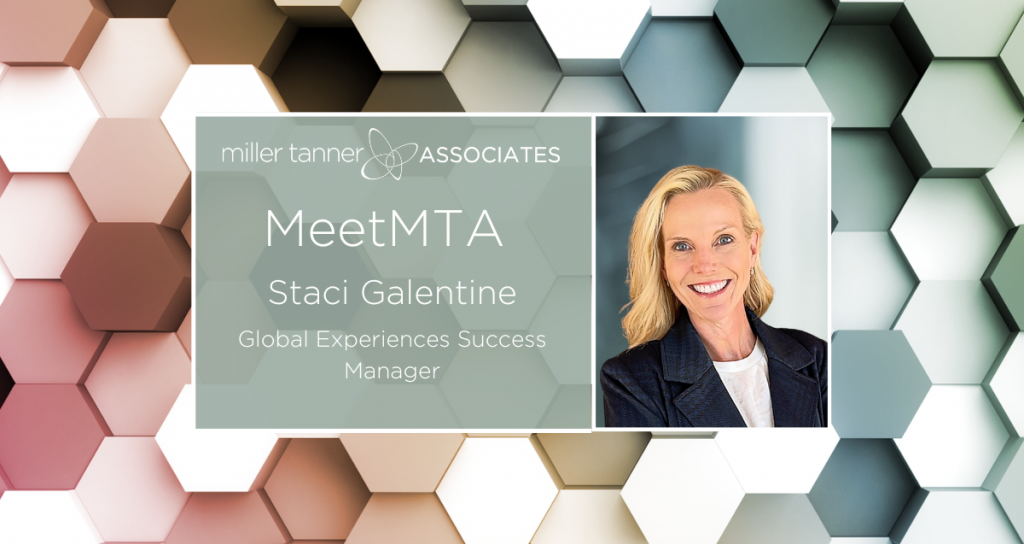 The Miller Tanner Associates' (MTA) difference is our people. That's why we want to introduce you to our team of superstars that brings our corporate meetings and events to life for our customers. Today we introduce you to Global Experiences Success Manager Staci Galentine. Staci's role is to ensure the success of our individual team members through training and development, while also building upon successful MTA partnerships. Her talent for relationship- and partnership-building aligns perfectly with our MTA values.
Meet Staci Galentine
Tell us about your current role with MTA? What are your primary responsibilities?
Part of my role as a success manager is to provide leadership and direction as it pertains to internal experience and success. With that comes process efficiencies and optimization, training, development, and identifying areas of potential pivots in structure. Much of my joy comes from seeing our team grow in their roles and assisting them in their personal journey of career growth. An additional part of my role is focused on our external customer and having the opportunity to participate in partnerships for event planning and execution. It is always rewarding to hear the vision, watch it take shape, and then see it come to fruition.
How long have you been with MTA?
My journey with MTA began in 2015 and has now come full circle as I have the opportunity to be involved in my role in a full scope capacity.
What did you do before joining MTA?
Much of my professional career has been associated with training, development, events and fundraising. My most recent position was the Vice President of Advancement for a private 4-year university. The role entailed similar values and outcomes as MTA. The byproduct of such a role was all about partnerships and relationships – two of my favorite words!
What's the best part of your job?
The best part of my job is working with such talented humans! I am amazed everyday by the curiosity of ideations, the output of productivity, the collaboration of minds, the intentional thought behind every decision, the grace and humanity for one another, and the empowerment of our MTA community as a whole.
What's been your favorite event destination as an event planning professional?
We tend to think that a favorite place needs to be exotic or famous but when I think back on one of my favorite experiences personally but also from a client perspective, Rancho Santa Fe, CA would rank pretty high on the list. There is such an ease with this location, and the landscape has a calming effect with both water and desert elements. This area provided such a vast array of opportunities for venues, activities in the area, night life experiences, restaurants, and simple, pure beauty.
What's been your most memorable event to date and why?
A recent event was in Sydney, Australia. Not only was the location magnificent but I was able to connect with a team that I had not had the opportunity to meet before. Up until the event, all of our interaction had been via video calls and emails. Although we have made virtual interaction a viable option in the recent years for connectivity, there is no replacement for face-to-face human interaction and the ability to build relationships than to be together and network. It was so refreshing to have this time together and create a lasting bond with my new "mates".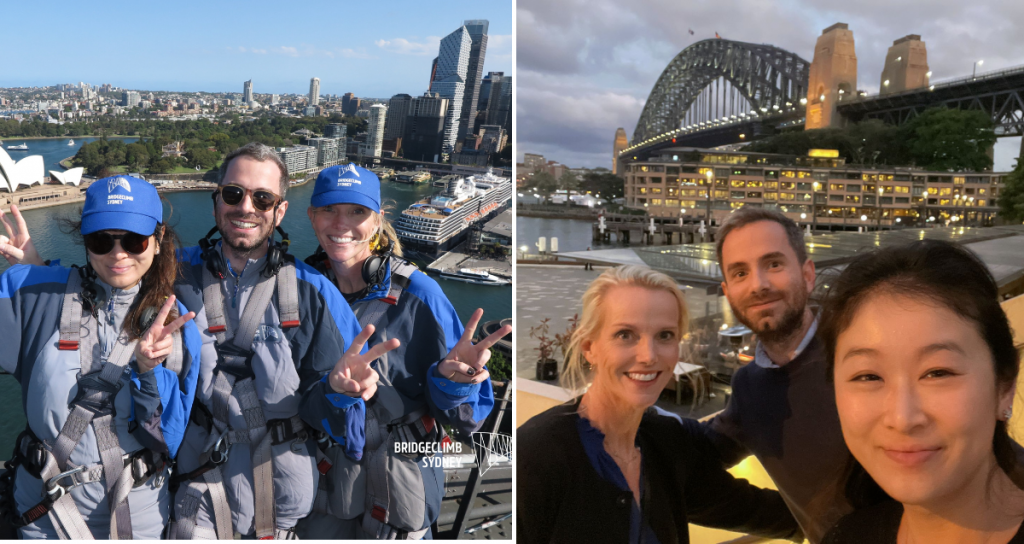 Do you have a few great travel tips that you could share?
Always pack a survival kit to avoid stress and be ready at all times to overcome obstacles that may come your way. Use this kit as your carry-on – it will pay it forward one day!! Include in your kit: Set of business attire should your baggage get lost; extra electronic accessories to include universal plugs; reusable water bottle (the Earth and your body will thank you); healthy snacks; an office supply bag (in case you arrive and supplies are lost); and any other essentials that make your life easier. It sounds easier than it is but stay hydrated, stay on your regular "health" schedule (exercise and meals), make time for your personal agenda to stay organized and on track, and don't forget to be fully present in the moment of a new, wonderful city.
What do you do for fun?
I am the mother of two most amazing boys (a bit biased and proud). My moments and memories are surrounded by them and all of their activities. As a family, we are passionate advocates for several not-for-profit organizations in which we lend our time, energy, and skills to help advance the organizations' missions. Travel always finds a place on our calendars, as exploring new places and meeting new people fills our joy buckets.
You currently reside in? What do you enjoy most about living there?
I am originally from Kentucky but have lived in several other states until landing in Tennessee in 1997. This landscape is some of the most breathtaking I have seen in all of my travels. Tennessee has so much to offer in the hills of the Smokey Mountains, 30 large water reservoirs, beautiful hiking sites, historical venues, city life of museums, theatre, opera, sports and music festivals. Tourists always come to Nashville for the music but are often surprised by everything the city has to offer. I am always drawn to our botanical garden, Cheekwood, the Country Music Hall of Fame, Centennial Park, The Frist Art Museum, Nashville Zoo at Grassmere, Adventure Science Center, Percy Warner Park, and always a visit to Broadway.
What makes Miller Tanner stand out as meeting planning company? What's your favorite aspect about MTA?
MTA has dedicated its focus on being the liaison between a concept and a final product. What this liaison role entails is the personalization layered into every meeting that we plan. No two meetings are exactly alike, no two clients are exactly alike; therefore, strategic thought, intuition and creativity must be present at every turn to produce the outcome for each individual customer and unique event. MTA has set the standard with this personal touch.
Why do you think that the MTA Workshops are important? What do you get most from this time together?
Being able to connect on such a large scale with the individuals you spend so many hours with virtually is such a gift. Having dedicated time to connect and grow as a team is such an investment in not only MTA as a global company but in every member of the MTA team.
Visit www.millertanner.com to learn more about MTA and our associates. Get to know our associates by following us on Instagram for behind-the-scenes with our team.