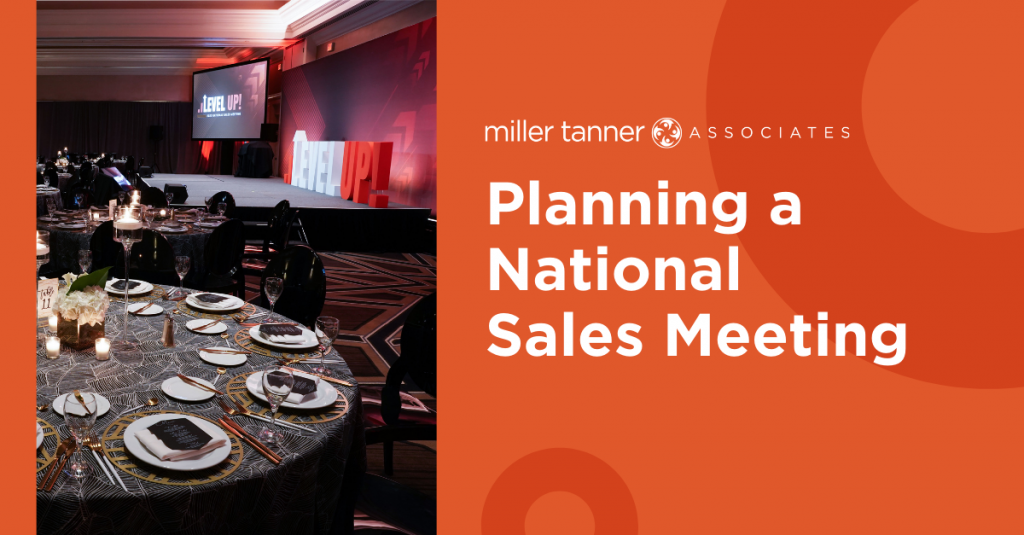 Planning a National Sales Meeting
In this event-planning playbook, we're going to break down everything you need to know about planning successful national sales meetings. As you read, you'll learn:
Key steps in the planning process for a national sales meeting
How to prepare for both in-person and virtual sales meetings
How the right team of professionals can streamline planning and elevate the overall event experience.
When it comes to corporate event planning, few occasions are as important – and as rewarding – as national sales meetings. With the potential to serve as a catalyst for employee collaboration and motivation, these meetings play a starring role in the story of a company's future success.
For sales leaders, communicating and connecting with teams that are usually scattered across the nation is a valuable opportunity. Ideally, your national sales meeting should be a time to:
Share individual, team, and company successes
Demonstrate how each team has contributed to organizational sales goals
Outline priorities and plans for the upcoming year
Establish sales objectives for teams to support effective planning for quarterly workloads
Communicate expectations clearly
Foster collaboration among teams and the sales staff as a whole
Build excitement and boost morale
Encourage a positive, motivating approach to upcoming goals and tasks
Are you feeling a little overwhelmed by that list of event goals? Don't be – with smart planning strategies and the right support, you can get ready for a national sales meeting that will check all the right boxes.
How to Plan a National Sales Meeting
National sales team meetings are different from any other type of event, but your approach to the planning process will be virtually identical: organized, purposeful, and well-informed. The details might vary somewhat, depending on your company's specific goals and needs, but best practices for event planning remain the same.
Let's go over the most important steps to take when planning for a national sales meeting so you have an easy-to-follow route to a fantastic event.
Start planning early
If there's one point we can never stress enough, it's that you need to give yourself plenty of time to pull off the best-possible national sales meeting. The planning process should begin at least six to eight months before the event date. And if you want to get started even earlier than that, then you'll really be ahead of the game.
In fact, at Miller Tanner Associates, it's not unusual for us to hear from clients just a few days after they wrap up a national sales meeting. They're still flying high from the success of their meeting and are ready to jump right into planning the next one.
There are so many key details to consider, from your sales meeting theme and the agenda to location and vendor selection, and the last thing you want is to end up in a time crunch at the end. For an event of this caliber, even seemingly minute details can have a big impact – so why put yourself under the added pressure of a too-quickly ticking clock?
Identify the objectives of the meeting
Figuring out the purpose of your national sales meeting might seem like a no-brainer. After all, isn't the entire point to highlight the big wins from the past year? While it's true that the basic goal of a national sales meeting is to communicate higher-level content to the entire team, like a detailed summary of sales successes, there should be something more. Once you pinpoint clear objectives for the event, you're much better equipped to move forward with planning the annual sales meeting agenda.
Here's an example of this concept in action: say your company aims to increase sales by 15% by the end of the year. So, the meeting objective might focus on helping sales employees determine what they will need to do to help achieve this goal. Setting weekly, monthly, and/or quarterly benchmarks, as well as individual, measurable goals for each employee, are tasks that will naturally make sense for your agenda.
Choose a fun and creative sales meeting theme
The best national sales meeting themes can do it all: celebrate, motivate, educate, and inspire your team. Ideally, the theme of a national sales meeting hits the sweet spot between creative and purposeful, connecting to the overarching objectives while bringing in an element of fun.
As you plan a theme for your annual sales meeting, you might have a basic idea of the direction you want to go. For example, maybe you want to focus on building growth-oriented mindsets, or perhaps you're zeroing in on team building and collective success. We'll help you translate your sales meeting theme ideas into a fully fleshed-out event that goes above and beyond to create an immersive experience for attendees.
Partner with a professional corporate event planning team
By this point, you've likely realized that planning your company's annual sales meeting is essentially a full-time job. There's no doubt that there are a lot of moving parts to consider – and plenty of pressure to succeed – which is why a significant number of companies opt to turn to professionals for help.
Miller Tanner Associates has planned thousands of events for a diverse range of clients, including a wide variety of national sales meetings. We understand exactly how important this event is to your company's growth and success, which is why we are so dedicated to giving our clients the advantage of our expertise, resources, and manpower. Our talented and imaginative team knows how to bring creative and unique event ideas to life, setting your team up for an exceptional event experience from start to finish.
Let us handle the planning and execution of your annual sales meeting, so you can focus on being present and connecting with your team in memorable, meaningful ways. Here are just some of the services we can provide:
Event design and implementation, including themes
Project management
Operations/logistics
Travel, hotel, supplier, and transportation management
Risk management
Entertainment, video production, and presentations
Transportation
Site preparation
On-site event management
Budget and financials
Planning a Virtual National Sales Meeting
If you need to take your next sales meeting virtual, there are definitely some special considerations to keep in mind. Engagement becomes even more important while simultaneously becoming much more challenging.
The basic planning steps for a virtual meeting and face-to-face event are essentially the same. However, it becomes critical that you work with a planning professional with experience in large-scale virtual events. Miller Tanner Associates' virtual event planning experts will show you how to make technology your ally and help you deliver a first-rate experience in a virtual (or hybrid) setting.
Learn how our team recently helped make a virtual national sales meeting a winning success:
Make Your Next National Sales Meeting a Success with Miller Tanner Associates
Your annual sales meeting isn't just about delivering information and facilitating training – it's your company's chance to inspire your salesforce, refine their skills, and unite them in the pursuit of success. And at Miller Tanner Associates, we have a skilled and experienced team that will help you do it all.
Learn more about how we can help you host your company's best-ever national sales meeting when you connect with our team today!
---

Latest posts by Marnie Miller Battistini
(see all)