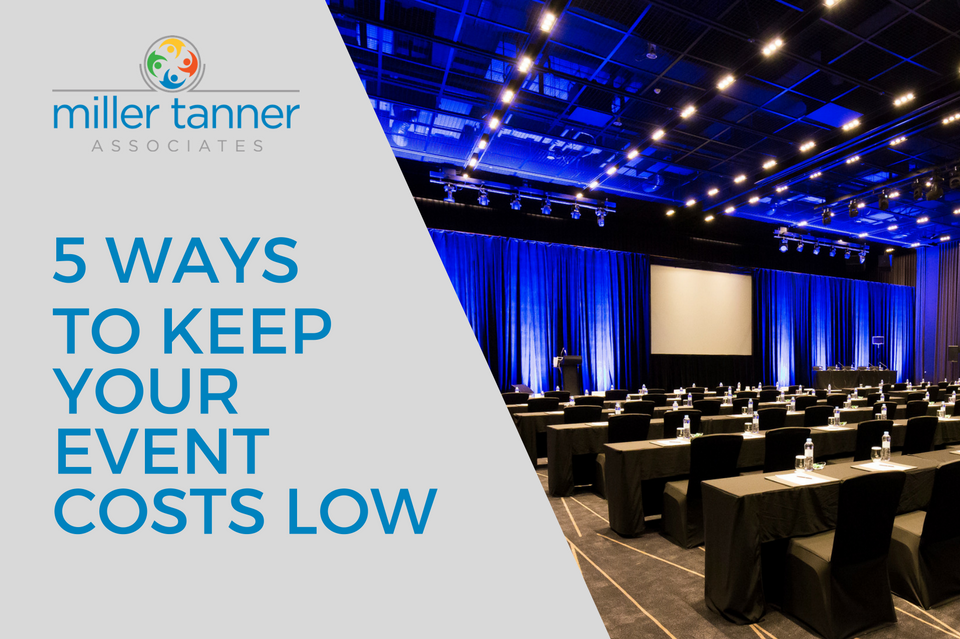 Do you want to keep event costs low while providing a flawless, top-notch event for your attendees? Then hiring a meeting and event planning company is a must.
At Miller Tanner cost savings and cost avoidances are a way of life and the constant goal for all our departments. In fact, in 2015 we were able to save our clients a combined $750K.
Cost savings isn't just a purchasing or finance activity, but it extends to our operations and media teams as well. Each and every day Miller Tanner strives to be the best steward of our clients' funds while providing a great event.
1. Location
In the initial planning process, we can provide guidance to not only choose the best location option but also one that fits the needs of the event within the budget constraints. Our staff has extensive experience with many locations and can utilize knowledge from previous events to provide cost savings for this and any future events in that area.
2. Vendor Management and Price Negotiation
We provide ongoing vendor management and price negotiations.  This applies not only to the hotel costs but also to the media costs, ground transportation costs, and collateral.
Our vendor relationships provide a foundation for outstanding price negotiations; often times the volume of our business provides opportunities that are not always afforded the general public.
We have ongoing relationships and volume pricing with several vendors that help to benefit the pricing and discounts passed along to our clients. For example, we have a great relationship with one of our ground transportation vendors such that they provide discounted pricing for each event where we are able to utilize their services, and pass that discounted pricing onto our clients.
Our Project Development Department is on the front lines always negotiating with the hotels for the best room rates, the best food and beverage pricing, upgrades on services, and discounts on meeting rooms. The rest of the Miller Tanner teams work hard to manage each event's budget to ensure each client's dollar goes farther.
3. On-Site Management
Our on-site staff has many roles during an event and taking care of our clients is a top priority. The on-site team always monitors the services negotiated versus the services being provided and keeps a watchful eye on costs during the event at or below the negotiated rates provided.
For example, in the planning process, each meal is carefully planned and, in the course of the actual event, our on-site staff is monitoring that all the food and beverage that was requested is delivered upon and provided in an expected manner.  Our on-site time ensures that the planned meals and services are delivered upon and we can also utilize that on-site knowledge in reviewing the final invoicing.
4. Final Invoicing Review
After the event has been completed, our Miller Tanner staff carefully review and check all vendor invoices to ensure the proper pricing and discounts that were negotiated are included in the final invoices and also ensure there are not any unnecessary or excessive costs included in the final billings.
Each year, Miller Tanner provides annual reports to our clients that include their total event spend and key metrics along with their cost savings per event so as to continue and even improve upon those cost-savings measures in the future.
5. Virtual and Hybrid Meeting Options
In addition to all our cost savings measures for face-to-face events, Miller Tanner has provided significant cost savings to our clients through virtual and hybrid meetings.
At times, the virtual or hybrid meeting formats have proved to be a great solution for emergency circumstances, such as medical emergency breakouts, but also these options are a great cost savings solution from the very outset of planning the event.
Our Miller Tanner staff has an outstanding ability to be flexible and problem solves on behalf of our clients. If circumstances require a change to the meeting date or venue or attendees, our MTA team comes together to propose options such as a virtual or hybrid attendance or to tap into our vendor relationships to negotiate all or a portion of the cancellation on behalf of the client.
In August 2015, we had such a circumstance arise. One of our clients had a meeting scheduled in Seoul, Korea. In late June, the MERS epidemic peaked and both the site attendees and the corporate attendees were reluctant to attend due to the uncertainty surrounding the epidemic.
The client requested a cancellation of the meeting. Miller Tanner quickly mobilized to offer a hybrid solution that enabled the team to still proceed with the meeting, but allowed for the comfort and safety of the attendees.
Utilizing our vendor relationships, we were able to negotiate with the hotel in Seoul and receive a 100% refund and void the original hotel contract.  The Asia-Pacific meeting was relocated to Hong Kong as the main meeting site with a new round of hotel negotiations, invitations, and meeting/travel planning.
We then secured additional space at a new hotel location in Seoul for a small satellite meeting. Throughout the day, the meeting in Hong Kong was a webcast to the meeting in Seoul.

Latest posts by Jennifer Sweeney
(see all)