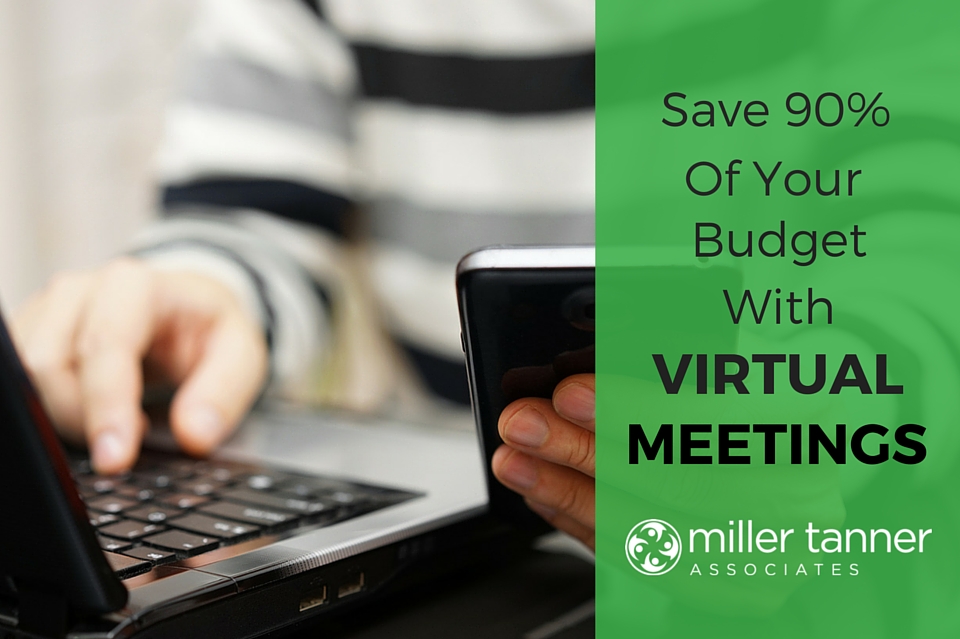 There's no doubt about it: Going virtual can drastically cut your meeting costs.
At Miller Tanner, virtual meetings save our clients approximately 90% of the training budget associated with face-to-face meetings by eliminating logistics related to venues, travel, hotels, food & beverages, etc.
Virtual meetings can save companies in other ways too.
For example, one of the intangible benefits of virtual meetings is health maintenance—either through decreased stress levels associated with travel or decreased exposure to "new germs" while traveling.
Studies show that decreased stress levels typically can have a positive impact on performance in the workplace.
On top of those factors, there are times we're able to save clients even more time and money with virtual meetings because of our thoughtful approach.
How We Helped a Client Save Money by Reducing the Number of Virtual Meetings
Recently, we had a client requesting 10 virtual meetings. They wanted to train staff internationally by setting up a two-part meeting and hosting it five times based on the time zones they were trying to cover.
Attendance was limited to a small number. Since time-zone overlap was possible in this case, we convinced the client to compress the options for the limited number of attendees to deliver fewer meetings.
This solution offered the following benefits:
Increased engagement/information sharing for attendees
Consistency in presentation of meeting materials
Decrease in required follow-up
As a result of this solution, we provided attendees a better virtual meeting experience AND saved the client time and money in the process.
5 Answers to Commonly Asked Questions About Virtual Meetings
Interested in learning more about how virtual meetings can work for your team? Here are some answers to questions we get regularly from clients…
1. Is virtual training as effective as in-person training?
Yes. Virtual training can be as effective as face-to-face training. The same messages can be presented and it allows for interaction with the presenter and colleagues.
During virtual meetings, you can share live demonstrations and training tools just as you would with a face-to-face meeting.
Groups also tend to be smaller (though not always) and in smaller sessions, people are more likely to interact because they feel less vulnerable. So in that way, they can be even more effective.
2. Can virtual meetings completely replace face-to-face meetings?
In theory, they could, but the fact is many people prefer personalized face-to-face interaction. As humans, we value that physical connection so face-to-face will always be a better choice for certain types of meetings.
But there is a convenient in-between: face-to-face meetings paired with virtual meeting services or "Hybrid" meetings are the way the future!
Hybrid meetings allow for face-to-face attendance, but if that's not possible for either presenters or attendees then those individuals can be brought in virtually.
This type of scenario allows for unlimited flexibility. It supports and even increases message consistency for all in attendance.
Taking it one step further, if you pair a Hybrid meeting with our proprietary tool, VALTs you have a solution that is incomparable—providing your messaging/training for today and future use.
3. Why haven't more companies embraced virtual meetings?
The biggest reason companies don't try virtual meetings is the fear of technology—even though technology drives our daily lives.
Sometimes companies just don't grasp how the process works. But, at Miller Tanner, it's the same type of service we provide for face-to-face meetings just without all the headaches of travel logistics.
Companies also express concerns about operating the technology and getting all presenters in the same location. But the technology can be easily learned, and presenters (and attendees) can be scattered all over the world.
Lastly, there are concerns about limited interaction, but with virtual events, you can include a lot of interaction and engagement with the right tools. Presenters can provide polling questions during the presentation to assess messaging on the spot. Attendees can "raise a hand" to ask a question about the materials being presented. Written materials also can be downloaded and shared directly with all involved in the meeting.
4. Are there certain types of training that work best for virtual?
In our experience, virtual meetings are better for smaller, shorter meetings.
While we can host hundreds of participants at a time for long periods, it's very taxing for attendees to sit at their computers for extended periods of time while still remaining engaged and attentive to the meeting.
Virtual meetings lend themselves best to:
Urgent required updates
Widespread global attendance requirements with smaller budgets
Compressed agendas
Training amendments/refresher courses on anything
5. How effective is virtual training? How do you measure the effectiveness?
Virtual trainings are very effective because the message is live from the Subject Matter Expert. With in-session polling in real-time, the presenter can gauge if the delivery is hitting the targeted message with the audience.
As virtual meetings become more common, attendees are getting more accustomed to using these training tools. From our perspective, it is fun to watch our clients when they start to see the interaction they are getting from the audience.
That interaction can continue right through to staff turnover using on-demand training.
For example, our on-demand training system has a question-and-answer feature that lets the viewer ask questions of the actual presenter. The response to the question can then be emailed directly to the asker.
Ready to take your next training meeting virtual? Let Miller Tanner guide you through the process!

Latest posts by Marnie Miller Battistini
(see all)