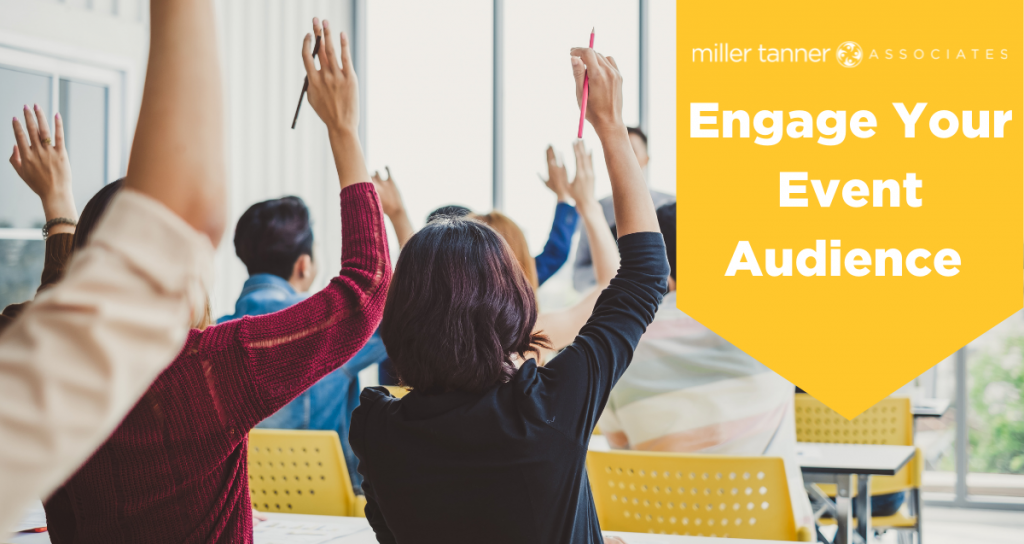 No matter what type of event you're planning, we're willing to bet that audience engagement is one of your top priorities – and, more than likely, one of your biggest challenges.
These days, event organizers are facing serious competition when it comes to holding the attention of their audiences. In a world in which distractions are always within reach (literally and figuratively!), figuring out how to engage an audience has become as essential as it is challenging.
But with a few tips and a solid variety of audience participation ideas and tools, you can pull off an engaging event that exceeds expectations. And even better, you can do it all easier than ever before, thanks to the impressive innovations and advanced technologies that change the way we think about events.
Pre-Event Engagement
Planning an engaging event is something that starts long before the day of, and the right approach can set the stage for what's to come.
Personal Devices for Flexible, Convenient Use
Just a few years ago, it seemed like ARS (Audience Response Systems) would be the future of interactive events. But now, it's become clear that ARS is out, and using personal devices is in – and they're here to stay. By delivering pre-event content via attendees' personal devices (such as iPhones), you're making the event incredibly accessible even before it kicks off. We take our smart devices everywhere, so you can be confident that your attendees will never be far from your event's virtual platform.
A Social Wall to Encourage Connection
If you want your audience to be interested in what you have to say, you'll need to show them that you care about who they are, what their preferences are, and their overall event experience. Don't simply treat them as a guest list; instead, offer opportunities to build personal connections.
Using a virtual "social wall," you can professionally incorporate a "human" element. The social aspect allows people to connect before the meeting, allowing each guest to represent themselves and get to know their fellow audience members.
During the Event
On the big day, event engagement ideas are just as important – here are some of our favorites.
Get Strategic with the Agenda, Format, and Event Design
Whether you're working with a face-to-face, virtual, or hybrid event, improving engagement requires you to think seriously about the event's agenda, format, and design. Everything from the room set-up to the guest speakers can either contribute to or detract from audience interest levels.
For example, consider:
How can the audience experience better dialogue with guest speakers? (e.g., a "fireside chat" vs. a solo presentation)
What can you do to open the door to increased communication during a presentation by a panel of experts?
How is your organization's leadership team demonstrating involvement in driving engagement?
Can you incorporate virtual/augmented reality for a tech-savvy, interesting twist?
Post-Event Engagement
Once everything wraps up, you can keep the engagement going with these easy tips.
Send a Thank You and Follow Up with a Survey
You might be surprised at just how far a little appreciation can go, especially when it comes to encouraging audience participation. But it makes sense: an audience that feels valued is far more likely to be interested in current and future events. Make sure to send a thank you of some sort; digital thank you cards can be a convenient option.
Also, don't forget to send an audience survey to learn more about what worked and what didn't. Not only is it a great opportunity to gather valuable information, but it is yet another way to demonstrate your respect for and appreciation of your audience.
Remember: Above All, Quality Content Reigns Supreme
No matter how many ideas for engaging events we offer, none can compare to high-quality content. Although new technology and industry buzzwords can be exciting, even the most advanced innovations can't make up for poorly-planned content.
Make sure you allow your organization ample time to create excellent content, tailoring it to serve your audience's needs and event goals alike. And of course, never underestimate the value of professional help – working with an event organizer and manager could be the key to unlocking your best event ever.
Learn How to Plan an Engaging Event with Help from the Experts
At Miller Tanner Associates, we've made it our business to perfect the art of planning and executing an engaging event experience. From small, in-person meetings with a guest list of less than a dozen to large, hybrid gatherings of several thousand, our team understands exactly how to engage an audience – and what to do once we've secured their attention.
You don't necessarily need to work overtime on learning how to become an engagement/event expert because we've already done that.
We'd love to talk more about how you can elevate your next event with audience engagement ideas that work and ways to engage an audience before, during, and after the event: contact us today!