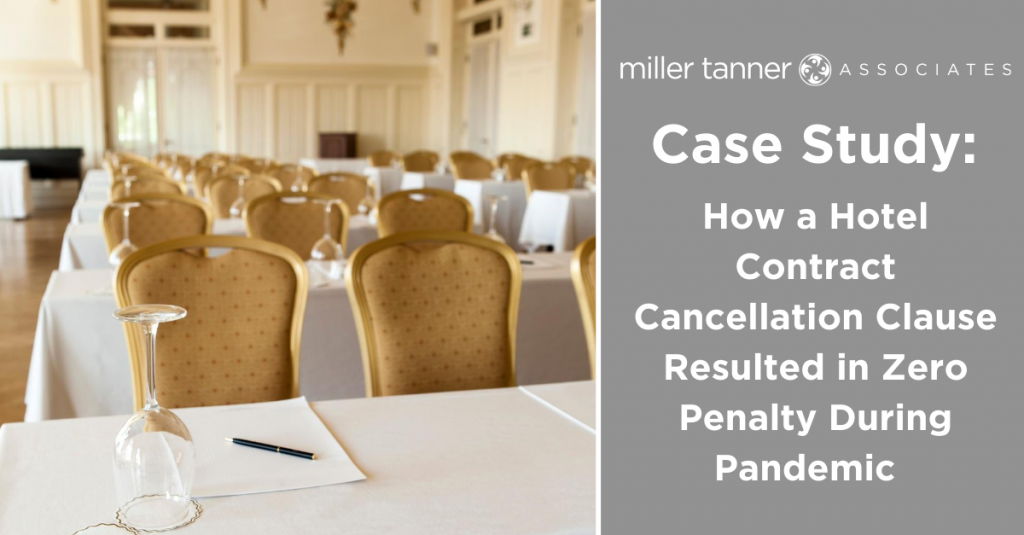 The Event
Multiple face-to-face events with meeting attendance directly threatened by a public health crisis, COVID-19 between February 2020 through June 2020
The Challenge
Given our previous experience with global outbreaks and public health crises including SARS (2002), Swine Flu (2009), MERS (2013) Ebola (2014) and Zika (2015), Miller Tanner Associates (MTA) knew that it was likely meeting attendees would be reluctant to attend face-to-face events with so many looming unknowns related to the meeting's safety, travel, and accommodations. In these instances, travel could be prohibited for in-person attendees without advanced notices. Based on our extensive industry knowledge, we had historically included hotel contract clauses to address these emergency epidemic/pandemic situations among others. Typically, generic clauses are offered by venues; however, those are not always in the best interest of our clients who might need to proceed with the meeting on the same timeline, but in a different format.
Expanding upon our prior global experiences, in early January 2020, the Miller Tanner Associates' Global Experience Team discussed the growing uncertainty and concerns over the COVID-19 outbreak that was happening in China and how it could impact upcoming Asia Pacific meetings as well as other global regions worldwide.
The Solution
MTA includes several clauses in all venue contracts that protect our clients in situations of emergency, terrorist attacks and other scenarios that would impact the full or partial audience attendance. We evaluate our contract clauses often to ensure that we have measures in place to protect our clients from situations outside of the norm.
Taking a proactive approach and utilizing our strong hotel partner relationships, we implemented a cancellation clause for all our hotel/venue contracts in reference to COVID-19 specifically. The COVID-19 clause allowed MTA 100% cancellation in case there was a need to cancel any event impacted by the pandemic with no obligation to rebook at a future date – allowing those events to move forward on their own time and in their preferred way.
As a result, we secured 100% forgiveness of payment obligation for scheduled events that were canceled due to the coronavirus between February 28 – June 2020. This enabled our clients to avoid cancellation costs associated with their events during this timeframe and allowed for the future rescheduling of their events without penalty. We value our venue partnerships, especially during these uncertain times, and appreciate all who worked with us to put our clients' and customers' best interests first.