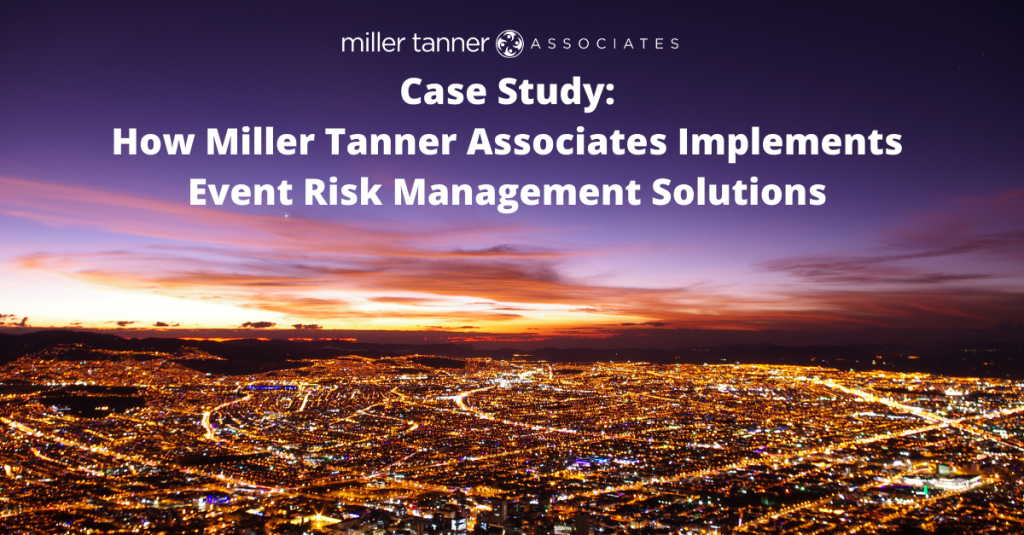 Challenges
Our client, a pharmaceutical company, needed to host a one-day, face-to-face advisory board meeting for 17 attendees in the region of Bogota, Columbia.
Leading up to the event, protests began to break out in the city, near where the meeting was to be held.
These types of challenges are not new to Miller Tanner Associates as we have planned many events in emerging markets and, at times, this has meant working in high-security risk areas where safety preparedness is paramount.
Solutions
Miller Tanner Associates has developed several intercountry partnerships allowing us to create a seamless risk management solution for monitoring and managing events where a security risk could arise.
As part of our solution for this specific meeting in Bogota, Columbia, Miller Tanner Associates took our usual proactive approach.
We worked diligently with Bogota local partners, who provided a travel brief which included an in-depth analysis of the areas in which our team and meeting attendees were to be located throughout the duration of the meeting. We also sourced hotels that were recommended, thoroughly vetted, and deemed safe properties for the attendees who would be traveling to the site.
Additionally, our partners in Bogota tracked any potential security risks and provided real-time updates in and around the areas that the meeting and activities were taking place. We knew the safest routes to and from all event activities at all times.
Miller Tanner Associates typically hires security staff to be on site unless our client already has hired as was the case in this situation.
To ensure the additional safety of our attendees upon arrival, we compiled a list of travel recommendations in both the confirmation email and welcome packet so that those traveling to the meeting site were fully prepared in advance of the event.
At every event, and for this event specifically, we implement a comprehensive Crisis Action Plan; our on-site staff is well prepared to oversee the well-being of all attendees in case of any emergency situations. Our team was ready to move into action if security measures were necessary during this event.
Results
The event had no security issues despite the nearby protests. Our client and attendees' reviews were favorable as all felt there was never a cause for concern given Miller Tanner Associates' thorough safety protocols.
Leave your event's security in the hands of the event professionals who have a plan of action in place to ensure that all bases are covered. Contact the Miller Tanner Team to discuss your event's security needs.
Latest posts by Miller Tanner Associates Team
(see all)