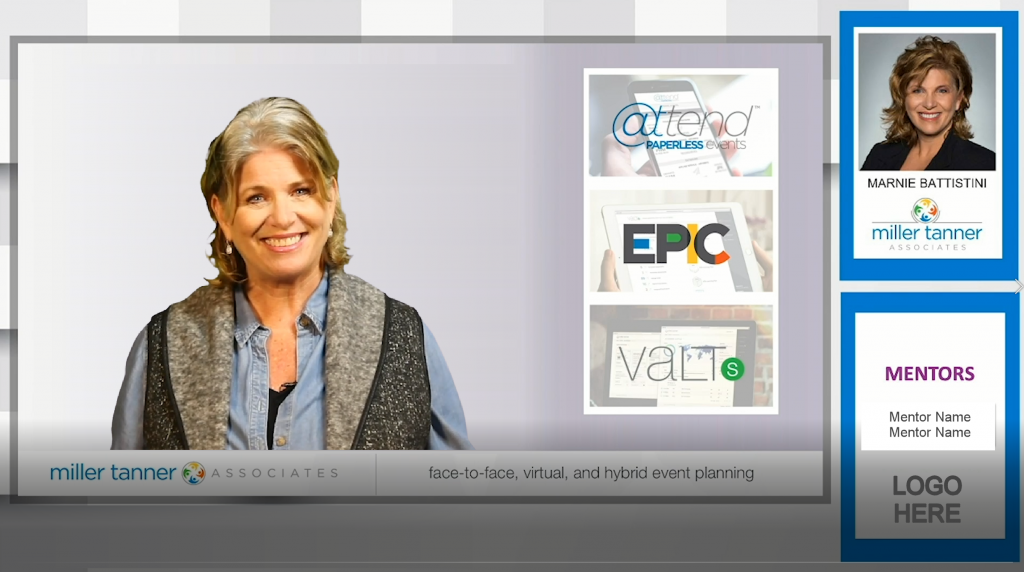 The Event
A face-to-face (F2F) or LIVE event format for a business pitch competition that successfully pivots to a screen-to-screen (S2S) or virtual event format for the same business pitch competition.
The Challenge
Historically, the annual pitch competition had taken place at the organization's LIVE event; however, due to the COVID-19 pandemic, the pitch competition had to be transformed into a highly-engaging virtual event while still delivering the presenters' messaging, captivating the panelists, and engaging the remote audience.
As the presenters were located in various U.S. cities, communication and coordination were vital to the success of the final production.
With the event format switch from live to virtual, the competition required a more creative approach as well as guidance on best practices to accomplish the revised event goals.
Given there were 10 presenters in addition to a panel of 6 judges participating, the flow of the event needed to be a seamless fit within a one-hour time frame.
The Successes
Miller Tanner Associates (MTA) facilitated discussions with the client to better understand the goals and intentions of the virtual event. This led to designing a combination of technologies and virtual platforms that would best accommodate an outstanding competition experience for all participants.
To ensure the success of the event, our team provided multiple one-on-one coaching sessions for the moderator, panelists, and key presenters to deliver consistency in lighting, backdrop and overall visual quality (look and feel) of the remote sets.
MTA advised the competition presenters to pre-record their business pitches within a specific set of rules. One day prior to the event, our team conducted a thorough tech rehearsal with the presenters, including both the live sessions and pre-recorded pitch presentations to ensure that everyone involved felt comfortable and understood the show flow.
On the day of the event, MTA integrated live moderator/panelist sessions with streaming of each pre-recorded business pitch to create a seamless one-hour virtual experience for participants and panelists.
Event Feedback
"You and everyone were so professional and accommodating, it was a delight working with you all. Please feel free to use me as a reference any time.  I will be sure to refer Miller Tanner. Meredith, Your team is amazing!!!!!"   – Event panelist
"Thank you all….watching it on the cell worked well. The production quality was excellent and the pitches were great (some, very creative!). Very nicely done!" – Remote attendee
"Thanks to the Miller Tanner team for their professionalism, technical platform and execution of today's event. I'm excited to view the recording so I can see what others saw. Thanks again!" – Event moderator
"Best virtual event I've ever participated in!" – Event panelist
Latest posts by Miller Tanner Associates Team
(see all)