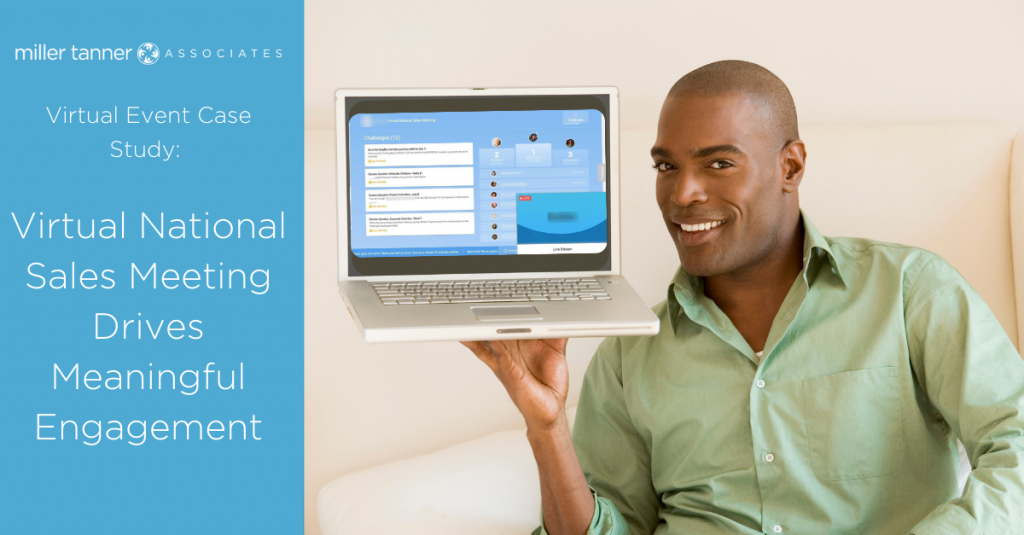 The Event
A U.S. medical device sales company had to pivot their in-person national sales meeting to a virtual format.
The Challenge
With limited technology capabilities and a tight deadline, a medical device sales company contacted Miller Tanner Associates (MTA) to assist with planning their national sales meeting for their U.S./Canada team members that had to be moved from an in-person to a virtual event.
This being their first virtual national sales meeting, the client wanted to elevate the experience beyond a basic meeting to an elevated, engaging, dynamic experience. The client wanted a virtual national sales meeting that would reflect its company values of connection and culture for its 70+ attendees.
The Solution
The major success contributor for this event was the collaboration between the client's management team and the MTA experience team. Together the team created an environment of value and energy working diligently to engage the audience to raise the level of excitement. By maximizing the selected elevated platform engagement features, along with using social media and in-house communication tools, enthusiasm drove attendee engagement before, during and after the event.
Ultimate Engagement
MTA designed a virtual experience with unique, engaging opportunities utilized throughout the 3-day virtual event. The team curated an agenda comprised of 4-hour daily sessions including sales and new product training; technology session; diversity and inclusion training; pre-produced daily inspirational talks by the leadership team; and awards. Each day had an overarching theme and content to reflect the theme.
The MTA team chose the best virtual platform and engagement tools that would accommodate for this client's needs, company culture and accomplish the overall event goals.
Beginning on the first day, our team took the attendee engagement to the next level. A guest mentalist/magician kicked off the event with an interactive 30-minute pre-awards show. Following this show, we produced an awards show like no other with production elements that included music and a live chat. Celebrities, such as pop artist Paula Abdul, Dancing with the Stars Cheryl Burke and NFL player Tyrell Owens along with celebrity impersonators like Dolly Parton and "the Terminator" made surprise cameo appearances to announce the award winners. As an event memento, each winner was sent a link to their award announcement.
To further reinforce the company culture of connection, on the second day of the event a variety of optional "happy hours" were offered, including a guided art/painting session with pre-mailed supplies, a game night and scavenger hunt, a cocktail happy hour with pre-mailed ingredients, and a hangout room for those who just wanted extra time for networking. Gift bags were also sent daily to the attendees.
Features for Success
Within the user-friendly virtual platform itself, attendees could interact and engage using various tools and features: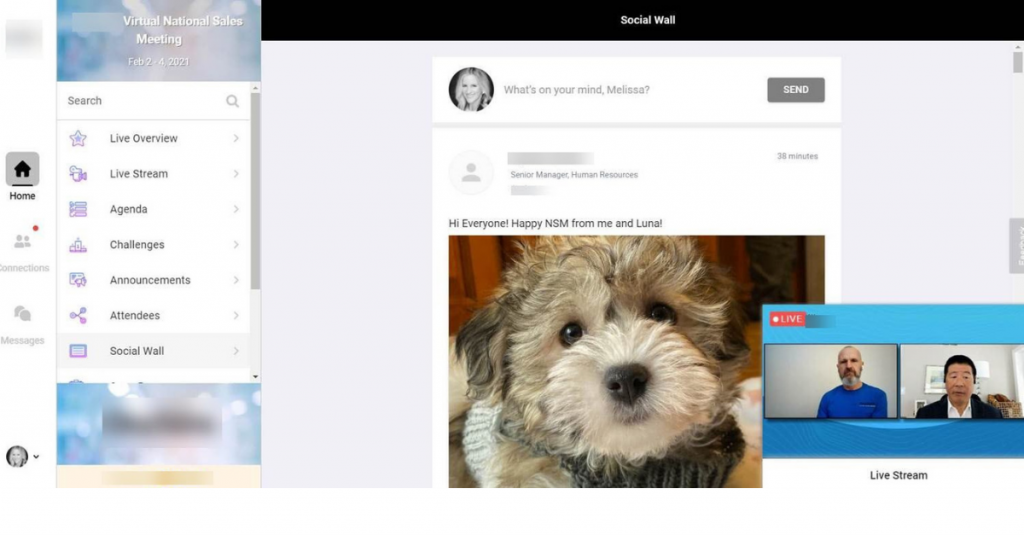 The Event's Social Wall – Attendees posted photos, articles, quotes, and questions. The management team encouraged participation and initiated interaction throughout the event.
Virtual Photo Booth – Attendees captured branded, downloadable photos just like they would as if they were on site.
Virtual Break Time – Using interactive avatars, these break opportunities enabled virtual rooms with video chats by topic.
Friendly Challenge Competition – Attendees received points and rewards for their level of engagement and interaction within the platform – photos posted, quizzes, fun facts about speakers, etc. This was also a great way to familiarize attendees with the platform and encourage attendees to engage in the content and garner real-time engagement.
Running Slide Show of attendees' life events both personal and professional milestones and accomplishments during 2020 to connect each attendee to one another's experiences.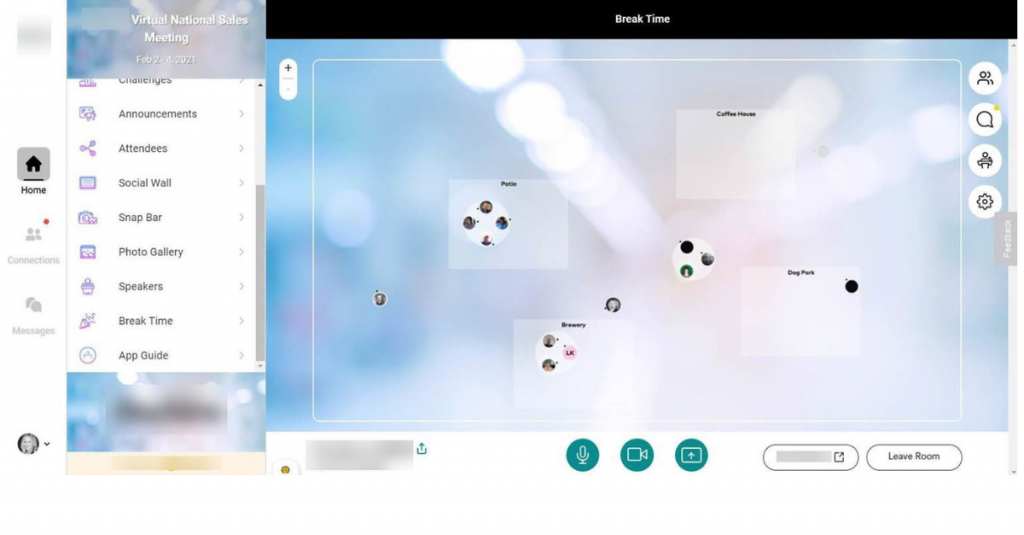 The Results
Working in partnership with our client, the MTA Production Team planned and produced a dynamic virtual national sales meeting that showcased the company's culture of connection and engagement.
This first virtual event for our client was highly engaging and interactive as a result of the curated virtual platform and customized engagement features and solutions that MTA designed.
To ensure a flawless event experience for the presenters and the attendees, our team prepared the presenters by offering coaching and pre-event rehearsals and seamlessly integrated pre-recorded and live sessions, delivering an impeccable virtual experience.
Our team designed a show flow for the 3-day event that optimized the attendees' engagement and interests, enabling multiple points of connection with various content delivery modalities.
Feedback
"Yesterday was so fun and informative. It did not feel like I was just sitting at a computer all day. Thank you, MTA!!" – Virtual event attendee
"MTA has made every part of our first virtual meeting experience planning 'five stars'!" – Virtual event client management team
Latest posts by Miller Tanner Associates Team
(see all)