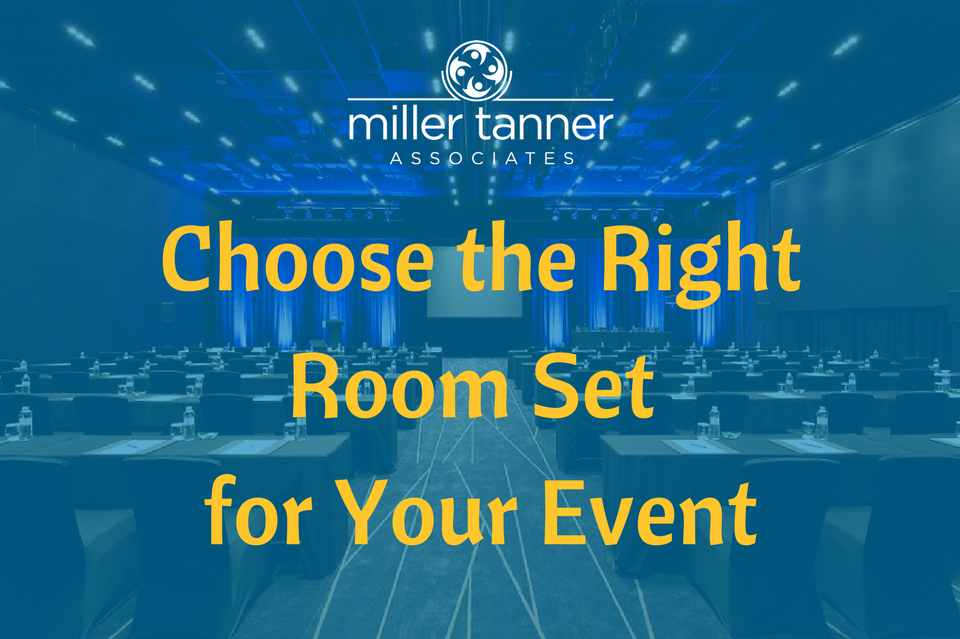 Choose The Right Seating Arrangement for Your Event

The room set should be one of the first factors that is determined for your meeting. It's helpful to choose your room set before ever sourcing an event venue.
This allows us as planners to search for the perfect venue that can accommodate all of your event needs. With the right room set design, the audience also knows what to expect from your event.
What are the basic elements that are considered as part of a room set?
Seating Design
Stage
Lighting
Audio Visual
Space Layout
Event Theme
1. Determine Your Event Goals
A meeting planner can guide you through your goals and objectives for your meeting. It's important to know the variables such as the size of the group, type of event, and its purpose in order to design the best room set for your event. Once we have this information and understand your expectations for your meeting, we can begin designing your room set.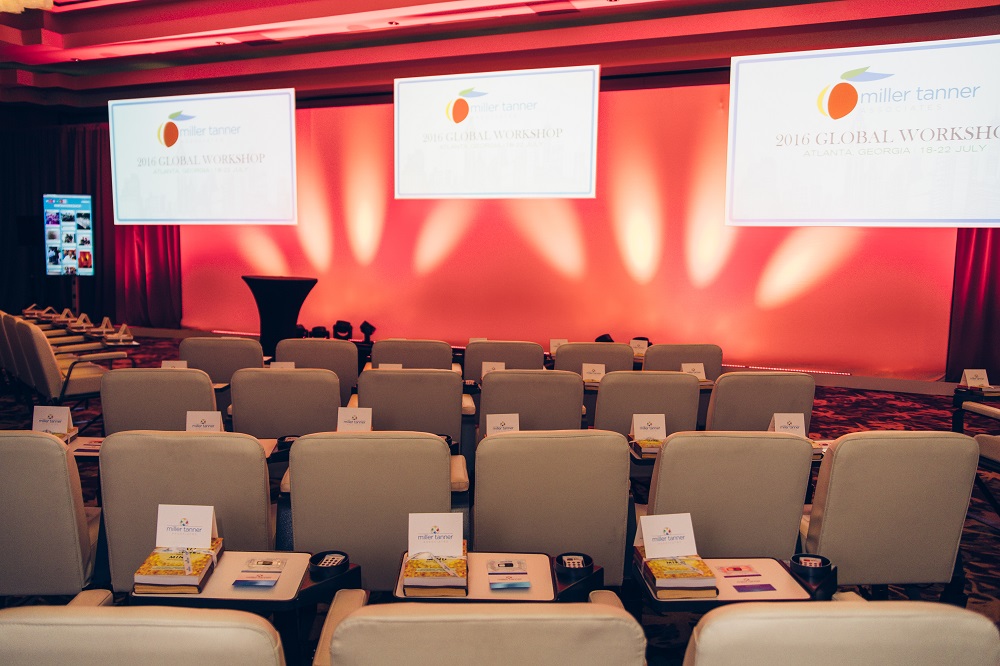 2. Plan the Ideal Seating Design
Depending on the type of training you are planning, the seating design plays an integral role in the delivery of your messaging and the overall success of your meeting. Will your attendees be taking notes, working in groups, or using their computers?
Do you want them to focus primarily on the screen and its contents? Or do you want them to connect with one another? Is this a formal or a more casual meeting? Once you've considered these questions, we can suggest a seating design that will work best for your event.
These are the most common seating styles used at meetings, training, and events:
Theater-Style Seating
Theater-style seating works well for short breakouts where notes do not need to be taken. It's ideal for commercial/corporate meetings.
Boardroom Style Seating
The boardroom-style seating is typically used for small groups, 10-15 people, for meetings such as ad board. This setting works well when a working space is required.
U-Shape Seating Arrangement
The u-shape-style seating works best for small groups of 10-20 people and is useful for CRA trainings,  board meetings, and some investigator meetings. It's ideal for interactive working and planning meetings and easily accommodates for a presentation or speaker.
Classroom-Style Seating
The classic classroom-style seating offers a more formal setting where 100% of attendees' attention is on the screen and its content. It's an ideal setting for larger audiences. This works nicely for investigator meetings or CRA trainings.
Crescent-Rounds/Cabaret-Style (half-round) 
If your meeting includes a lot of collaborative work or workgroups, the crescent-round or cabaret-style seating is ideal. This seating arrangement better allows for discussion and offers a way for attendees to connect easily with each other.
It's a casual setting typically used for investigator meetings and some commercial and corporate meetings.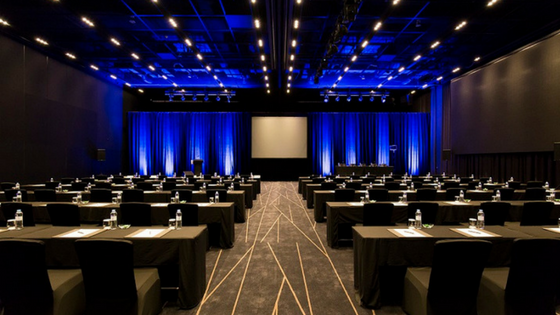 3. Understand the Venue Space and Its Limitations
When considering your room set, be sure to understand the venue space in its entirety. For example,  a hotel diagram may reference 100-person maximum capacity, but that is wall to wall. Typically about one-third of the room will be used for foot traffic. And don't forget additional space is needed for the tech desk, rear screen projection, etc. The bigger the room, the more options you will have overall.
Space design also needs to accommodate for the screen. Be aware of pillars and chandeliers. You may need to move the screen or have two screens which can increase your event budget. And also take note of the ceiling height. For example, you need a 14' ceiling to use a 9'x12' screen.
4. The Impact of the Stage, Lighting, Audio, and Screen
A stage, audio, and projection are essential, and the right lighting adds impact to the overall design.
Stage
With staging, a custom-made stage background with a hardcover backdrop or pipe and drape is necessary.  A lectern or podium is always suggested for the presenters; however, if you're planning a Q&A panel, a bigger stage with a head table helps all the presenters to be on stage and answer questions.
Audio
Even in small rooms with small audiences, we recommend using audio. You don't know who in the room may have difficulty hearing.
Screen and Lighting
Get the screen size right.  Are there a lot of charts and graphs in the presentation? This will determine the screen size and ultimately the viewability of the presentations by the audience. Using the largest screen possible is generally a good rule of thumb.
If there is a big screen with a small stage and a lectern only, your audience is most likely to pay attention to the content rather than the presenter. If there's a large stage with colorful lighting, your attendees are going to pay more attention to what is happening on the stage.
Some events require multiple screens. The benefit to having two screens is that your presenter can show two different images at the same time, which can be helpful to show slides during an online demonstration or with the Audience Response System.
Designing a room set requires lots of advanced planning and considerations. The bottom line – it is key to start the planning as soon as possible in order to find the right venue with an optimally-sized conference room.
Rely on the experts to plan your room set. Miller Tanner Associates can walk you through the steps to determine a room set that is ideal for your meeting needs. Contact us today to get started.
Latest posts by Miller Tanner Associates Team
(see all)