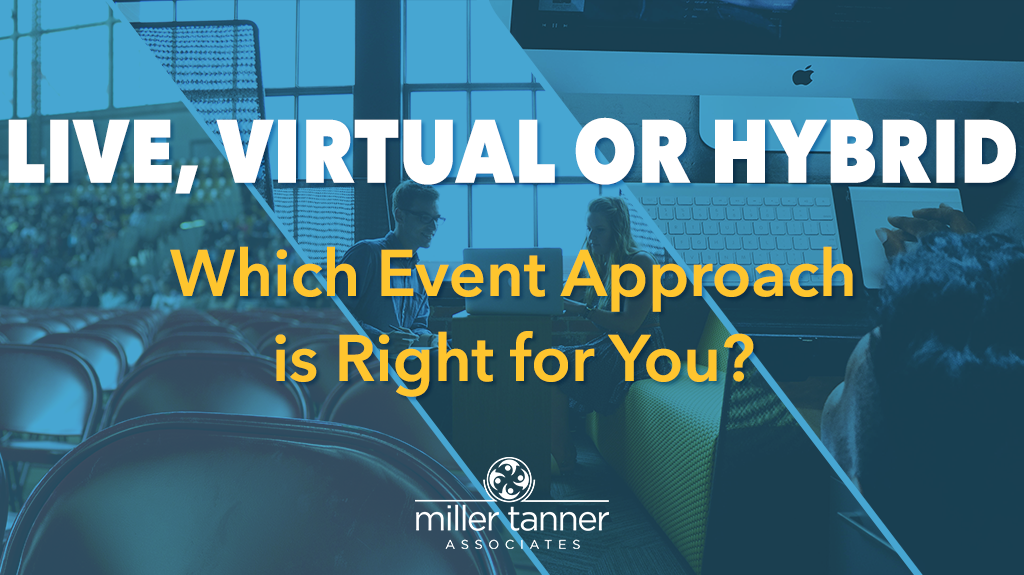 The goal of any corporate event is to bring people together for a shared purpose. In our modern world, there are a few different ways a company can do that…
Live – All attendees are physically present
Virtual – People attend the event entirely online
Hybrid – Some people attend in person, others online
So how do you know which approach is the best for your corporate event?
That's a question without a single or simple answer. It boils down to a number of different factors—including your event size, budget, timeline, and the geography of attendees.
Here's a quick guide to help you determine which type of corporate event is right for you.
Unique Benefits of the Different Event Approaches
Each event approach provides its own unique benefits:
Live Events: The most effective form of communication
There is no other medium that expresses the nuances of communication better than face-to-face interactions.
Body language is a huge factor in communication. Postures, gestures, facial expressions, and eye movements are best translated live.
When a BioPharma company is trying to get the best results with team buy-in or team building, a face-to-face meeting is the most effective approach.
Our clients, particularly in the healthcare space, have reported that face-to-face training remains one of the best ways to understand the complexities of the investigation plan/product, and in collaborating with the sponsor, CRO's, and other sites.
Virtual Events: Faster turnaround at a lower cost
Clients often choose virtual events because resources such as time and money may be at a premium. Virtual events can be deployed quickly with a significant cost reduction.
Examples of clients who have utilized virtual meeting concepts include:
Critical protocol amendments occur
Implementing training quickly to sites participating in a study is key
Gathering advisory board members remotely to present critical data
Recruitment discussions with a small number of sites/countries
Hybrid Events: Flexibility to reach the greatest number of attendees
Hybrid events are the best of both worlds. Some of the participants are able to attend face-to-face while others are "brought in virtually", thus adding to the benefit of the overall interaction.
Hybrid meetings can also be used as a method for cost reduction since you don't have time and travel expenses for the entire attendee pool.
Allowing attendees to participate from wherever they sit in the world also offers flexibility and convenience for busy executives, physicians, and sales team members.
Key Factors in Choosing the Right Type of Corporate Event
Clients select corporate meeting types they think will meet the goal of what they are trying to accomplish in the most efficient manner possible.
Meetings typically involve some form of education, training and learning for the audience so getting those key messages across is ultimately the goal. But there are a few other key factors that also come into play…
1. Time
How quickly you need to get your event up and running can have a big impact on the type of meeting you choose.
While time is always a factor, the value of face-to-face interaction at the beginning of a new study is thought to be more valuable.
For example, if a protocol amendment is required for a study that has several sites (say 75-100) then time is of the essence to disseminate that important information.
2. Budget
While face-to-face meetings offer the most effective form of communication, they also come with a higher cost. That can be a compelling reason for some companies to go virtual.
Typically virtual meetings are 1/10 of the cost than a face-to-face meeting. So where a live meeting will cost $2,200-3,000 per attendee, a virtual meeting will cost $220-300 per attendee.
Costs are variable with a hybrid meeting depending on the scope of the requirements. But there can be some cost-savings there too.
3. Technology
Past experiences with poor technology could be one reason a company avoids virtual events (even though virtual technology has made significant advancements in the last several years).
It is easy for companies to underestimate our process for managing virtual events. They value our in-person customer service at face-to-face meetings and are unsure how that transfers to virtual attendees.
Although the "unknown" element of technology can be something that causes many companies to shy away from virtual meetings – even though that trend is starting to change.
It All Comes Down to Meeting Priorities, Preferences, and Limitations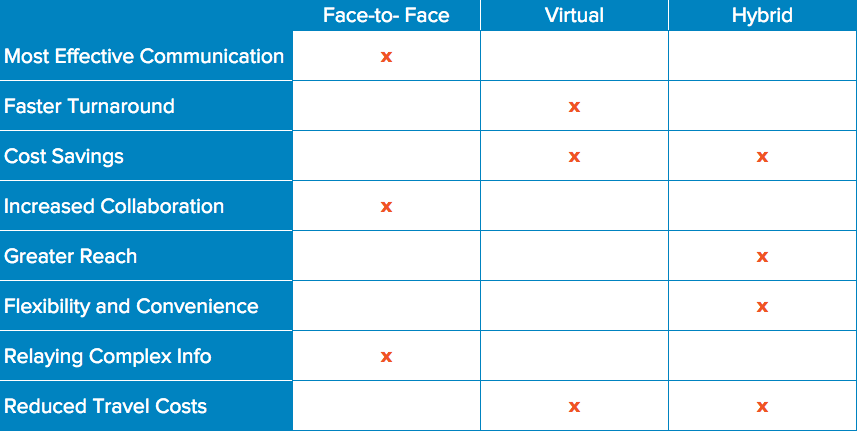 We believe that open, honest dialogue with clients is still the best way to determine which of our event offerings will best meet their budgetary needs and meeting goals.
Depending upon circumstances, we may suggest a video or audio capture of a live or virtual event and repurpose that into an On-Demand Trainer for future use (i.e. team expansion or teammate attrition). Consistency in training is paramount in this business.
Recently, we were able to reduce the number of virtual meetings from six to two in order to achieve our client's goals in the most cost-effective manner possible.
Find out how Miller Tanner can help you accomplish your event goals and make the most of your budget, no matter when, where or why you're meeting this year!
Get Help Planning Your Next Corporate Meeting