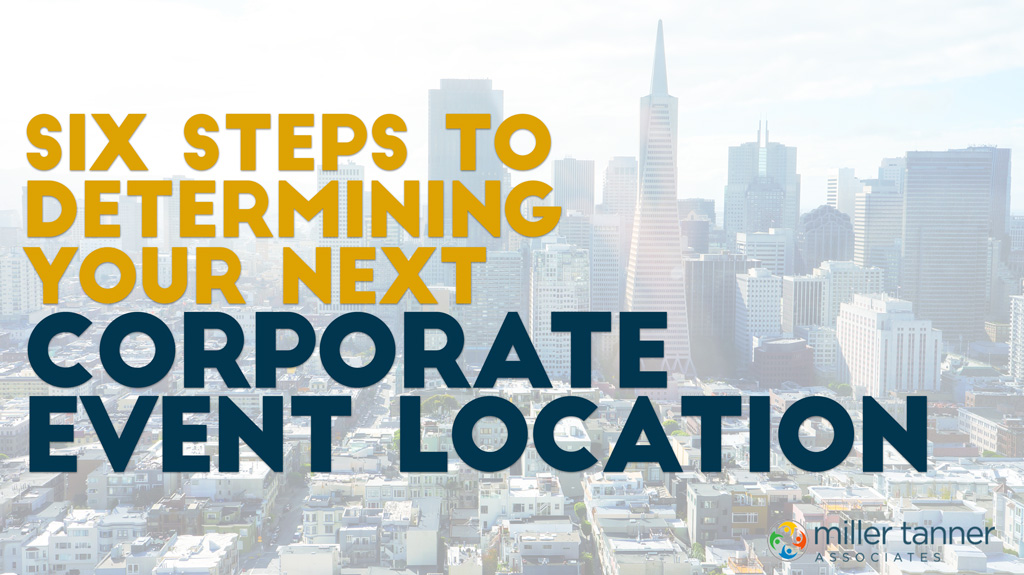 If you're trying to decide on a destination for your next corporate meeting or event, the options can be both exciting and overwhelming.
London or Los Angeles?
Brussels or Budapest?
Seoul or Singapore?
Although there is not a specific formula for making that decision, there are definitely some key factors to consider that will help you choose a location that will serve your company and your attendees.
We have planned more than 2,200 events for our clients during the past 20 years, so we routinely work with clients to help them determine the best location for their next corporate meeting or event.
No two businesses or events are the same, but the factors for choosing a location are largely consistent for every client.
Top Considerations for Corporate Event Destinations
Here is a run down of the top considerations for choosing a corporate meeting location.
1. Weather.
No one can predict the weather. Rain clouds can roll in, heat waves can come swiftly, and cold fronts can force us to pack a slightly bigger bag.
But the geography of your meeting or event is crucial when considering the role that time of year, seasonal climates and average temperatures can play in delivering a great experience for your event attendees.
Do not underestimate the difference between experiencing Chicago in May versus February, or the difference between January in Sydney versus January in Seoul.
Plan ahead, and packing will get easier for you and your clients.
2. Language.
For many corporations and organizations that hold meetings or events on a global scale, language barriers are considered the largest barrier to success. If your event requires communicating effectively to a multilingual audience, it is of utmost importance that you choose a destination that will accommodate various languages, people and cultures.
For example, Singapore is home to four official languages, including English. So if your attendees include native Chinese speakers, but will be run by a staff made up of an English-speaking majority, your event planning team might consider a place like Singapore.
3. Culture.
What happens after the day's meeting, training session or event is over?
Does your event need local catering, or varied nightlife options? Or, do you want to offer attendees a museum visit, a city tour or ticket to a show, game or concert?
Things like food and drink, sightseeing and attractions can go a long way in ensuring a great experience for your clients and participants. Do not overlook the cultural aspects of a destination when planning a successful event.
Think about the interests of your attendees and make sure you pick a location that delivers on the type of culture that will jive with their personalities and desires.
4. The Goals of Your Meeting.
A successful meeting cannot and will not take place if those attending do not absorb and comprehend the message. Every meeting or event is centered on a specific goal. It is imperative that your location helps you deliver on that.
It is increasingly important that your destination is chosen with your audience's needs and desires in mind. For instance, building a group of participants with certain ages, genders, physical traits, cultural exposure, etc. is the first priority when planning for an investigator meeting for a clinical trial.
But, the goals and needs for a corporate sales meeting will be vastly different. It might be more important to think about the experience you can deliver to reward and thank your team for a job well done.
That's why you must ask yourself – what are your company's goals for this meeting? How do you account for your attendees' needs while also ensuring your own success?
The answers will likely play a big role in determining where you host your event.
5. Cost and value.
Your budget can have a big impact on where you host your next corporate event.
The cost of travel, lodging and facility use varies greatly in certain parts of the globe – and even at different times of the year. So, if you're looking to save money on your next event, you might choose to visit certain locations at off-peak times to get the most bang for your buck.
For instance, if you want to hold an event in Phoenix at some point in the next 18 months, there are certain times of year when it will be more cost effective to travel there.
On the other hand, if your event is in four months, but not tied to a specific geographic location, you can choose locations that are centrally located for your attendees or have lower hotel rates.
Budapest, for example, has been named the most affordable city for travel prices for the last two years by the Post Office Travel Money Survey. So, that might be an option for you to consider if you're on a budget.
6. Preference.
Although this point is last on our list, for Miller Tanner, this point really comes first. Our clients' preferences are always the most important factor in determining their event location.
That means, if our client has always wanted to visit Cape Town, we will work with her to make that happen.
The same is true for your event. Your preferences (or those of your boss), trump all the considerations around value, weather and the like.
You want to choose an event destination that will make you, your team or client happy.
That means if the planning process starts with a suggestion or wish for a certain location, that is the most important consideration. If a location is desired, the details have to fit that desire. If you can deliver on that single desire, the rest of the planning process will go that much smoother.
At least, that's how we treat it at Miller Tanner.
What matters most to you when choosing a destination for your event? Do you have any other considerations to add?
Latest posts by Miller Tanner Associates Team
(see all)