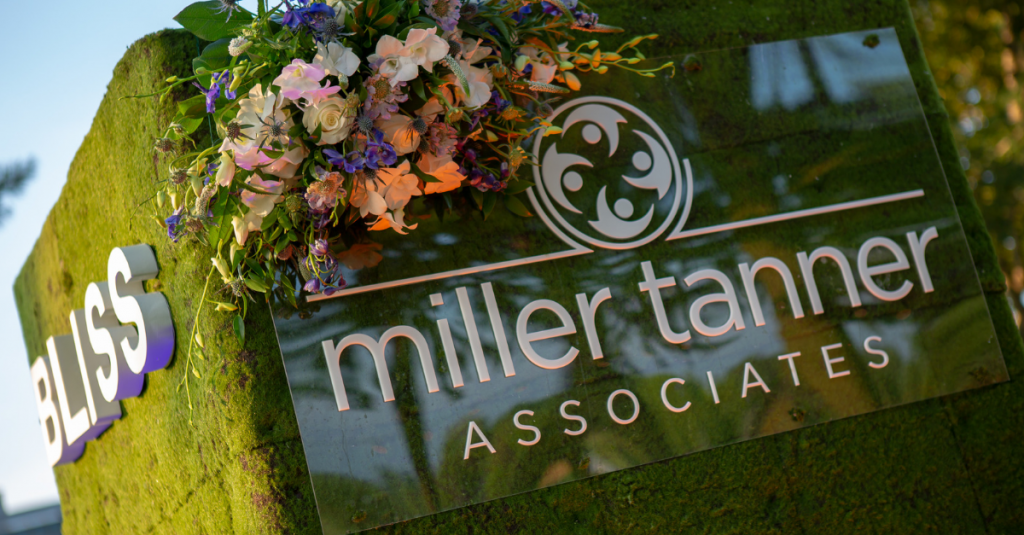 How to Design a More Socially-Conscious, Environmentally-Friendly Event
Here are four ways that you can plan a more intentional event and how our team accomplished it at one of our annual MTA Workshops:
1. Give-Back Programs
Why not bring your teams together for a combined team-building activity while supporting a worthy cause? Double whammy! Find a local or global philanthropic organization to support or contribute volunteer time to a community service project for an on-site or off-site CSR activity. You can also weave CSR throughout your event by sourcing gift and decoration products from socially-responsible vendors.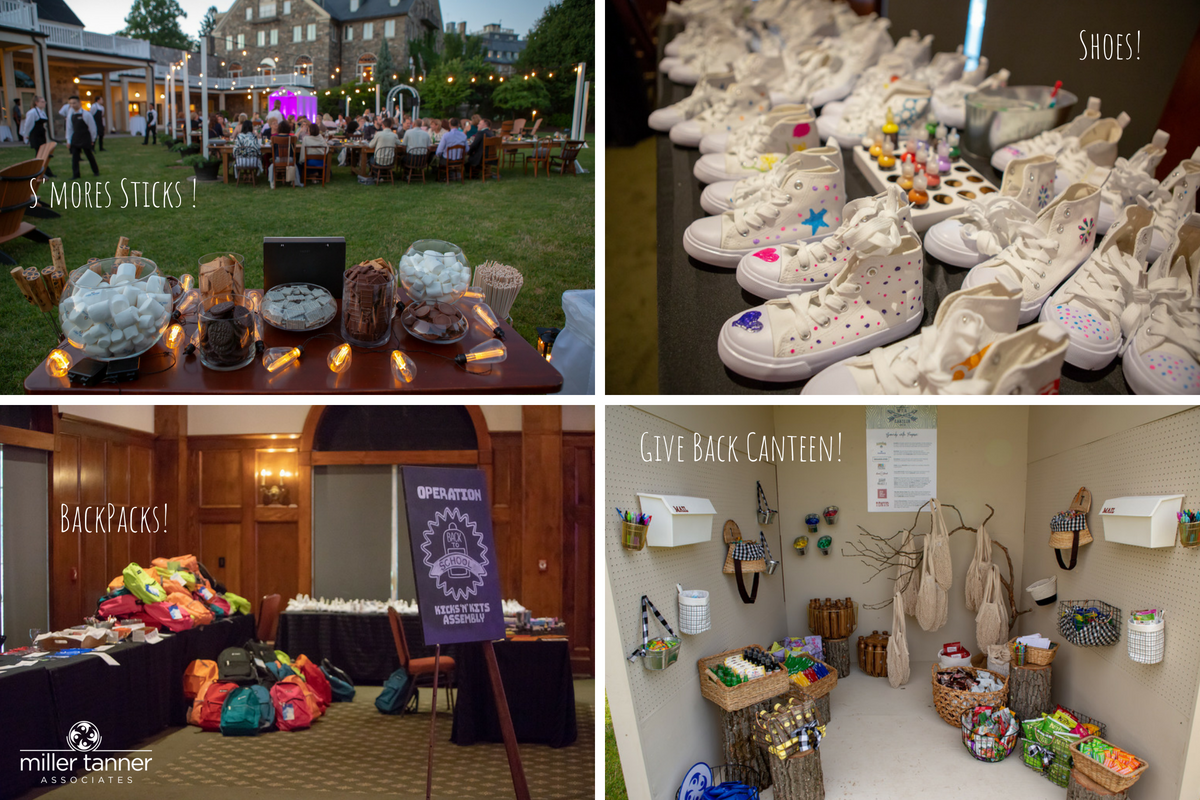 Support a local organization
How we did it:
Because our team met in Pennsylvania, we wanted to support an organization locally so we chose a project to support the Girls and Boys Club of Northern PA. Our team decorated shoes for 3rd, 4th and 5th grade at-risk students and stuffed 100 backpacks filled with back-to-school supplies for students that excelled in their "Power Hour" after-school program.
Integrate CSR into your on-site decorations and gift products
How we did it:
Since a lot of our activities took place in the great outdoors, we sourced citronella candles from United by Blue. In doing so, MTA removed 82 pounds of ocean waste with our purchases! Our Workshop wouldn't have been complete without fireside chats and s'mores around the fire pit. We sourced hand-crafted Kabbage and Hugs s'more sticks, made from beetle kill wood, reused and repurposed from forests in the Rocky Mountains. Throughout our event we incorporated beautiful multi-use blankets by the Riviera Towel Company, a Santa Barbara company that donates funding to ocean clean up efforts.
Each day our Give-Back Canteen, a decorative outdoor fixture, was fully stocked with a variety of products from brands with missions that support reducing environmental waste, providing meals to the hungry, providing for the homeless, and/or donating proceeds toward worthy causes. Some of the brands included Annie's, Bombas (72 pairs of anti-microbial socks provided to the homeless), Brandless (66 meals provided to the hungry), Kind, Love with Food, Project 7, This Bar Saves Lives (72 nutrient packets provided to malnourished children) and more! At the conclusion of the event, all unused products were donated to the Boys and Girls Club.
2. Source and Support Locally
Choose local. By sourcing locally from the location of the event, you'll minimize shipping and reduce your carbon footprint. This will not only make a big impact on the environment but also on your event budget. Save money, save the environment. Make it a win-win!
Support local businesses and vendors
How we did it:
Our team of planners intentionally chose socially-responsible vendors from which to purchase products and services. We also used locally-owned restaurants and food service providers for our team dinners. And many locally-made gifts were purchased from surrounding area shops.
Support local artists and contractors
How we did it:
To add a whimsical flair to our event set, we had a few structures including a "Depth Tower" and a Give-Back Canteen built on site using local contractors. We also hired local artists to produce signage.
3. Reduce and Recycle Waste
Cut out the excess. Plan your event with the intent of producing less waste. You can do this countless ways starting with going paperless and getting rid of paper agendas and programs. Also, consider recycling at your event! This can be accomplished by taking simple measures such as placing recycle bins throughout the venue, and using recyclable packaging and bio-degradable items.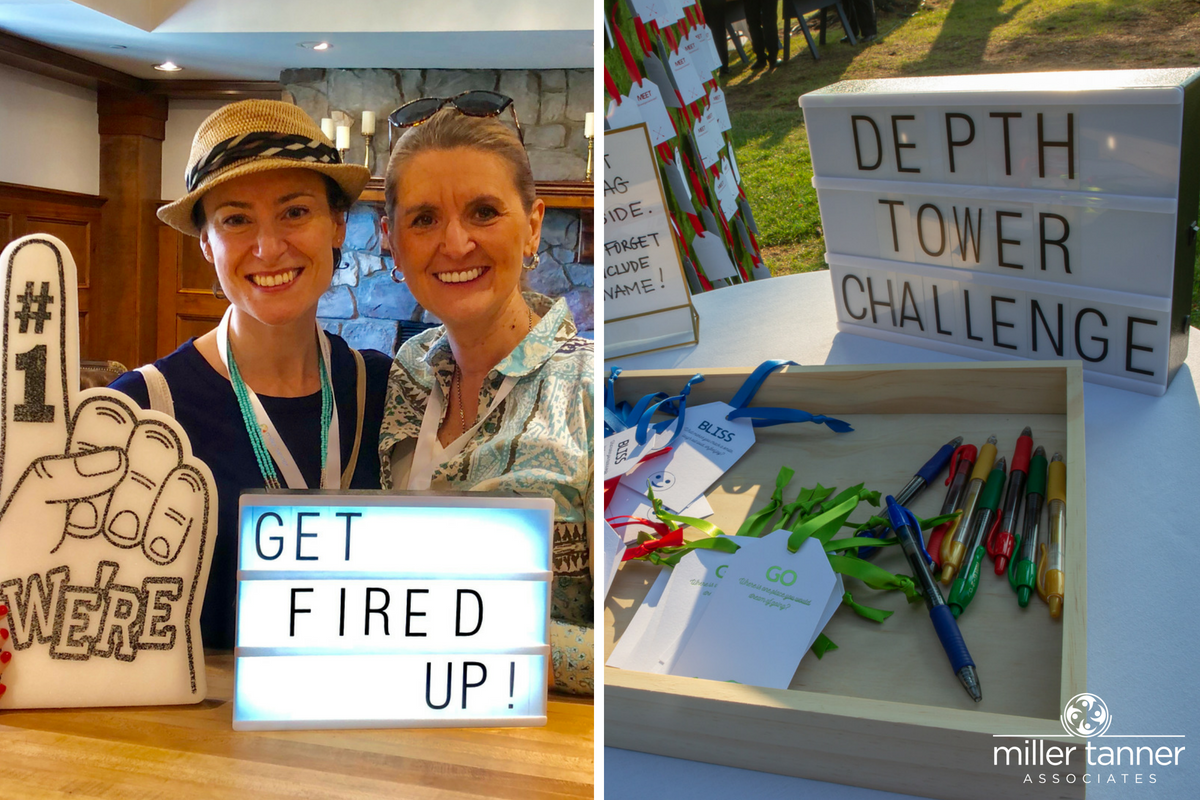 Go paperless
How we did it:
Thanks to our Mobile Attendee Website, our event was paperless! All agendas and itineraries were easily accessible with the click of a button. We also used popular marquee displays allowing us to change out messaging daily while easily reducing the waste of additional signage.
Reduce use of plastics and use recyclable goods
How we did it:
Our attendees were gifted refillable stainless-steel water bottles that keep beverages cold all day, allowing attendees to fill up their water bottles when needed. We provided various flavor add-ins for their choosing. This omitted the need for plastic water bottles on site at the event. We ditched excess packaging and opted for ECOHIP reusable grocery bags to shop the Give-Back Canteen. Our branded welcome boxes were 100% recyclable as were our paper straws, in an effort to minimize plastic pollution.
Reduce carbon footprint
How we did it:
Instead of the typical one-car-per-person travel, we doubled up on transfers and grouped attendees together to offer the experience of traveling as part of the meeting. Yet again reducing our carbon footprint.
4. Repurpose
So many aspects of your event can be repurposed; it just takes a little extra planning. Look for ways in which you might donate items or dismantle structures to reuse in a new, creative way.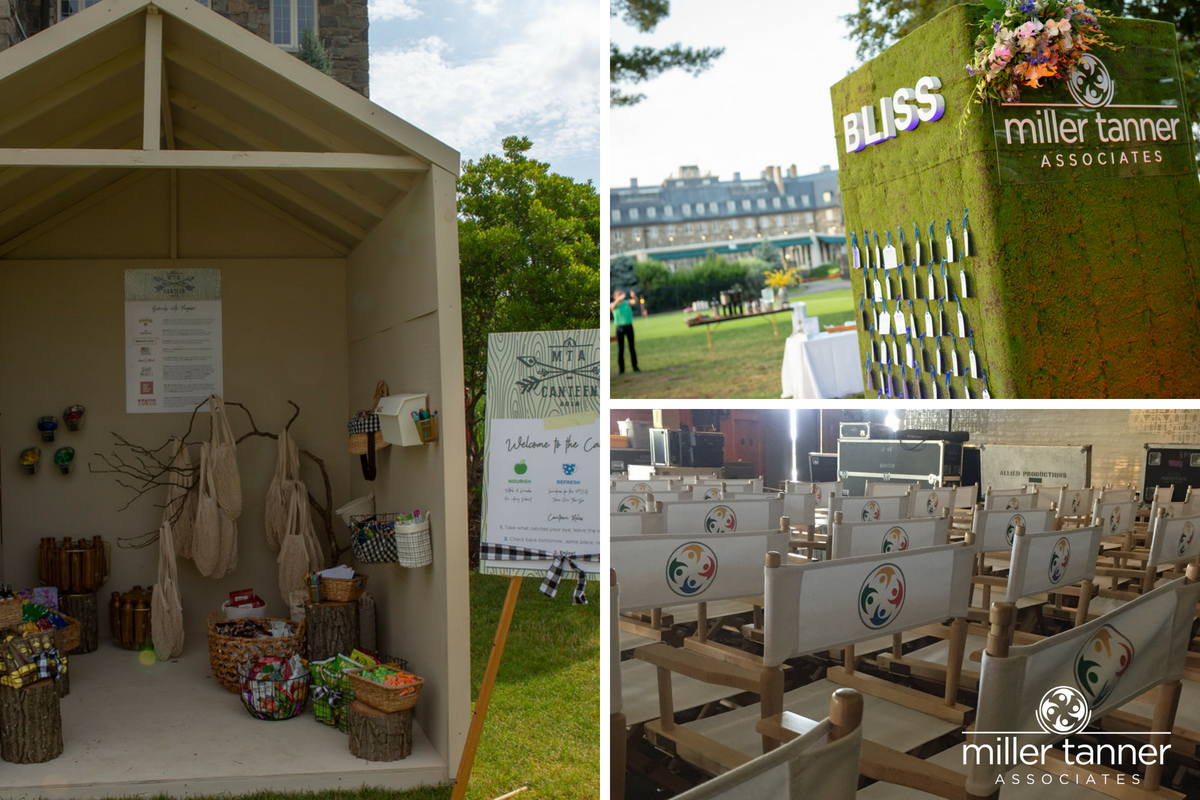 Donate
How we did it:
The wooden Give-Back Canteen structure will soon be reincarnated; in its next life, it will serve as a playhouse for happy children at a local community park. All remaining canteen items, such as individually-wrapped snacks, were donated to the local Boys and Girls Club.
The white directors chairs that were used for event seating, were donated to two local theaters along with the tables to be used for stage furniture in future productions.
Reinvent
How we did it:
As part of our event set, we created a "Depth Tower" which not only served as a decorative structure but was also used as a message board and a way for our team to engage with one another. The tower will be dismantled and repurposed to create handmade gift boxes filled with gifts to be donated to families in need at Christmas.
It doesn't take an environmental scientist to determine impactful ways of creating a greener event. It just takes some great preplanning and maybe some paper straws to get you started.
Our team can help plan a socially-responsible event just like they did with ours. Reach out to us to learn how you can make a difference at your next event.
Latest posts by Miller Tanner Associates Team
(see all)