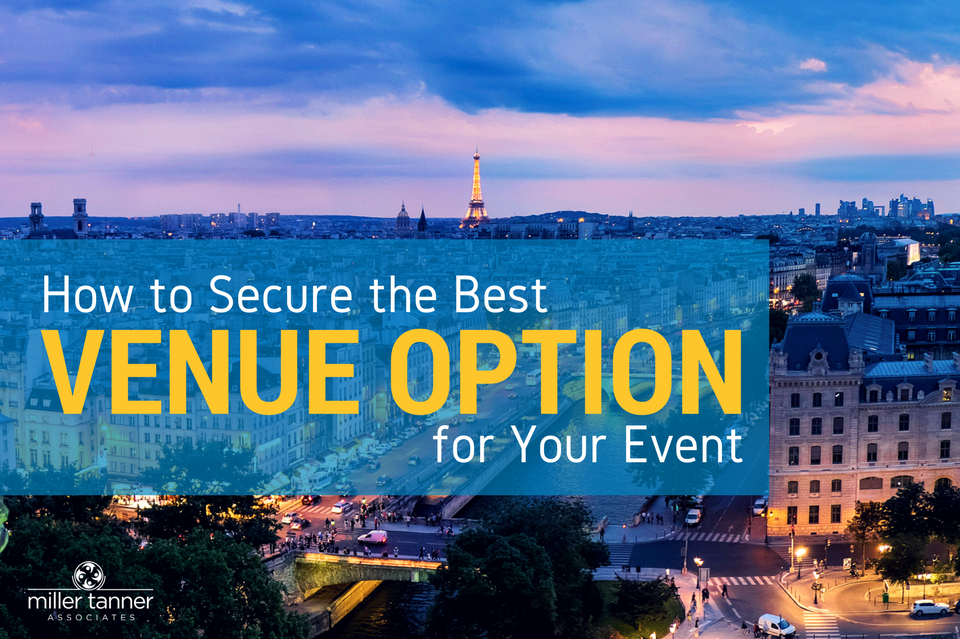 One of the first steps in booking your event is finding the perfect venue. Whether you are looking for 5-star accommodations for your company's incentive trip, a conference room large enough to host hundreds of attendees for a global sales meeting, or a venue in the heart of a bustling, desirable European city, in some cases the right venue can make or break your event.
We understand that venue decisions often rely upon the approval process of multiple players, but sometimes the delay in the decisions can really hurt the selection process.
Some of the challenges that we often see with space reservations can include:
Lack of venue availability due to working within short booking windows.
City-wide events or congresses that take up a great deal of space in a certain city.
Delay in client approval or decision.
Inflexibility when it comes to locations and/or dates.
How can you get the best venue option for your next event?
Understand the Process
The more you understand the process of booking a venue, the more likely you will get the venue of your choice.
Once you have potential dates in mind, Miller Tanner is eager to go to work immediately to find the best venue and location. We work with you to find the most convenient dates (avoiding holidays and internal black-out periods) and then reach out to all compliant properties in the cities of interest.
Many hotels respond with their availability (or lack of) within 48 hours and we report our findings to you shortly after. Here's the caveat: Even though space is offered, many properties do not hold space until they are requested to do so.
If a hotel does allow for a space hold, it can be anywhere from 24 hours to two weeks but it all depends on the demand from other groups for the same requested time period. If the space is being held and another group shows interest, the hotel will more than likely give you a short window to return a signed contract; otherwise, the space will go to the other group who is ready to move forward.
Once a client determines they would like to officially move forward with the venue, MTA goes back to the hotel to further negotiate and request a contract on behalf of the client. This process can take anywhere from five to ten business days as very special requests, clauses, and payment options must be worked out by both parties.
Lead Time Matters
We understand our clients' timelines are very specific to their needs; however, many other industries are able to commit to program dates months or even years in advance giving them an advantage over those with shorter time frames.
In a perfect world, Miller Tanner would like to contract space no less than six months in advance; however, we also understand our clients and their industries and know this is not always possible, so we do what we can with the lead time that is available to us.
Make Decisions Quickly
We do ask clients to make very quick decisions; otherwise, that beautiful venue with the perfect space at an unheard of rate might sadly go to contract with another group. We never like to share this type of news with our clients, so we try our best to urge clients to provide team decisions as quickly as possible.
The last thing that we want is for you to miss out on your ideal venue choice. In order to not miss out on any offers presented, we recommend feedback to our Project Development Team on the hotel's offers immediately.
We understand a final decision can not necessarily be made without running things through the chain of approval, but if there is the slightest amount of interest, we recommend that you let the MTA team know so we can ask the hotel to hold space until a firm decision is made. Holding space at a venue does not require a signed contract, it just allows our team and the hotel to understand your level of interest.
Whether it is your company's national sales meeting in Chicago, the President's Club event in Cape Town or an investigator meeting in Seoul, we have all the right resources in place to find exactly what your team is looking to provide for your attendees!
Planning an event in 2018? Now is the time to start selecting a venue. Contact us and we'll help you sort through the details so that you can book your ideal venue.
Latest posts by Miller Tanner Associates Team
(see all)