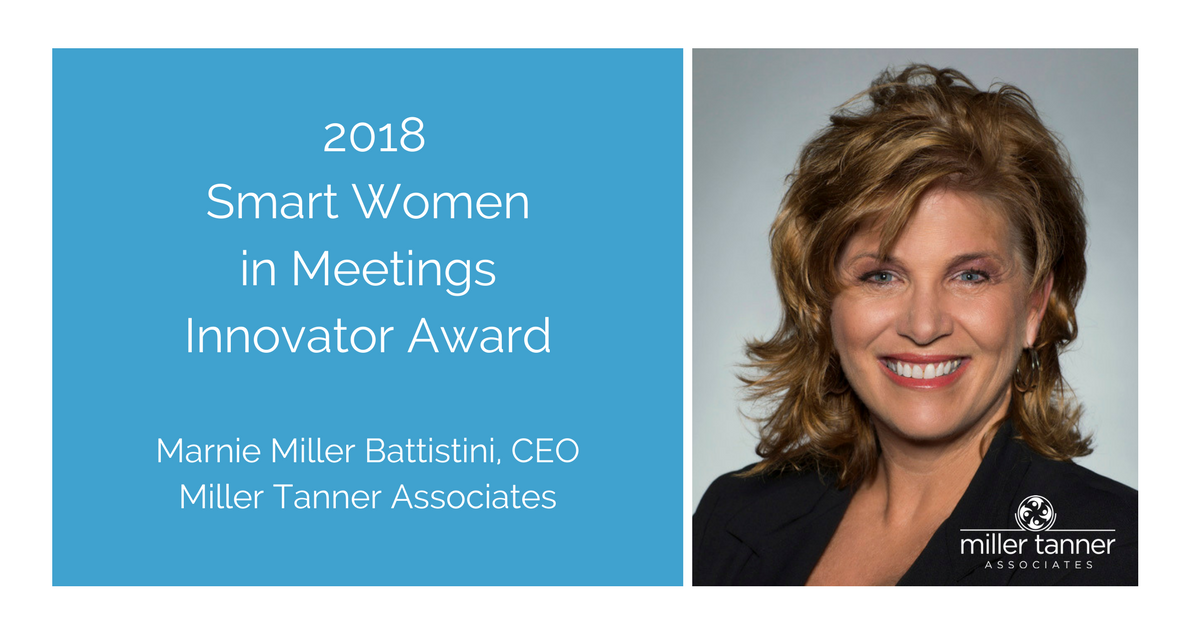 2018 Smart Women in Meetings Innovator Award
Miller Tanner Associates is pleased to announce that Marnie Miller Battistini, CEO of Miller Tanner Associates, has been named a 2018 Smart Women in Meetings Awards winner. The team at Miller Tanner Associates could not be more proud of our accomplished and deserving leader.
Designed to honor and celebrate top-performing women in the meetings industry, the Smart Women in Meetings Awards recognize female meeting professionals in six prestigious categories including Visionaries, Industry Leaders, Innovators, Entrepreneurs, Trail Blazers and Rising Stars. Marnie has earned recognition in the Innovators category for her commendable contribution to the meetings industry.
"Twenty years ago when I started MTA the first question I was asked was, 'What's the name of your business?' You would have thought I'd have a great answer for that question at the ready but I didn't – I was more focused on what the company would be about than what the company should be named. The lawyer patiently waited while I internally scrambled trying to come up with a name that would represent the people and the team I imagined in my head. Knowing the clock was ticking and I was paying the lawyer per the hour, I used my last name at that time, Miller Tanner, adding Associates to reflect the TEAM that the company was going to represent," said Marnie Miller Battistini, CEO of Miller Tanner Associates. "I was naive in how the name evolved – people naturally refer to us as Miller Tanner or MTA – but I still think of MTA as the 'Associates'. Together we do the work. Together we get recognized for the rewards. I'm so happy the Associates at MTA are being recognized for what we have done together. I'm honored to represent the team and look forward to sharing with them the Smart Meetings award we have worked so hard to earn."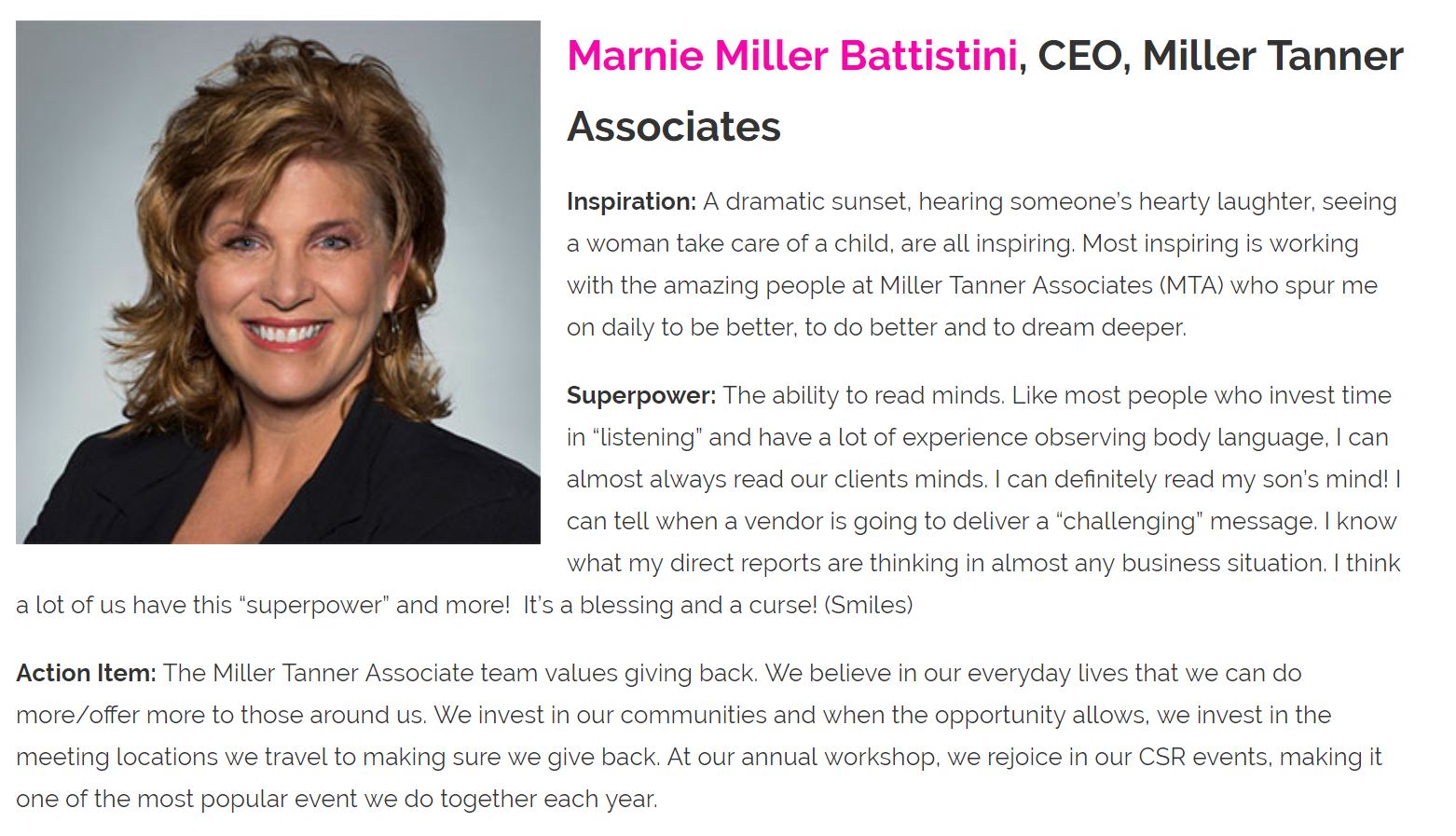 Now in its third year, the awards platform has gained rapid notoriety and serves as a notable metric of achievement for meeting planners nationwide. Nominated by their peers and colleagues, and ranked against hundreds of their extraordinary meeting peers, these awards winners earned top recognition for their hard work and contributions to the meetings industry. The prestigious awards platform honors talented, dedicated women who are making an impact in the meetings industry, elevating and inspiring female meeting ambassadors worldwide.
"I'm delighted to award all of our dedicated 2018 Smart Women in Meetings Awards winners for their outstanding accomplishments and profound contribution to our industry," said Smart Meetings founder and CEO, Marin Bright. "We're a female-driven industry and it's more important than ever to honor and support our female meeting ambassadors and pay tribute to their diligence, talent, and extraordinary work ethic."
Smart Women in Meetings Awards winners will be featured in the March 2018 edition of Smart Meetings print and digital magazines, receive extensive online coverage and receive on-stage honors at the third annual Smart Woman Summit in partnership with Fort Worth Convention and Visitors Bureau on April 19, 2018 in Chicago.