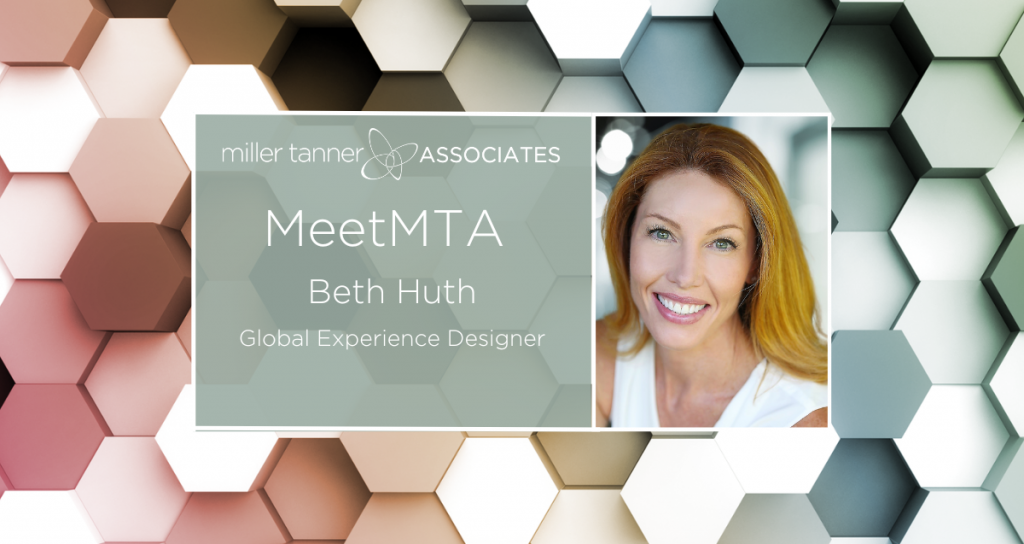 The Miller Tanner Associates' (MTA) difference is our people. That's why we want to introduce you to our team of superstars that brings our corporate meetings and events to life for our customers. Today we introduce you to Global Experience Designer Beth Huth. Beth brings her 20+ years of event management experience to MTA where she partners with customers to drive and deliver remarkable event success.
Meet Beth Huth
Tell us about your current role with MTA? What are your primary responsibilities?
I am thrilled to act as a global experience designer with Miller Tanner Associates. The way I see my position with MTA, as well as with our clients, is to listen to the goals, needs and wants and curate an experience that promotes partnership success! For a corporate, incentive or business program I deliver options, ideas, and opportunities to advance company objectives and standards. I use my 20+ years of event management experience as well as rely on the strong partners that MTA has curated throughout their 25 years in business.
What did you do before joining MTA?
Prior to joining MTA, I was a licensed clinical therapist specializing in anxiety and depression and young adult emotional developmental stages. As well, I volunteer in the community working with youth that are financially and emotionally challenged due to surviving young age trauma and homelessness.
What's the best part of your job at MTA?
I absolutely LOVE meeting new people and collaborating! It's a thrill to meet a client for the first time and learn about what they would like to accomplish, what they feel their team or division is lacking, and how coming together may solve that. Then, it's my goal to blow them away with a tremendous program by partnering with the best in the field, making adjustments along the way, and maintaining flexibility to maximize their intentions.
What's been your favorite event destination as an event planning professional?
I so enjoyed planning and operating a program in Banff, Canada as it really spoke to all elements of event management – travel, ground transportation, amazing accommodations, endless activities, dynamic corporate meeting venues, networking opportunities galore, and fantastic food and beverage!
What's been your most memorable event to date and why?
Most memorable was a corporate program that I planned and operated with 2500 attendees at a resort, that opened 3 weeks prior to our arrival, with Jay Leno as the welcome speaker and the Three Tenors as closing entertainment. Lots of different personalities and aspects to manage – and it all came off with flying colors!!
Do you have a few great travel tips that you could share?
Preparation = Perfection. Take a moment and read about where you are going, the weather, high traffic times, currency, power, etc. The more you know in advance, you'll experience far less worry due to the fact that you'll be able to provide a greater focus on the beauty of the venue/city and be more intentional around content to which you'll be introduced!
What do you do for fun?
I LOVE to spend any time I get with my husband and two amazing daughters! We enjoy the outdoors, hiking, walking, running, boating, beach….really anything outside. We also LOVE to travel – the more the better – and want to see all corners of this beautiful world!! When I'm not doing that, and working, I love to read, needlepoint, and knit.
You are originally from? You currently reside in? What do you enjoy most about living there? Any favorite spots that you would recommend to tourists?
I'm originally from California, the wine country about an hour north of San Francisco. Now I live in Nashville, Tennessee. I love the spring and fall in Nashville, the beautiful mountains, and the super friendly people! We love Zanies Comedy Club and Percy Warner Park.
What makes Miller Tanner Associates stand out as meeting planning company? What's your favorite aspect about MTA?
When seeking a position in the events industry, I looked for a place that was filled with creative, smart, kind, and energetic professionals – and Miller Tanner Associates is just that!! During my second interview, when I got to meet some of the team, I was thrilled to meet people from vast backgrounds that all came together to work as a strong to team to produce exceptional partnerships with MTA's customers. Miller Tanner Associates is not just a formula; they really listen to the needs of the client and the program and then operate at an superb level to meet those needs.
Visit www.millertanner.com to learn more about MTA and our associates. Get to know our associates by following us on Instagram for behind-the-scenes with our team.