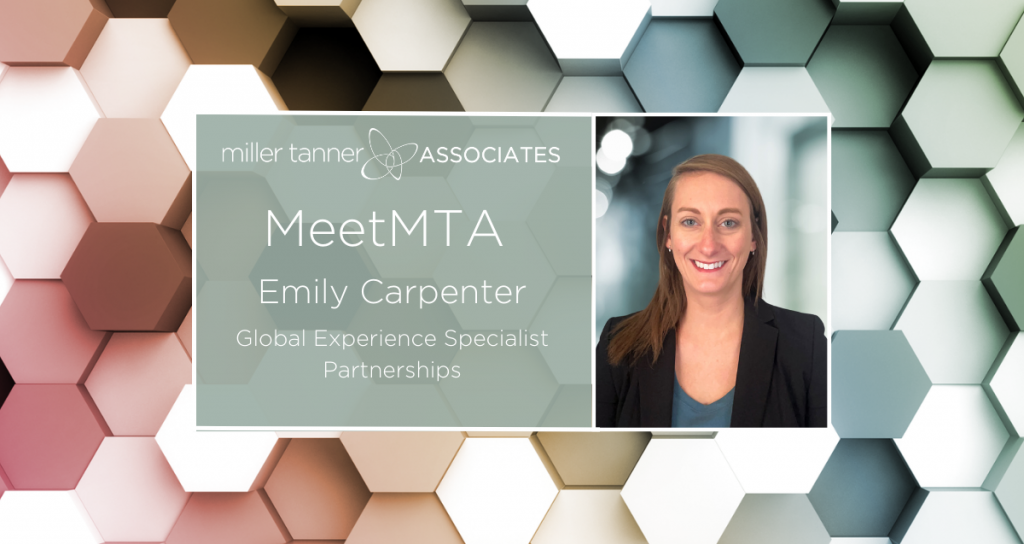 The Miller Tanner Associates' (MTA) difference is our people. That's why we want to introduce you to our team of superstars that brings our corporate meetings and events to life for our customers. Today we introduce you to Global Experience Specialist – Partnerships Emily Carpenter. With her background in the events industry and extensive knowledge of vendor partnerships, Emily joins our Global Experience Team with a passion for sourcing and matching the best venues for our customers' event needs.
Meet Emily Carpenter
Tell us about your current role with MTA? What are your primary responsibilities?
As a global experience specialist focusing on partnerships, I help our customers find the perfect home for their events. Every program has a unique set of needs and requirements. It is my responsibility to help source options so that our clients feel confident that they have the best venue for their event.  
What did you do before joining MTA?
Before joining MTA, I held several different event roles within hotels. I have always had a passion for the events industry and enjoy the creativity and problem-solving that come with such a fast-paced environment.
What's the best part of your job?
The best part of my job is that every single day is different. All of our programs have unique needs in terms of guest rooms, meeting & meal spaces, destinations, etc. I love being able to search for the perfect venue and getting to network with people from all over the world.
From your role's perspective, what is a key factor in a successful event?
The key to a successful event is partnership. There will always be various challenges to work through in event planning so having an open line of communication with everyone involved in the process is crucial to the success of an event. Adaptability to changes is also vital to every program.
What do you do for fun?
In my free time, I love to work out, take weekend trips to explore new cities, and try new restaurants.
Our associates are based all over the world. Where are you located?
I was born, raised and currently reside in Illinois. After graduating college, I lived in Orlando, FL for 4 years and then moved to Denver, Colorado for 2 years before returning home to Illinois.  
What makes Miller Tanner Associates stand out as meeting planning company? What's your favorite aspect about MTA?
The people are what make MTA such an incredible company. Everyone is so hard working and willing to go above and beyond to ensure that our customers have a flawless experience. I have never met a more dedicated and passionate group of individuals that all share the same vision.
Why do you think that the MTA Workshops are important? What do you get most from this time together?
This year will be my first MTA workshop but I am very excited to get to meet and network with the entire team in person and experience the culture first hand.
Visit www.millertanner.com to learn more about MTA and our associates. Get to know our associates by following us on Instagram for behind-the-scenes with our team.