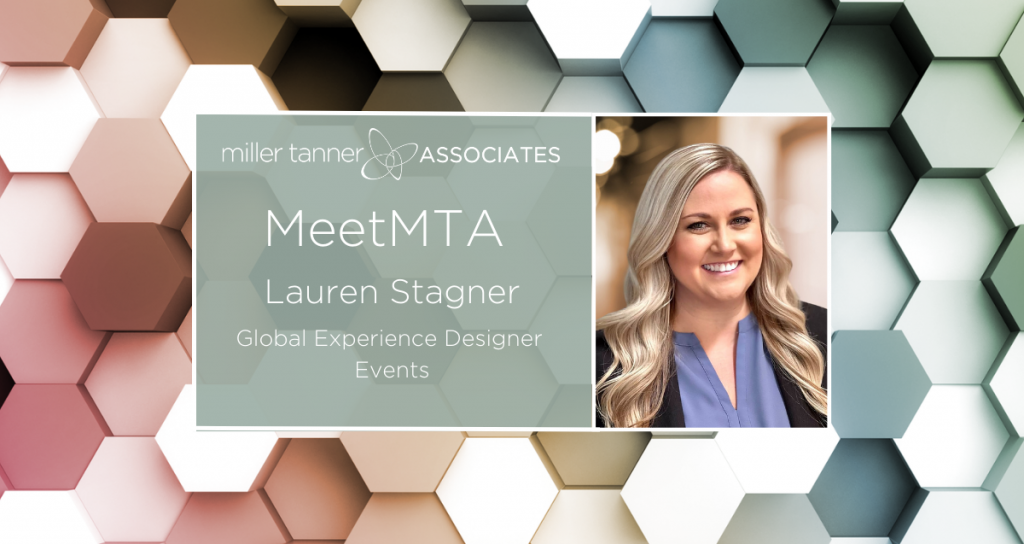 The Miller Tanner Associates' (MTA) difference is our people. That's why we want to introduce you to our team of superstars that brings our corporate meetings and events to life for our customers. Today we introduce you to Global Experience Designer Lauren Stagner. Lauren is a pro at bringing people together collaboratively to create meaningful experiences with intentionality and exceptionality.
Meet Lauren Stagner
Tell us about your current role with MTA? What are your primary responsibilities?  
I am a Global Experience Designer – Events. My primary function in this role is to serve as the project manager and liaison between all parties involved with bringing our amazing events together: clients, MTA teams (Global Experience, Finance, etc.), and vendors. 
What did you do before joining MTA?
Before joining MTA, I held a lot of different positions in a few different industries. I worked in education for public, charter, and private schools – providing student services, project management, financial management, and outreach to the schools that I worked in. I also worked in the skincare and beauty industry focusing on sales and marketing. And finally, I worked for a bit in family financial services, serving as a key service provider and managing director to both clients and service teams. Across all roles and industries, I was responsible for planning and executing intentional experiences, and always found the most joy in that, which is why I decided to move fully into this space!
Languages spoken:
English (fluent) and some (conversational) Spanish
What's the best part of your job? 
Bringing people together! Whether it be in the planning process of bringing my team and vendors together to accomplish an amazing experience, or in the execution process of bringing our clients and their attendees together to experience something different – working with people, finding common ground, and celebrating a shared experience is truly the best part of my job!  
What's been your most memorable event to date and why? 
Working with a biotech customer to plan their presence and a few dinner meetings at the ASH Exposition in New Orleans, LA in December 2022 was definitely the most memorable. Not only was New Orleans on the top of my unvisited destinations list, but working with this biotech's team to source various venues and collaboratively create an experience that their HCPs would want to attend was unique and fun! We worked with MTA's Creative Director Bill Morton to produce some creative collateral, including a hype video, and we spent time collectively strategizing how to reach as many HCPs as possible while at the conference, whether it be through our dinner meetings or hospitality suite. In the end, we worked really hard as a team, and the client was not only happy with the outcomes, but expressed interest in continuing to partner with MTA to develop their strategy and presence at future conferences.  
Do you have a few great travel tips that you could share?
Always make time to do something touristy and fun in every destination that you visit!
Don't let yourself get distracted or consumed by your devices and headphones while travelling – keep yourself open to observing and interacting with the world around you. You just never know who you'll meet or what amazing thing you'll see, and you certainly don't want to miss it!
What do you do for fun?
I love going to the beach, trying new foods, cooking at home, travelling, and spending time with my friends and family.
You are originally from? You currently reside in? What do you enjoy most about living there? Any favorite spots that you would recommend to tourists?
I am originally from Orange County, California, which is also where I currently reside. However, I've also lived in Los Angeles and Chicago, but made my way back "home" as I got older and settled down. I love living in Orange County because I get to enjoy all the amazing perks of California – great weather, beaches, deserts, and mountains all within a day's drive, and a growing restaurant/foodie scene. For anyone interested in visiting Orange County, I'd recommend spending time in Laguna Beach and seeing the Pageant of the Master's show in the summer!
What makes Miller Tanner stand out as meeting planning company? What's your favorite aspect about MTA?
Miller Tanner stands out as a meeting planning company because of the incredible people that work here! Everyone is incredibly talented, supportive, collaborative, and genuinely interested in doing their best work and being the best for their team and clients. It truly is my favorite aspect of MTA.
MTA truly is an amazing organization and I'm so grateful to work with such amazing clients and team members to not only grow myself and feel challenged, but to most importantly make an impact on the work that our programs facilitate in the medical field.  
Why do you think that the MTA Workshops are important? What do you get most from this time together? 
I am very much looking forward to meeting and spending time with all of my teammates in person and being able to not only get to know one another on a deeper level, but be able to brainstorm and strategize on how to continue growing ourselves to provide the best that we possibly can for our clients. 
Anything else you'd like to add?
The greatest emotion that I've felt since joining MTA is gratitude – I feel it every day and am conscious of it many times in a single day. MTA truly is an amazing organization and I'm so grateful to work with such amazing clients and team members to not only grow myself and feel challenged, but to most importantly make an impact on the work that our programs facilitate in the medical field.