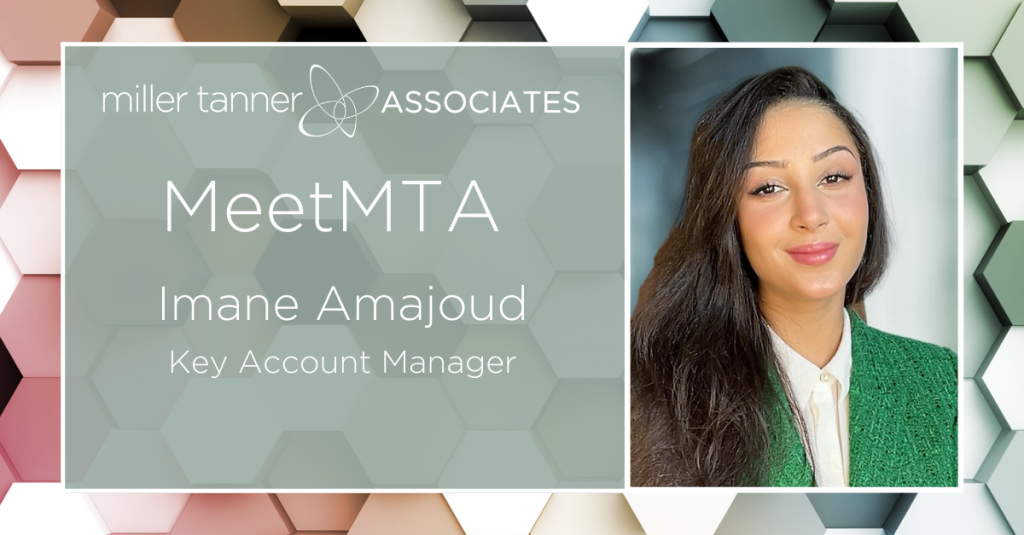 The Miller Tanner Associates' (MTA) difference is our people. That's why we want to introduce you to our team of superstars that brings our corporate meetings and events to life for our clients. Today we introduce you to Key Account Manager Imane Amajoud, our Chicago-based associate. Imane, originally from Morocco, brings dynamic depth to our team (speaking six languages – Amazigh, Arabic, French, English, Spanish, and Turkish) further expanding our relationships with our valued partners and customers around the globe.
Meet Imane Amajoud
Tell us about your current role with MTA?
As a key account manager, I am part of the Commercial Team at MTA. We are the clients' first point of contact. I am very lucky to be introducing MTA and its services to new clients, as well as maintaining relationships with established accounts. In my role, I work hand in hand with our Finance Team to best answer our clients' questions, and our Global Experience Team to offer an unforgettable experience for our customers' events.
What makes MTA stand out as an event planning company?
From the very first conversation I had with Scott Nodolf, MTA's Chief Revenue Officer and head of MTA's Commercial Department, I knew MTA was different. Being a certified woman-owned business, MTA carries a lot of values that resonate with me. But it goes above and beyond the certification; CEO Marnie Battistini's vision and growth strategy for MTA is what truly impressed me during those first interactions with Miller Tanner Associates.
Once I joined the Commercial Team, my conviction that MTA was unique strengthened. Every single colleague, no hyperbole, is kind and supportive beyond measure. We are a real team here at MTA. And along with every team member's effort, we have Marnie to thank for this fabulous atmosphere; her motto – "Do good, and good shall come to you" – is palpable in every dealing MTA has, both internally and externally.
What is your favorite aspect of MTA services?
MTA is unique. Marnie, being the visionary that she is, saw the potential in being virtual at the very genesis of MTA. Being a virtual company has helped us stay ahead of the curve. It also enabled us to hone our skills to make MTA a leader within the virtual event industry. This ability to anticipate future needs, translates seamlessly into our relationship with our clients, as we strive to present impeccable solutions and offer our customers strategic counseling for future growth.
What's a favorite city you've visited and why?
Marrakech is a favorite. Centuries of history can be read on the walls of its Medina, tasted in the spices of its dishes, and viewed in the colors of its souks. And yet, it's a bustling modern city with two of the best hotels in the world, and all the entertainment one would need for a lifetime!
What are a few of your favorite interests?
A few of my interests include anthropology, theology, suburban homesteading, and cooking!
Visit www.millertanner.com to learn more about MTA or follow us on Instagram for behind-the-scenes with our team members.