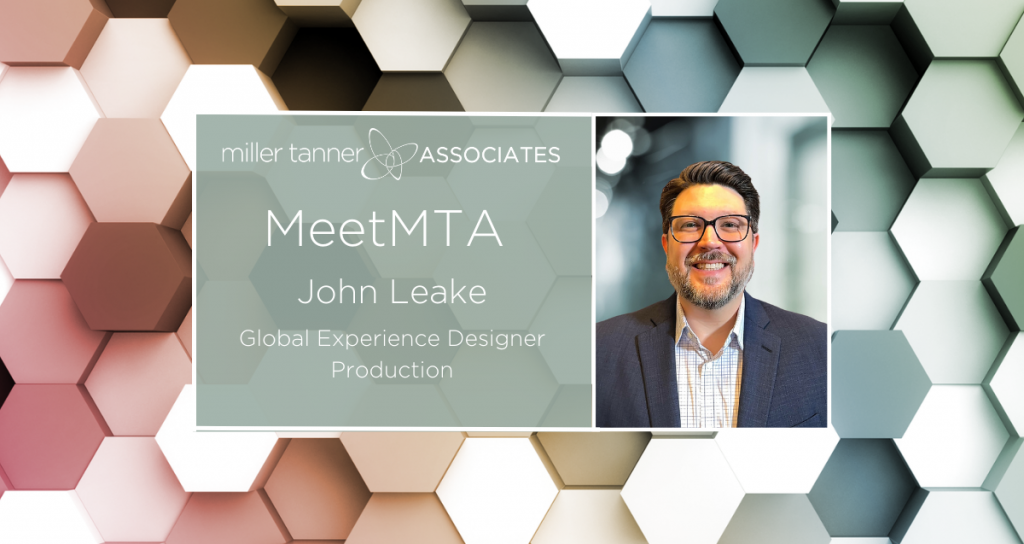 The Miller Tanner Associates' (MTA) difference is our people. That's why we want to introduce you to our team of superstars that brings our corporate meetings and events to life for our customers. Today we introduce you to Global Experience Designer – Production John Leake. With an extensive background in AV production, John manifests his professional expertise and creative ingenuity at every event.
Meet John Leake
Tell us about your current role with MTA? What are your primary responsibilities?
As a global experience designer – production, I manage the production aspects of the meeting.    
Is your background in media production? What did you do before MTA? 
Prior to joining MTA, I worked for a very large AV company, you've probably heard of them if you're in the biz.  I spent 15 years in various roles with this company.  Most recently, I was the director of event technology at a large hotel in Downtown Dallas. 
You are currently based in? How long have you lived there? What are some of your favorite things to do or sites to see there?
I'm currently based in Dallas, Texas.  I've been here for over 20 years; however, I did spend 2 1/2 of those years in Orlando for school, but came back and that's when I began my journey with AV/production. 
Dallas has some fantastic breweries around town so on the weekends you can usually find me and some buddies at one around town.  My wife and I love going out to all the fantastic restaurants around the city.  Dallas is huge; we've got everything covered here, but be prepared to drive as it's very spread out.   
What do you enjoy most about your job? 
The travel, definitely the travel. After being in the same building for so long it's so much fun getting out into new spaces and experiencing new cities.
What interests do you have outside of your professional pursuits?
Music. That's my background and that's where all of this started for me but that's now become something I do to get away.  I've got a modest "studio" at home so it's fun for me to just sit down and make lots of noise and turn the world off for a bit.  Also, I love to cook and fire up the smoker. 
What's been your most favorite location for a meeting and why?
So far, it's been Miami.  I was working with a great group from MTA and we had a fantastic time exploring when we had downtime. That said, Barcelona is on the travel itinerary, and I can't tell you how excited I am about that! 
What makes Miller Tanner Associates stand out as a meeting planning company, in your opinion?
It's cliché and everyone says it, but it's the people.  I'm just in awe of the people that I have worked with so far.  Everyone is so engaged and just willing to help however they can.  They really do care about providing our customers with an exceptional experience every time. 
What's your best advice that you would give to a customer when it comes to planning their media needs?
Plan ahead and be prepared. On every kickoff call, I stress how important it is to be prepared, know the message that you need to convey. No one likes to wing it!
Any trends in media production that you are noticing?
We're back to face-to-face events. Virtual isn't going anywhere, but customers want that side of the production to be simple.
Since you travel a lot for your position, tell us some of your best travel tips.
Travel light. Bring your vitamins and supplements.
Why do you think that the MTA Workshops are important? What do you get most from this time together?
With us being a 100% remote company this is the time we all get to really know each other on a more personal level. The upcoming Workshop will be my first and I can't wait to meet all the folks I've only seen on Zoom!
Anything else you'd like to add? 
I work with a fantastic and talented group of guys on the production side of things so whichever one of us lands on your show [event], know that you're in good hands! 
Visit www.millertanner.com to learn more about MTA and our associates. Get to know our associates by following us on Instagram for behind-the-scenes with our team.