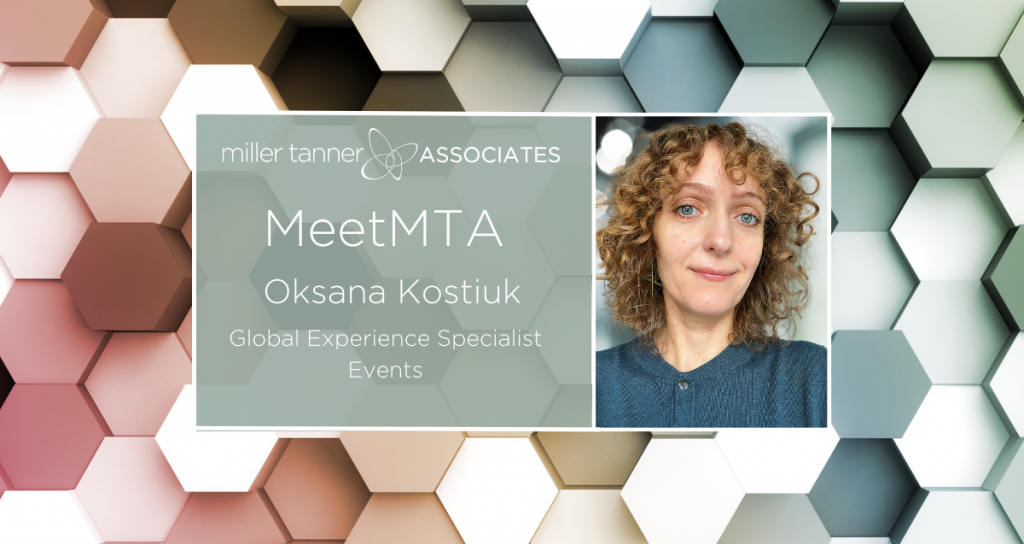 The Miller Tanner Associates' (MTA) difference is our people. That's why we want to introduce you to our team of superstars that brings our corporate meetings and events to life for our customers. Today we introduce you to Global Experience Specialist Oksana Kostiuk, our European-based associate. With a background in logistics and business travel, Oksana assists in delivering best-in-class customer service at MTA.
Meet Oksana Kostiuk
Tell us about your current role with MTA? What are your primary responsibilities?
As a global experience specialist, I'm responsible for communication and follow-up with travel, hotel and ground transportation partners, as well as assisting the global experience designers in identifying and resolving customer and attendee issues. 
What did you do before joining MTA? Previously, I worked as a dispatcher/logistic specialist and business travel consultant.
What languages do you speak? I speak Ukrainian, Russian, English, and German.
What's the best part of your job? The best part of my job is being on site for events!
What's been your favorite event destination as an event planning professional? My favorite event destinations have been Western Europe and Australia.
Do you have a few great travel tips that you could share? Take on a trip a warm large scarf, or better, a pashmina wrap. It can be used as blanket.
What do you do for fun? I enjoy long walks and playing harmonica.
You are originally from? You currently reside in? Any favorite spots that you would recommend to tourists?
I am originally from Ukraine and now residing in Poland. One of the places I would recommend to tourists is Wroclaw – City of the Dwarfs.
What's your favorite aspect about MTA? My favorite aspect about MTA is the teamwork!
Visit www.millertanner.com to learn more about MTA and our associates. Get to know our associates by following us on Instagram for behind-the-scenes with our team.