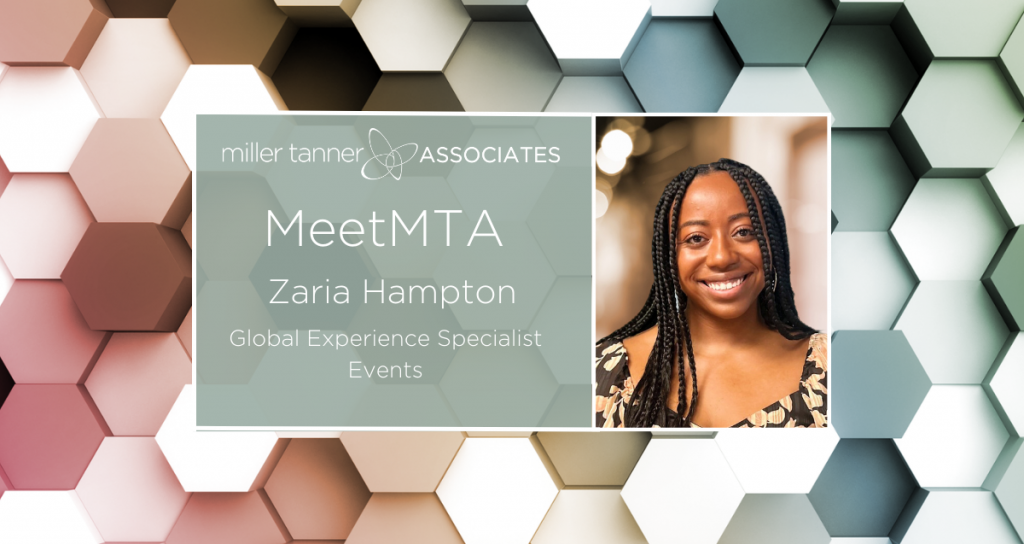 The Miller Tanner Associates' (MTA) difference is our people. That's why we want to introduce you to our team of superstars that brings our corporate meetings and events to life for our customers. Today we introduce you to Global Experience Specialist Zaria Hampton. Zaria works diligently behind the scenes on behalf of our Global Experience Team providing customer service excellence for our event attendees.
Meet Zaria Hampton
Tell us about your current role with MTA? What are your primary responsibilities?
I am a global experience specialist based in Atlanta. I'm responsible for managing data in order to make it more accessible to our internal team and to our customers. Day to day, I find myself assisting attendees with travel questions, as well as working on the back end setting up things like the Attend app and confirmation emails. It's honestly so fun!  
What did you do before joining MTA?
Despite always knowing I wanted to work in events, I took a roundabout way to get here. I earned my degree in financial planning. Before working at MTA, I worked as an IT recruiter, and I worked in the service/hospitality industry. I always planned parties on the side.
What's the best part of your job?
It sounds simple – but the best part of my job is feeling helpful. I have always loved to plan and organize events and trips, so being able to do this daily on a much larger scale is extremely satisfying. Every day I receive an email thanking me for my help in some form, and I get something out of it!  
What's been your favorite event destination as an event planning professional?
I loved my visit to New Orleans. It's always been one of my favorite cities, so I had a great time sharing local recommendations to attendees. I'm scheduled to go to Chicago, and it might take the cake.  
What's been your most memorable event to date and why?
I will never forget my first event. I went onsite in Atlanta, and I was about 5 days into the job. I learned A LOT. There was so much happening! I'll never forget all of the experience I gained while there.  
Do you have a few great travel tips that you could share?
I will stand by this forever – EAT LOCAL. I think one of the best parts of traveling is connecting with people you may never meet again. I find that eating local gives you the opportunity to learn more about those people and their stories. Also – never over plan a trip. Leave space to go somewhere that someone, who lives there, recommended.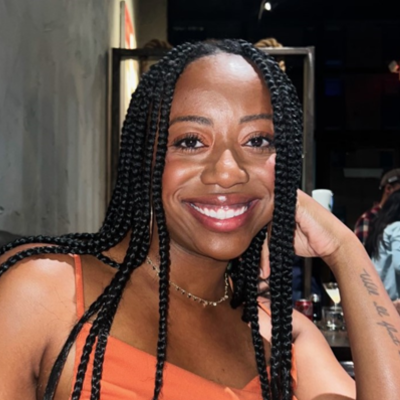 What do you do for fun?
I enjoying baking, practicing yoga, dancing, and volunteering.
What do you enjoy most about where you live? Any favorite spots that you would recommend to tourists?
I live in Atlanta, and I love the culture here. Not only is Atlanta very diverse, but it's one of a few cities that embraces its diversity. Atlanta is very green, and a lot of its best places to visit and eat are built around its parks. I would recommend Inman Park, Grant Park, and West Midtown. Most of the best neighborhoods are connected via "The Beltline" which makes it easy to walk, bike, or scooter to several restaurants, shops, and breweries.  
What makes Miller Tanner stand out as meeting planning company? What's your favorite aspect about MTA?
MTA has a big emphasis on building a community of smart, motivated, and innovative people. I love being in the company of creatives who share a passion for travel. Also, working for a fully remote company – it doesn't get better.  
Visit www.millertanner.com to learn more about MTA and our associates. Get to know our associates by following us on Instagram for behind-the-scenes with our team.