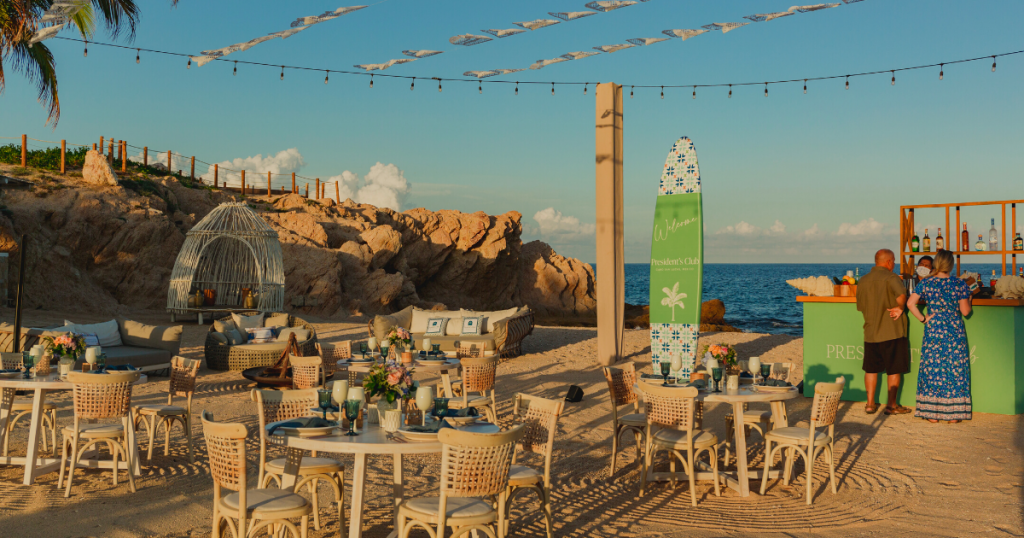 Whether you are hosting an industry-wide training, corporate retreat, or sales meeting, the most crucial thing about your event is what the attendees will remember from their experience.
Event planners are continually looking for ways to create impactful experiences that resonate with their guests. Themed meetings have become an increasingly popular option to inject a healthy dose of joie de vivre into corporate meetings.
What should you consider when creating a themed meeting? Here are ways to use a well-executed theme to create an unforgettable meeting experience and successful corporate event.
Use a Theme That Tells a Story
There is no better way to convey your meeting's goal or message than with storytelling. Experts believe that the use of a theme helps attendees retain the information presented at the event. Stories help engage the audience and capture their imagination. Event planners can create all-inclusive and broad themes coupled with activities, decor, and cuisines to infuse a compelling story with crucial takeaways.
When crafting your story, consider your audience and consider the goals of your event. Who are the heroes? Who are the guides? What is the problem? What do the heroes have to do to defeat the problem? What is the desired outcome? What happens if the heroes fail to reach that outcome? How can the heroes guarantee success?
If we were to put this into action, the central message of your story — the problem to be defeated and the outcome to be achieved — can be placed as the stage backdrop, and other relevant messages — guides, tools, etc. — can be placed on pamphlets, boards, and table cards strategically placed all over the event's venue. Story-based event themes are suitable for workshops, anniversary celebrations, and new releases. Creating a concise hashtag on the stage backdrop and encouraging audience members to post to their social accounts using the hashtag can help drive all of this home and make your event even more of a success.
Use a Theme That Spurs Your Attendees' Excitement
One of the most exciting things about meeting themes is the flexibility to creatively transform a regular place into a memorable event experience for audience members.
Try using motivational and inspiring themes to spur your attendees' excitement. The best way to go about this is by utilizing the unique aspects of the attendees, your event's location, and the products or services that your business offers.
There are lots of options when choosing an exciting meeting theme. You can choose to hold a carnival-inspired corporate meeting event theme, mini-golf tournament, historical or cultural-themed parties, and so on. If you're planning to incorporate the local history or culture into your meeting theme, work with a local expert to coordinate for a prominent local figure to be a keynote speaker or tie your event to a local CSR group or charity event to make it all-inclusive.
Use a Theme to Meet Your Meeting Goals
Whether it's a decision-making meeting or a problem-solving meeting, your meeting theme should focus on achieving your goals. Use innovative thinking to strike a balance between fun and formality to make your theme a success. Planning an event theme with a bit of activity is the best idea for company goal-oriented meeting themes.
Create a Memorable Meeting Experience with Miller Tanner Associates
The theme you pick can positively impact your company meeting if it's well-chosen and properly executed. At Miller Tanner Associates, we aim to create the most memorable meetings with our event planning services. With our many years of experience in corporate planning, we are confident that we will create a meeting theme that will support and enhance your next event.
Contact us today, and let's take your meeting to the next level.
For general contact and more information about Miller Tanner Associates, you can reach us at: 877.726.3129