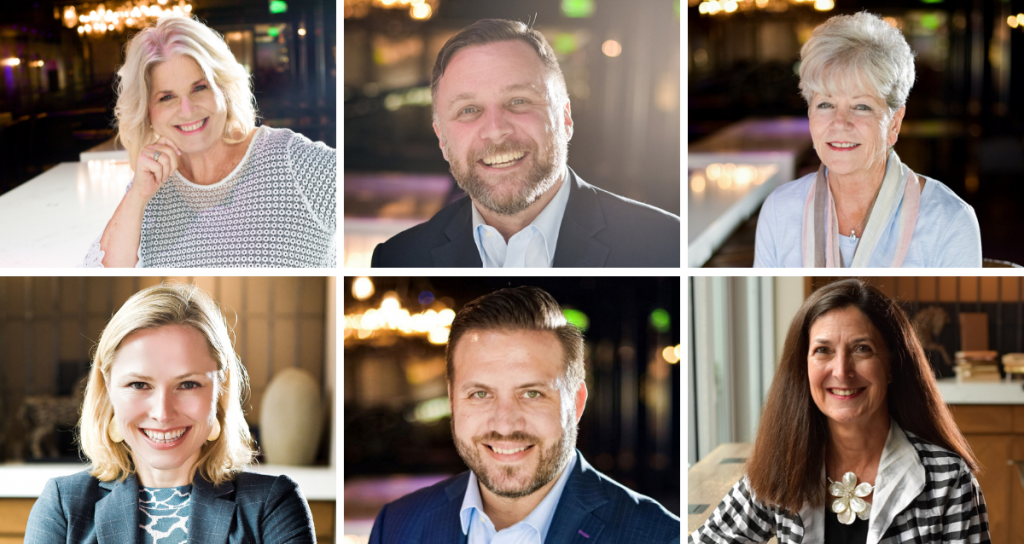 Miller Tanner Associates (MTA) expanded the company's leadership with the creation of a Strategic Leadership Team (SLT) in 2019. The SLT provides a forum for the leaders of our Global Experiences, Technology Services, Compliance, Commercial, and Finance Teams to provide direction for our global workforce and to enhance product and service offerings for our global customers.
"MTA is foundationally an expert in logistics, technology, and design creating exceptional global events; however, MTA offers so much more which we are working toward visualizing for our clients. The combined efforts of the MTA Strategic Leadership Team ensures that our goals are met by providing best-in-class customer experiences through our various service and product offerings and our proprietary technology," CEO Marnie Miller Battistini explained.
We are pleased to introduce you to the Miller Tanner Associates Strategic Leadership Team:
Daniel Conroy, Chief Digital Officer
"Daniel brings to the Technology Services Team his years of cybersecurity experience plus his robust hardware/software knowledge to keep the MTA global client-base event data safe and secure," Battistini said.
With over 20 years of experience in the technology industry, Daniel Conroy serves as the Chief Digital Officer for Miller Tanner Associates. In this role, Daniel is responsible for all digital initiatives including operational technology and security for the firm.
"One of the best parts of my job is that I get to solve complex problems with an amazing team. We are charged with delivering innovative solutions to fundamentally improve the way MTA operates. It's an exciting shift for the company and one that will elevate our clients' experience," Conroy remarked.
Daniel began his career in New York City with a technology consulting firm at a transformative time with the union of business and technology. While working with firms ranging from large multinationals to boutique clients, the need to deliver well-designed, secure, reliable tools has always been a constant in his career.
Insatiably curious, Daniel supplements his graduate degree in technology management from New York University by keeping a pulse on what's next, permitting him to stay ahead of the technical curve.
Daniel currently resides in Massachusetts.
Mary Long, Chief Compliance Officer
Mary Long serves as Chief Compliance Officer for Miller Tanner Associates. In her role, she develops controls, procedures and system solutions to enhance the effectiveness of the compliance function at Miller Tanner Associates. She maintains oversight of compliance controls as part of the risk assessment process, addresses program gaps and manages compliance issues that arise, including driving remediation activities and reporting on related outcomes.
"Mary's consistent education on the ever-changing and expanding country guidelines has resulted in detailed country hospitality reviews which have helped our clients proactively prepare for the different countries from which some invitees originate. MTA is becoming the one-stop shop for our clients to ask their compliance questions, and I'm happy to report Mary knows the answers," Battistini said.
For a decade, Mary utilized her BSN RN degree to primarily focus on patient care in oncology, nephrology, and orthopedics. After moving to Nashville, Tennessee, she continued to use her nursing and management experience to transition into the clinical research organization (CRO) industry with global positions in clinical operations and clinical quality compliance for over twenty years. In 2012, Mary transitioned from the CRO industry to supporting the quality and compliance talents of Miller Tanner Associates, developing the company policies, departmental standard operating procedures, process standards, risk assessments, security posture and reporting tools for multiple companies.
"I look forward to continuing Miller Tanner Associates' vision for expanding our service and system offerings that make our company so unique," Long said.
Mary currently resides in Texas.
Scott Nodolf, Chief Revenue Officer
Scott Nodolf serves as Chief Revenue Officer for Miller Tanner Associates. With over 20 years of experience in the life sciences/healthcare industry, Scott leads the MTA Commercial Team providing strategic leadership for sales, marketing, and proposals.
"Scott's knowledge on how to build a successful sales team and share uniform messaging is second only to his intensity around providing the best customer experience possible," Battistini said. "He answers every question from the perspective of how will this impact our customers' experience at MTA. He combines his "team" voice with his strong approach to "client-focused" action in order to create a powerful outcome."
Scott came to MTA from The Health Management Academy (The Academy), an exclusive membership organization for executives from the country's top 100 health systems and innovative healthcare companies, where he served as chief customer officer. Scott also worked with ICON plc, a global provider of outsourced development services to the pharmaceutical, biotechnology, and medical device industries. He served on ICON's team for 18 years, most recently in the position of executive director of business development. He has been a customer-driven commercial leader throughout his career, developing strategic partnerships with his clients while coaching and developing high-performing commercial teams.
"Having known Marnie and many other MTA team members for nearly a decade as a previous customer, I could not be more excited to join this wonderful organization. One of my biggest passions, creating customer value, perfectly aligns to MTA's focus of creating unique and engaging customer experiences," Nodolf added.
Scott received his Bachelor of Science in biology from Lake Forest College, his Master of Business Administration from Lake Forest Graduate School of Management, and a Certificate in International Business Management from University College Dublin Michael Smurfit Graduate Business School.
He currently resides in downtown Chicago, Illinois.
Meredith Shottes, Chief Experience Officer
Meredith Shottes serves as Chief Experience Officer for Miller Tanner Associates. In her role, Meredith oversees the strategic leadership of live, virtual and hybrid event services at MTA and continue to drive innovation to develop best-in-class event experiences for our clients.
"Meredith has learned all the aspects within MTA of what it means to plan and execute exceptional events while always providing the best in customer service. Whether the audience at each MTA event is live, remote, or a hybrid combination, Meredith's deep understanding of what makes an event exceptional is just one of the reasons she leads the Global Experiences Team," Battistini continued. "Combine the depth of her event experience with her knowledge of the market pricing and her commitment to providing exceptional customer service, and you can see why she is a formidable force at MTA. She is always willing to educate and inspire the Global Experiences Team and our clients in our work together creating exceptional events."
Originally from the Boston area, Meredith began her career 18 years ago in the meeting and event industry as a freelance planner for high profile financial clients in New York City, where she helped produce corporate and social events ranging from intimate VIP luncheons to 500-person CSR initiatives and 10K-person "picnics." She then brought her talents to an established conference center in the city, which oversaw and produced more than 150 internal and external meetings a week. In 2007, she heralded a shift to the pharmaceutical industry and joined Miller Tanner Associates as a global conference director, applying her event management experience to executing clinical investigator meetings, advisory board and executive committee meetings, national sales meetings, as well as president's club and incentive trips around the world – quickly developing a niche expertise in pharmaceutical industry events and their specific requirements. In 2012, she was promoted to global account director overseeing a significant global partnership with an industry leader. In 2014, she was again promoted to director of global operations, where she has had the great pleasure of working with a fantastic team of event professionals based on 6 continents.
"I am thrilled to start on this new chapter of my career at MTA. We have a strong focus on leveraging technology to enhance our creative process and services, as well as giving our clients deeper access to their data and trends." Shottes noted.
Meredith currently resides in New York City, New York.
Marilyn Eisele, Chief Finance Officer
Marilyn serves as Chief Finance Officer. She leads financial management and oversight for Miller Tanner Associates' financial operations along with strategic visioning as well as process and performance improvement for the company.
A certified public accountant in Ohio, Marilyn joined MTA in 2020 and brings her expansive finance experience from a variety of highly regulated industries including medical devices, technology, and manufacturing. Actively serving in many leadership positions, Marilyn is a governor-appointed board member at Bowling Green State University, co-founder and leader of NEO CFO (Northeast Ohio CFO), and a member of Private Directors Association serving on the Executive and Board Opportunities Committees of the Cleveland Chapter.
One of her favorite aspects of MTA is the company's energizing and collaborative team. A fan of MTA's products and services, she believes MTA's virtual events provide not just another video-based meeting or conference but a truly engaging and unique experience since each event is custom-tailored to a client's needs, ideas, vision and desired outcomes.
"It is a privilege and an honor to work with a team that is extraordinarily committed to bringing value to our customers by understanding and contributing to their missions and desired outcomes. There is an entrepreneurial spirit in each of our team members which is reflected in all we do from delivering unique, purposeful, and memorable events to the leadership and support that comes from our Commercial, Finance, Technology and Compliance teams. I love that Miller Tanner is so innovative and forward-looking and leads the event planning industry with revolutionary thought leadership and technology," Marilyn shared.
Marilyn received a Bachelor of Science in Business Administration from Bowling Green State University. She currently resides in Cleveland.
Marnie Miller Battistini, Chief Executive Officer
Marnie is the founder and chief executive officer for MTA and is charged with taking care of the company, its teams and its customers. As the face and steward of MTA, she oversees all MTA operations, including revenue-producing activities, and sets the direction of the company.
Marnie has more than 25 years of experience delivering unforgettable client experiences for companies in the pharma, biotech, medical device, food and public storage industries. Marnie's
main focuses are growth and expansion, supporting MTA's global teams, and delivering outcomes beyond an exceptional event experience.
Marnie's core strengths lie in strategic thinking, executing and relationship building. She is an empathetic team player who puts people above projects and excels as a supportive, dependable and compassionate leader for MTA.
Updated 4/4/23