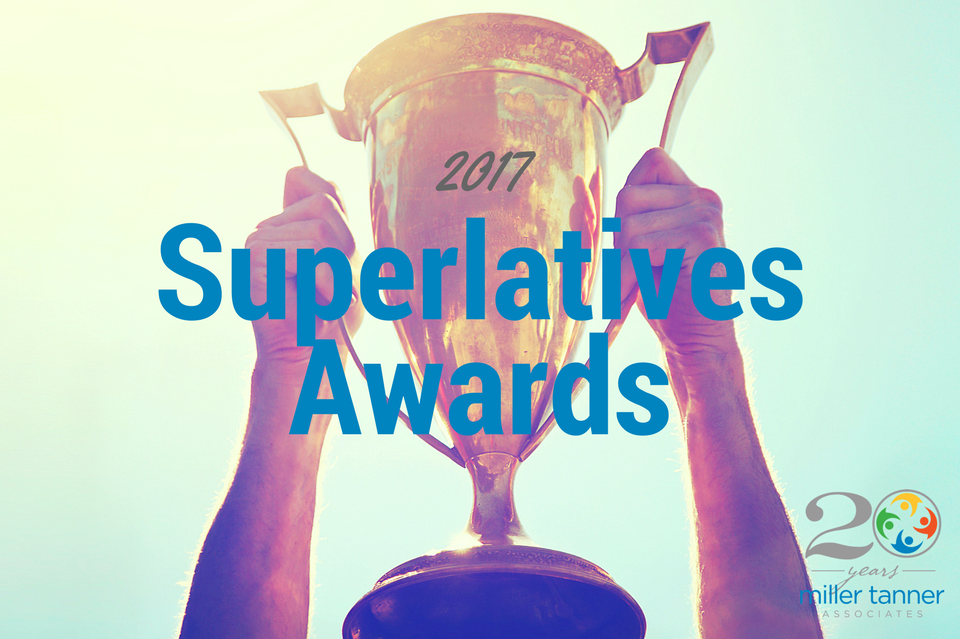 Superlatives Awards 2016-2017
We are pleased to announce our "Superlatives Awards" for the 2016-2017 year! At our recent Miller Tanner Global Workshop, we recognized and awarded distinguished team members for their outstanding contribution to Miller Tanner throughout the year. Their special talents and skills contribute to the "Miller Tanner Difference". We thank them for their dedication and hard work this year.
Marnie Award
These recipients are recognized for extra skills, talent, and merit that really made a difference this past year. Special recognition for this team and their tireless work on MTA's Event Planner, a contribution to the foundational shift of MTA business management.
Daniel Conroy, Technology Services Director
Steve Gascho, Senior Software Engineer
Carla Mahlberg, Technical Projects Lead
Aziz Kamari, Senior System Administrator
Heather Cheng, Global Event Executive
Ingrid Easter, Special Projects Director
Matt Fetzer, Software Engineer
Storyteller Award
Recognized for showing great MTA teamwork by taking care of people because it's the right thing to do!
MTA quickly put into action an emergency plan after learning that 36 meeting attendees were in a city that was experiencing a terrorist attack. Though the attack took place on a weekend after the meeting had concluded, this MTA team didn't hesitate to assist with locating all attendees, ensuring that all were safely accounted for in the city. The team worked around the clock the next 24 hours, leading the effort to identify the location of all meeting attendees/corporate team members by arranging, following up and sending updated reports to the key clients.
Melissa Eggert, Global Event Director
Caroline Drummey, Global Event Specialist
Carrie Hui, Global Event Specialist
Kate Sheelen, Global Service Director
Mandy Sanderson, Global Event Director
Heather Cheng, Global Event Executive
Meredith Shottes, Global Events Director
MTA Saver Award
Kristin Puryear, Project Development Manager – Recognized as a creative problem solver using creative budget scenarios and offering options for savings for the clients and for MTA by tracking savings and showcasing successes.
Gift of Service Award
Meredeth Brower, Virtual Global Event Director – Recognized the most by our team, our vendors, and our clients. Represents the cheerleader for MTA, the go-to for the team, and always available for assistance and direction.
Year of Time Award
Courtney Johnson, Social Media Marketing Coordinator – Recognized for making the most use of time at work, managing timelines, and meeting deadlines.
Latest posts by Miller Tanner Associates Team
(see all)