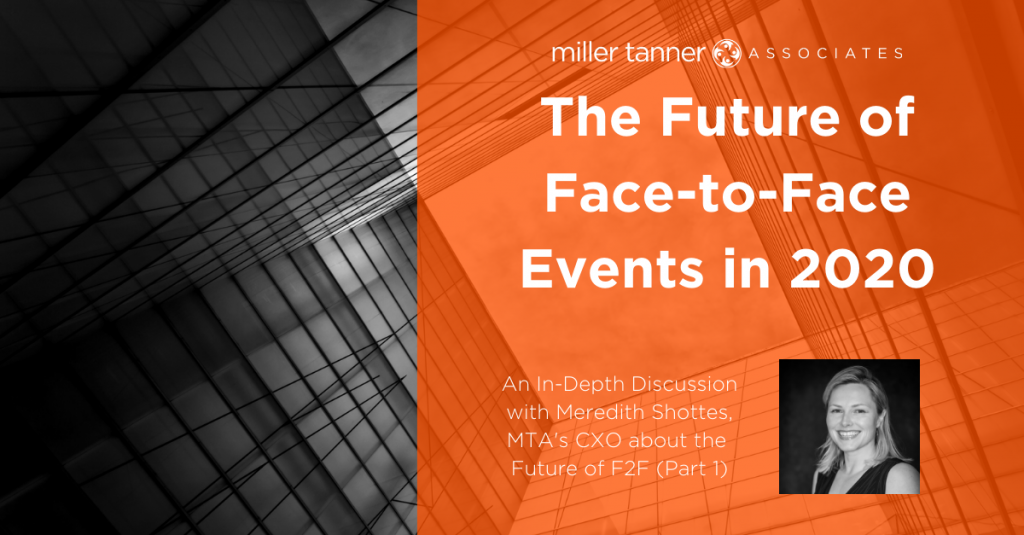 Since February, the landscape of in-person meetings and events has shifted dramatically. MTA's Chief Experience Officer (CXO) Meredith Shottes, CMP shares her insights in this in-depth discussion regarding the future of face-to-face events in 2020.
Are face-to-face meetings and events dead?
No, they are not dead. Definitely not. They are alive in larger ways than we could have ever anticipated. I think more than ever, it clarifies for people the value of a face-to-face experience. We have always known that face-to-face experiences were valuable and now that they have been completely taken away, it has shown their true value in terms of return on investment, connection for learning models, and how to truly make relationships, business, and education grow. They are vital components of events. It's a vital component of being a human being to be able to connect with people. That can happen virtually and we have many dynamic and wonderful solutions to help you make the most of your virtual experiences. But also know that live events are not dead – they're just on pause for the moment.
What do face-to-face events and meetings look like moving forward in 2020 as a result of the global pandemic?
I think what we'll see with regards to face-to-face experience is a modified experience where small groups of people will gather together to have experiences that might look like smaller multiple events instead of one large event. You may have regional-specific events or country-specific events. You'll likely have a virtual component to each of those events where there's a connection between the live events that are happening. And of course, I think we'll see a tremendous amount of shift in the way in which that attendees interact. I think this is actually probably one of the most exciting times with regards from an environmental perspective and from an efficiency perspective, with the adoption of technology that allows more paperless and touchless options.
What are some of the challenges and what key areas will be impacted?
I think the biggest challenge that we're facing right now, and it's an understandable one, is fear. We don't know everything about COVID at this time. And so for attendees, meeting organizers, event creators, and our clients, it becomes paralyzing to begin to try and make decisions on events six months down the line as we are continually learning new things each day. So the real challenge for us right now is not the practical logistics or the required cleaning schedules of any given venue or how to distribute food; the real challenge for the industry is fear. And we have to find a way to help our attendees and meeting organizers, event organizers, and our clients overcome that fear when it's safe and responsible to do so by using the best data and the best science that the world has to offer to help us make educated and informed decisions.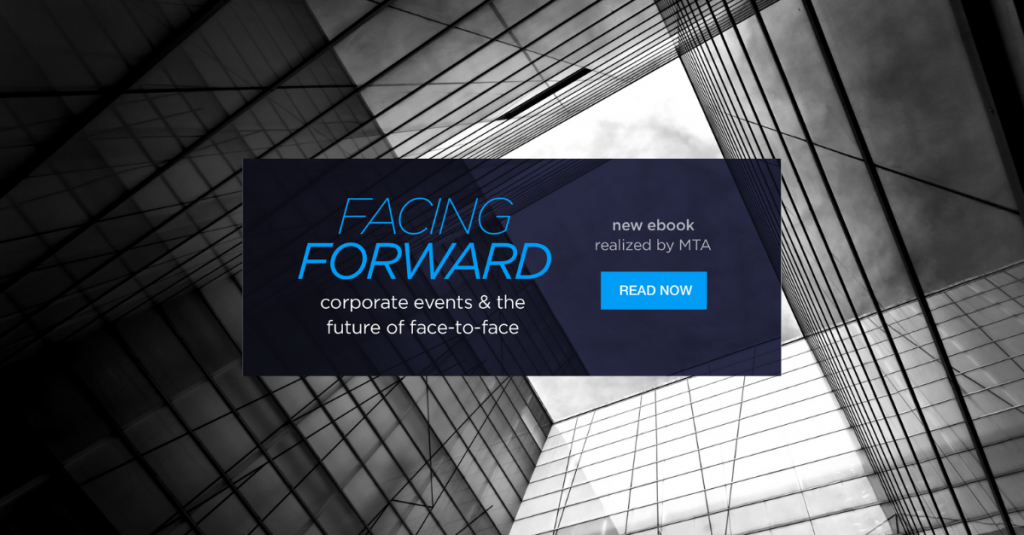 What trends are you seeing this year given COVID-19 challenges?
I do think that the first trend is, of course, technology in the face-to-face experience and to have a more contact-free event. I also think that for all of our face-to-face events, we are all going to build off of hybrid technologies, meaning that more and more face-to-face events will have two audiences – a large portion of the audience in-house at the face-to-face event and a large portion of the audience in a virtual stream. And so what you'll need to develop as a meeting and event organizer is to ensure that the content is appropriate to both of those streams, so that both audiences feel like they're engaged, and that there may be differences.
We need to ensure that the virtual audience has as much opportunity to participate as the face-to-face audience does. What that looks like is networking opportunities and leveraging technology platforms that allow collaborative interaction to build the same rapport and connection with both audiences.
I think we'll hopefully be seeing, as another trend in events in 2020, the huge environmental impacts that will come out of the event industry. For example, if you can use facial recognition technology in order for someone to enter the meeting space instead of producing a name badge for them, you have just reduced your name badge needs completely, which provides a huge environmental impact. Also, in this short term, I do think we'll begin to find new ways both in hotels and restaurants to offer more choices and thus have an impact both from a financial perspective and from an environmental and food waste perspective.
Is Miller Tanner planning any f2f events in 2020?
We are planning face-to-face events in 2020! I think what is really clear about this time period is that there are incredibly different experiences of every single human being on the planet with regard to COVID-19. I personally happen to live in New York City, so I have been on one of the most extreme lockdowns that the United States has experienced, but I have colleagues that work in Hungary on our team where they have had very little exposure to COVID-19 in their communities and in their country at large. And so with regards to face-to-face events, we are seeing events confirmed in regions that have not had huge amounts of impact by COVID-19. And those regions we are supporting with our local teams to produce at the request of our clients and where we believe it's safe to operate at the right time.
To read part 2 of our interview with Meredith Shottes, CXO, click here.

Latest posts by Meredith Shottes
(see all)