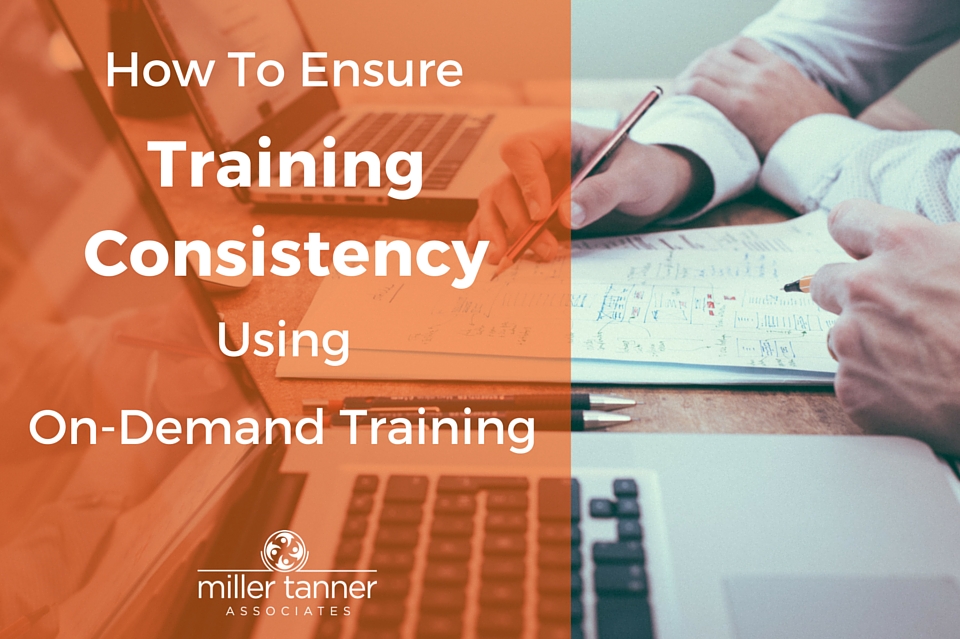 Consistency in training is paramount for all companies no matter what industry. However, as professional meeting planners, we know all too well the challenges that many companies face with ensuring that their meeting updates, discussion, and protocols are accurately communicated throughout their organization. It can feel like an endless cycle of inconsistencies. The good news is that you can stop the endless cycle with one easy solution using on-demand training with  VALTs, Virtual Assessment Learning and Training Source.
What's On-Demand Training?
On-demand training is simply a virtual, online training that is ready to be taken at the time an individual or team is ready to take it. Within VALTs, a catalog can be designed to include a specific set of training materials that provide consistent training to all of your participants. VALTs has many features that enhance training capabilities.  The ways companies can use on-demand training are virtually endless. Our primary uses have included:
Common Uses of On-Demand Training with VALTs
Repurpose face-to-face meetings  – As staff attrition occurs, the newly assigned team member can review exactly the same training as the predecessor.
Deploy urgent protocol amendments and study updates –  This is especially valuable to  bio-pharma, medical device and contract research organizations. Time-sensitive information can be deployed quickly and attendance and viewing can also be rigorously tracked and monitored.
Use as a pre-trainer – On-demand training can be used to facilitate learning before an attendee comes to a face-to-face event, shrinking the onsite agenda, potentially reducing the number of room nights required for a face-to-face event.
Use as refresher courses – This serves as another option for accuracy and consistency in continued learning.
[Tweet "The ways companies can use on-demand training are virtually endless."]
3 Benefits of Using VALTs
Everyone who is invited to the catalog hears the exact same message.
There is no dilution or 2nd party interpretation.
Your message is consistently communicated to all participants.
How It Works
There are times when a client has an event and some attendees (or even speakers) cannot attend in person.  As a result, they need another method of providing training for those people. Or in other cases, we have clients who use the catalog as training for their entire organization, so all of the standard operating procedures are viewed as needed for newly hired staff.
To accommodate for these types of training needs, the content for the training catalog can be readily captured onsite at a face-to-face event or remotely from anywhere around the world.
Just about any type of content can be included in a training catalog. Video files, audio files, Word, Excel, Powerpoint presentations and more can all be housed in the reference material section of VALTs to supplement the recorded presentations in a catalog.
Once the catalog is created, an attendee can be sent a secure link with unique credentials to access the desired training.
Unique Capabilities and Features
Catalog viewing is trackable per attendee and we have robust reporting capabilities to ascertain who is compliant with taking the training.
Assessment question modules can be built into VALTs to gauge a viewer's understanding of materials presented.
For urgent protocol amendments and study updates, our system supports 21 CFR Part 11 requirements for e-signatures and electronic records.
Additionally, we have a unique feature that allows the attendee to ask the presenter a question. The question goes to the presenter's (or designee) email, and can then be responded to directly via email chain.
Our process ensures consistency of training across the board to all team members throughout an organization. VALTs is an ideal solution to mitigate staff attrition, as well as train new staff members.
Lead time for creating a training catalog
It is beneficial for our team to have a few weeks advanced notice that you would like the content capture to take place. This allows us to work with your team to create your branded website and discuss all of the elements that you would like to be included in VALTs. Once the content has been captured and provided to our team, it usually takes between 5-10 business days to produce the catalog and open for review and training.
Does your organization need more training consistency?
Roughly 25% of our clients are currently using our proprietary on-demand trainer, VALTs. It eases the hassle of tracking training across an organization, as well as the associated versioning of required training documents. We would welcome the opportunity to demonstrate it to anyone who has a need for a documented training plan.
Latest posts by Miller Tanner Associates Team
(see all)