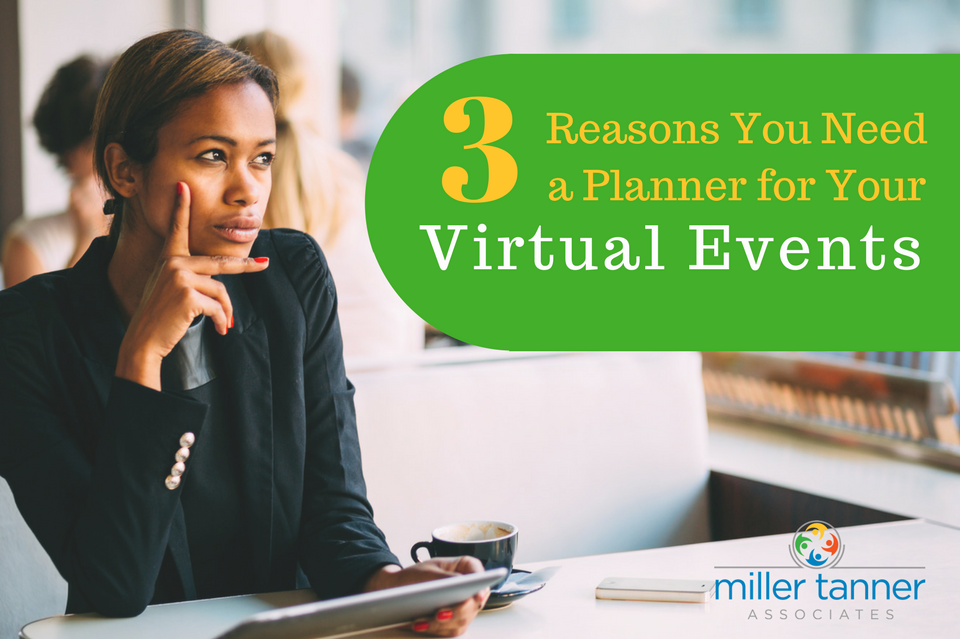 Virtual events are becoming increasingly more popular for companies as an alternative to face-to-face events for several reasons:
Virtual events allow for quick turnaround time when planning.
Presenters and attendees are becoming more comfortable with the virtual format.
Companies see the savings in cost and time, creating convenience across the board.
Reasons for considering a Virtual Versus Face-to-Face Event
A major reason that companies choose a virtual event over a face-to-face event is primarily due to their budget limitations. Virtual events generally cost a fraction of a face-to-face event, reducing spend by about 90 percent. Although a face-to-face option is preferable for some, it might just make more sense financially for a company to conduct a virtual event instead.
In fact, quite often once clients get further into their face-to-face event planning and determine the cost per attendee, they decide to go with a virtual or hybrid alternative.
Another reason virtual events are a popular choice is that it's a highly effective way to share updates quickly. For many companies, critical updates are time-sensitive. Emails don't always do the trick when trying to get feedback and buzz around the topics. Virtual events can be an excellent solution as they can be planned and executed in as quickly as 24 hours depending on the content.
Benefits of Hiring an Event Planner for a Virtual Event
Though you could conduct a virtual meeting using in-house resources, oftentimes many companies do not have access to the equipment and expertise required to produce a seamless virtual event. With virtual events, a well-executed deployment is essential; there's little margin for error. Otherwise, you easily run the risk of a virtual event failure, wasting time, and valuable resources in the process.
What an event planner can offer, in addition to peace of mind, is a plethora of support and know-how. An event planner can provide:
1. Guidance Through the Meeting Platform
A virtual event coordinator can guide you through the best practices for conducting an effective virtual event. Likewise, they can help you develop a virtual event strategy for obtaining your desired training outcomes.
We can offer suggestions for how to condense agendas while also providing creative solutions to optimize your training potential and efficiency. For example, we can help you create an online pre-trainer using VALTs, Miller Tanner's On-Demand Trainer/Learning Management System (ODT/LMS) for participants to view at their leisure prior to the virtual event, allowing the presenters to focus on the more crucial information during the live virtual event.
We can guide the presenter through a rehearsal and step-by-step training of virtual event best practices. We want everyone to feel comfortable and educated so that the event is successful. For the attendees, it's important that they know how the meeting player works. Our talented production team reviews the meeting player at the beginning of the meeting so that attendees are familiar with the technology and can easily engage during the event using the pre-determined options such as PDF handouts, "raise hand" and polling question features.
2. Global-Wide Technical Support
What if suddenly 10 minutes before your virtual meeting, you lose internet connection? There is very little room for technology mishaps when it comes to hosting a virtual meeting. Loss of power or internet issues could stall your event or worse, disable it altogether.
As experts in virtual event planning, we have the capability to place our team in multiple locations creating powerful redundancy as a backup system so that if power or internet access goes out in one location, the meeting can continue (assuming presenter locations are spread out or there are no power/internet issues).
3. Management of the Event Details
Event planners manage all the details involved in your virtual event from the registration process to the critical technology components.
To get the best return on your investment, attendee participation is imperative. An event planner can develop a strategic, detailed timeline with alternative options to accommodate multiple schedules – a key part of ensuring greater enrollment and participation.
An event planner takes all of the responsibility of managing the details by following up with attendees to make sure they have the information needed to register and technical requirements to participate successfully. When you rely on an event planner to manage the fine details of the registration process, there's a greater probability of increased attendance rates.
We can also take the burden off of the presenters by formatting all presentations, videos, and additional content so that your virtual meeting consists of a series of smooth transitions. This allows the presenters to focus on content without the hassle and technical skills of formatting the presentations.
Lastly, we can't emphasize enough the importance of the equipment used to conduct your event. An event planner can provide the highest quality of equipment necessary to conduct a top-notch virtual experience.
Virtual events are an excellent, budget-friendly solution for trainings and meetings of all types. Contact us today to learn more about how MTA virtual solutions can help you meet your training goals. 
Frequently Asked Questions
In effort to help readers to summarize the information found within this post, we've recapitulated the article in question and answer form.
How Does a Virtual Event Compare to a Face-to-Face One?
Companies often prefer virtual over face-to-face events for a variety of reasons. One of the most common reasons is financial constraints. Virtual events are often a fraction of the expense of a face-to-face event, with savings of up to 90%. Although some people prefer face-to-face meetings, it may be more cost-effective for a business to have a virtual party instead.
What are the Benefits of Hiring an Event Planner for a Virtual Event?
A well-executed deployment is critical for any event, including virtual ones. Most executives agree that there is minimal room for mistakes. You don't want to run the risk of having a virtual event fail, losing time and money in the process. Aside from peace of mind, an event planner may provide a wealth of assistance thanks to their expertise.
How Can an Event Planner Help with Guidance Through the Meeting Platform?
A virtual event planner helps to navigate the best practices for running a successful virtual meeting. They may also assist you in developing an event plan to achieve your targeted training results. Professional event planners can help you to compress agendas and come up with innovative ways to maximize your training potential and efficiency.
Can Professional Event Planners Help with Technical Support?
Event coordinators can put their team in various places as specialists in virtual event planning. This provides strong redundancy as a backup system so that the meeting may continue even if power or internet connection is lost in one location.
How Do Event Planners Manage Event Details?
Attendee involvement is critical to getting the greatest return on your investment. An event planner may create a planned, comprehensive timetable with alternate alternatives to suit different schedules, which is a critical component of increasing registration and engagement.