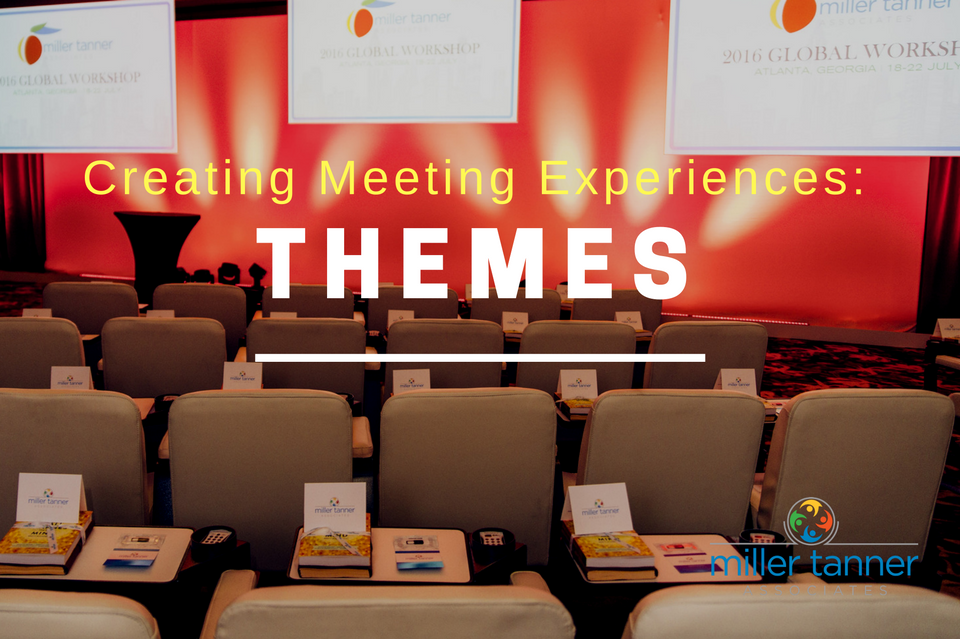 Last week on our blog, we discussed team building as an effective way to create a memorable meeting experience. Today we explore how to create an unforgettable meeting experience through a well-executed theme.
Discover how you can bring your next meeting, be it a regional sales meeting or a leadership conference, to life by weaving in themes to accomplish your meeting goals, excite participants, and shape your overall meeting experience for your attendees.
And we speak from personal experience. Each year we host our own Global Workshop and each year, invariably, we incorporate new themes that shape our overall Workshop because we believe it's instrumental in creating a more memorable meeting experience. Here's why:
1. Having a theme helps raise the level of excitement for your event.
Who doesn't love a themed party? The same can be said for meetings and events. Attaching a theme to your event can really amp up the excitement and anticipation.
Recently we got creative when we planned a leadership conference for our clients. The client wanted to emphasize their Irish heritage and energize their attendees for the year ahead. A few ways we were able to highlight their heritage through custom gifts, a unique Dublin tour, and the Shelbourne Hotel, one of Dublin's oldest and most famous hotels steeped in Irish history. This significantly impacted the enthusiasm surrounding the meeting and helped to boost the attendance rate for the event.
At our own Global Workshop, we built upon a "Class of" theme which inspired company yearbooks for each team member as well as "Hall of Fame" Superlatives awards. This was not only a fun way to celebrate our team and learn more about each team member's contributions to Miller Tanner but also build excitement among our attendees.
2. A theme supports your meeting goals.
A theme ultimately helps you to hone in on the meeting goals that you aim to accomplish.
For our Global Workshop this year, our goals were to enhance communication and learning, in addition to fostering connectedness among our team. Once we identified our goals, a theme began to emerge. It began to spark a vision and became the catalyst for delivering the meeting goals.
We drew inspiration from the book, 52 Small Changes for the Mind by Brett Blumenthal, to build upon the communication and connection goals. As a result, we garnered inspiration for the room decor and the meeting room activities. A large cubby-style mailbox and oversized custom bulletin board offered a tangible way for attendees to connect with hand-written notes of encouragement and appreciation. It was gratifying to see the cubbies overflow with thoughtful notes, and the bulletin board populated with words of encouragement to team members.
3. A theme brings cohesion to your messaging.
"At every meeting, we are telling a story, " shares Marnie Battistini, CEO of Miller Tanner, explaining that one goal of any meeting is to get important messaging across to your attendees. Having a theme is one way to help accomplish that.
Additionally, when all messaging and presentations have a central focus in mind, attendees are more likely to engage and retain information. As an event sponsor, that's a great return.
"A theme creates purposeful direction from planning to implementation leading to a direct and focused agenda in which each presentation or event contributes to the meeting objective and theme," shares Gracie Fisher, CMP, Global Conference Director at Miller Tanner, who had a hand in planning our Global Workshop.
At our recent Workshop, our overall theme was "Beyond All Limits" which was incorporated throughout presentations along with inspiration from the book, 52 Small Changes for the Mind in which quotes were woven into slide decks throughout all presentations. This created a framework for each presentation that helped support the overall goal of communication with a common thread throughout all presentations.
4. A theme helps shape the meeting experience.
A theme becomes the foundation upon which to shape and craft your meeting experience whether it be your room set and design or your activities.
Because we are a remote team at Miller Tanner, it's important for us to come together annually to connect face-to-face. We used our theme to propel the meeting experience.
The hotel's ballroom was transformed into a cozy "outdoor space" adorned with small planted trees (which were later donated to Trees Atlanta) and an illuminated canopy. Farmhouse tables and comfortable outdoor-style seating were staged to create a relaxed communal environment conducive to nurturing conversation and connectedness for our team.
To further support our goal of connectedness at our Workshop, we created a game corner for all attendees to engage. Board games, foosball, and even musical instruments were purposefully planted throughout the space. It was an incredibly successful way of creating an inviting space with which to draw people together.
"From a planning perspective, it's interesting, to see what inspiration is provided at the onset of the project and what inspiration comes further along and how you roll that out and continue a look and feel of the program until the program is over. It shifts and changes. It's a living thing," shares Fisher. "You start with one idea and it morphs into a better idea as people begin to collaborate. How we pull these themes through every part of the function is the exciting challenge as a planner and looking at how that can be applied to every piece of a program while taking all small ideas and pulling them into a common space."
Do you have some ideas but not sure where to start? We can help you shape your meeting into an engaging, memorable experience for your attendees.
Frequently Asked Questions
In effort to help readers to summarize the information found within this post, we've recapitulated the article in question and answer form.
What is the Importance of a Theme for a Conference?
Weaving a theme into your next meeting, whether it's a regional sales meeting or a leadership conference, helps you to achieve your meeting objectives, excite participants, and influence your attendees' entire experience.
Does Having a Theme for a Convention Raise the Level of Excitement?
Who doesn't like a themed gathering? Meetings and training events are in the same boat. Adding a theme to your event definitely helps to increase the level of excitement and anticipation.
How Does an Event Theme Help Support Meeting Goals?
A theme will emerge after your general objectives have been defined. It starts with a vision and then becomes the driving force behind achieving the overall goals.
Does Having a Theme for an Event Make Messaging More Cohesive?
Any meeting should have the same main goal – to get your overall message through to participants. One method to assist with this is to use a theme. Attendees are more likely to engage and remember what they've been taught when all messages and presentations have a core emphasis.
Does Having an Event Theme Help with Shaping Attendees' Experience?
Whether it's your room's staging and decor or activities, a theme provides the basis upon which to build and create your overall meeting experience.