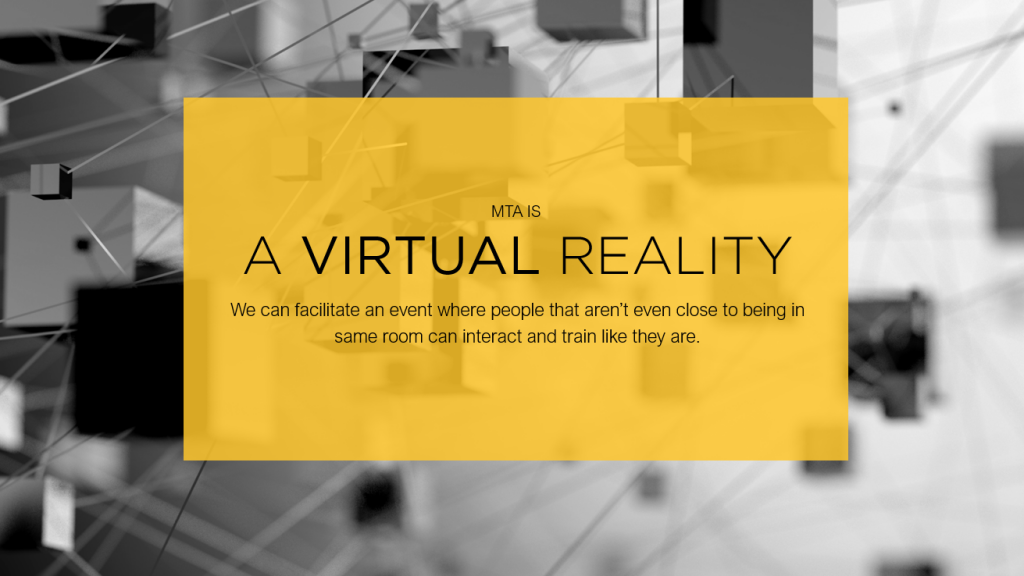 Virtual events have been a Miller Tanner Associates' (MTA) event option since 2010.  In the beginning, virtual technology's limitations only made it a viable option for a very focused event goal.  Over time, as virtual technology improved, MTA broadened our use of virtual events suggesting it as an event option to a wider audience. We saw the virtual event format as another tool to use in designing events for our clients. 
Today there are many competing virtual platforms and there are many devices in which to use for a virtual event.  We recognize technology options move fast and we want to maximize the efforts of many versus developing only one virtual platform option.  Just like there are many face-to-face event venue options, there are many virtual platform options. As a result, MTA has created comprehensive virtual training solutions that support a collaborative, engaging virtual experience. 
Knowing the reasons why you want to gather and invest your time, drives the conversation about what event format should be used.
What is the goal of your event?  
Are you gathering everyone together to train?  Or are you gathering together to meet/discuss/collaborate? 
Do you want your event to be collaborative? 
Do you want real-time feedback from the remote attendees? 
Do you want to meet with subsets of the general audience by creating break-out rooms?
Is security a concern? 
Do you want to repurpose your event content? 
Do you need an audit-ready attendance report? 
Of course, in this time of a global pandemic, virtual is the primary event format available but there are many virtual event platforms from which to choose to accomplish the event's goals. The clever and expert use of the right technology is the foundation of a successful virtual event.
We've just launched a new e-book designed to provide valuable information, best practices, and successful strategies for producing a seamless virtual event. MTA has spent the last 10 years learning the best features of the many virtual platforms on the market and we want to share that knowledge with those that are interested in learning more. 
This e-book provides:
Virtual best practices 
MTA's global event designers favorite virtual platform features used to create exceptional virtual experiences 
Thoughts on how you can repurpose your event content via MTA's proprietary tool, VALTsTM, and help you define the concept of repurposing
Case studies that showcase a virtual town hall meeting, a virtual investigator meeting and a hybrid event using both virtual and face-to-face options 
Frequently Asked Questions 
If you need guidance along the way, reach out to our team at www.millertanner.com.  Thank you in advance for the opportunity to share our knowledge of planning virtual events. 

Latest posts by Marnie Miller Battistini
(see all)