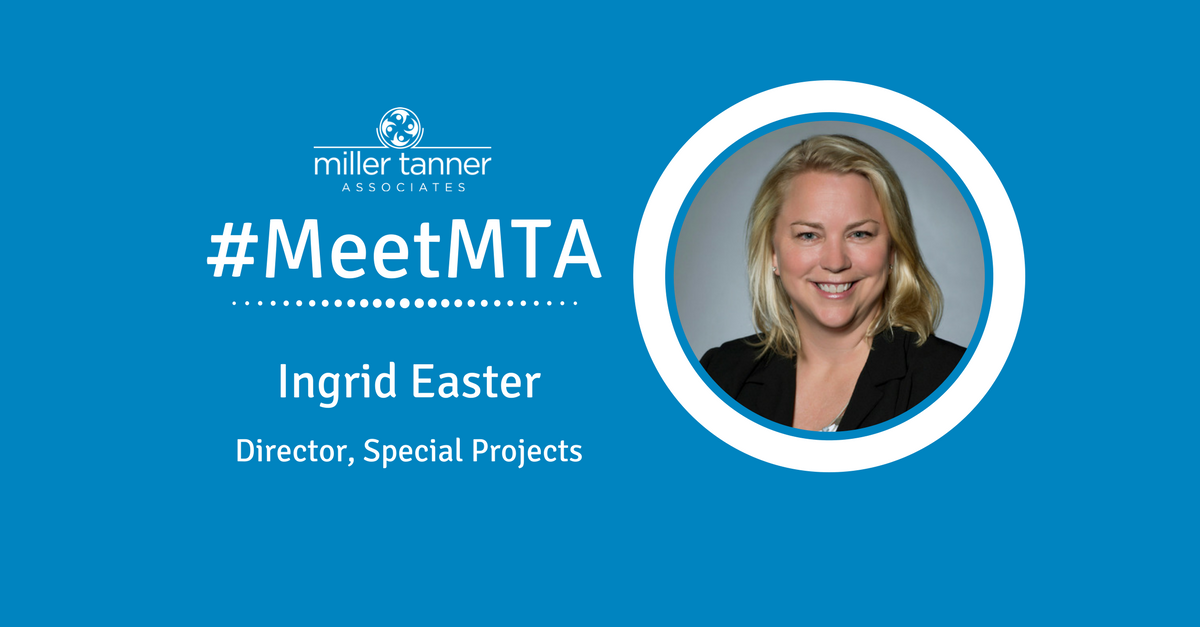 The Miller Tanner difference is our people. That's why we want to introduce you to our team of superstars that brings our corporate meetings and events to life for our clients.
Today, we introduce you to Ingrid Easter, Director of Special Projects for Miller Tanner Associates. This month, Ingrid celebrates her 20th-year anniversary as a valued team member with MTA. Her ability to transform "big picture ideas" into achievable details coupled with her exceptional, supportive skills in strategic development and training has proven to be invaluable to our team.
Meet Ingrid Easter, Director, Special Projects
Tell us about your current role with MTA – what do you do as Director of Special Projects? What are your primary responsibilities?
As Director of Special Projects, I work on projects to improve our ability to serve our clients, increase our internal efficiencies and generate data to help our leadership team plan for the future. For the last several years, I have worked with a team of people helping to develop the Hub, a customized tool for managing all aspects of MTA's business.
How long have you been with MTA? January 1, 2018, was my 20th anniversary with MTA. I was Marnie's second hire.
Describe how things have evolved over the past 20 years in the event industry.
So much has changed! The Internet was just a toddler when MTA started, so we searched for hotels and event venues in huge directories, faxed pages and pages of invitations and sent actual airline tickets to attendees via overnight mail services. The growth of the Internet has impacted the event industry more than anything else. I would also say that the tragic events of 9/11 redefined how we travel and perhaps jump-started the technological advances in virtual events.
What did you do before joining MTA?
My first job out of college was working for the YMCA of Middle Tennessee. I eventually served as Director of the Tennessee YMCA Youth in Government program where I was responsible for planning annual conferences designed to offer high school and middle school students a hands-on experience with state government.
I was very interested in going to law school, but before I made that commitment, I decided to work as a paralegal. That helped me determine that while I loved law, I had no interest in becoming a practicing attorney. Fortunately, I met Marnie and my career trajectory changed.
What's the best part of your job? My colleagues work so very hard at producing spectacular events for our clients. The best part of my job is when something that I work on makes their jobs a bit easier or more efficient.
What do you like to do outside of work? I love to spend time with my family, watch Auburn football (at least when they are having a good season), and attempt to play tennis. And I have a love/hate relationship with CrossFit.
What do you feel makes Miller Tanner stand out as a meeting planning company?
Beyond question, it is our team of outstanding employees and the network of conference support staff. That intangible "gift of service" is what we look for in our potential hires and it makes all the difference.
What's your favorite aspect about MTA?
Even though we are a virtual company, we get together face-to-face once a year. Our focus may be different every year, but it always includes team building and an opportunity for community service. We get reenergized to head back to our offices and serve our customers, whether they be external or internal.
Anything else you'd like to add?
It has been incredibly fun to watch Marnie, our CEO, take MTA from a tiny start-up to an exceptional, worldwide event planning company.
We've come a long way from meeting around a kitchen table, and I'm very proud of her determination to make MTA the kind of company that values its employees and serves its customers with integrity and enthusiasm. I'm honored to work at Miller Tanner Associates.
Latest posts by Miller Tanner Associates Team
(see all)