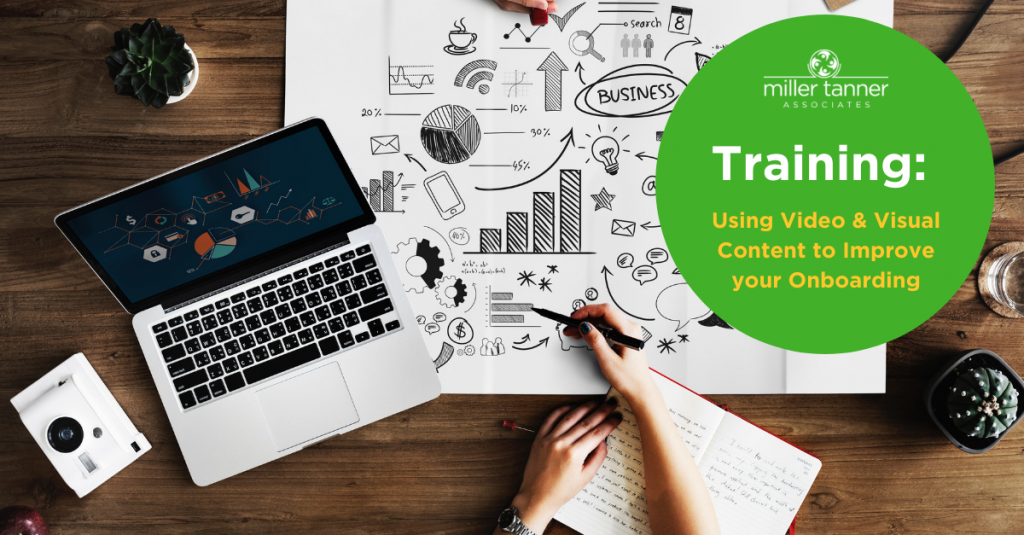 If you are looking for a creative approach to onboarding new employees, optimize your onboarding with video and visual content as part of your training.
At Miller Tanner Associates, we use our own VALTs, Virtual Assessment Learning and Training Source, for onboarding and to introduce new hires to all aspects of our company. We go a step further to create visual content that will improve engagement and excite our new employees about their new role with our company.
Training magazine has an excellent list of 10 reasons to optimize your onboarding with videos and visuals. 
Here's our take on their list of reasons
10 Reasons to Use Visuals and Videos to Improve Onboarding
Helps retain learning and improves engagement: Knowledge retention and training engagement should be a priority of your training goals. Studies suggest that visual content improves retention. Text combined with visuals, like graphs, infographics, videos, and graphics, can increase comprehension and retention by 50 percent, making visuals the preferred method.
Accommodates multiple styles of learning: By diversifying your content, you'll have a greater chance of tapping into the different learning styles of your new employees.
Allows you to address FAQs from new hires: Use visuals to address the most frequently asked questions by new hires. You can then repurpose these resources for future onboarding. This minimizes repetitive questions and back and forth emails within the company to more efficiently assist your new employees.
Allows creativity with tutorials: You can turn boring content into a creative animated explainer video. Use infographics to explain complex procedures. Get creative with learning tools to increase engagement and knowledge.
Establishes a company culture: Deliver your content to new hires with an enthusiastic onboarding video message from your CEO or with interviews with other employees. This gives insight into the personality and the company culture of their new colleagues.
Enables distribution of your message to remote teams: Because Miller Tanner is a virtual company with employees located around the world, we often use video to get our message to our team as a way to personalize company-wide communication and connect with our team members. Videos are an excellent method for delivering your message to a dispersed team.
Showcases the work you do in various departments: Use it as an opportunity to highlight the work that each department does. For example, interview different departments to tell and show what they do through video. This is a great way to get other employees involved and convey company culture.
Engages more feedback: Visual content and video can engage more feedback from your new hires. Follow up with a survey and find out what resonated most.
Easy to create: With so many technology tools available, creating visual content and videos is easier than it has ever been. Use an iPhone to record and create impressive videos, free stock images to evoke attention, and Powerpoint's built-in animation to design a more interactive tutorial.
Better Content: The more you produce visually captivating content, the better your content will become. When you can measure the feedback from your viewers and the quality of the content overall, you'll have a better gauge for how to improve on future content.
If you need help going virtual with your onboarding using our virtual training solutions, we'd be happy to assist. For more info about VALTs, watch the video:
MTA VALTs from Video Instruction on Vimeo.
Source: https://trainingmag.com/trgmag-article/10-reasons-videos-and-visual-content-optimize-onboarding/
Latest posts by Miller Tanner Associates Team
(see all)