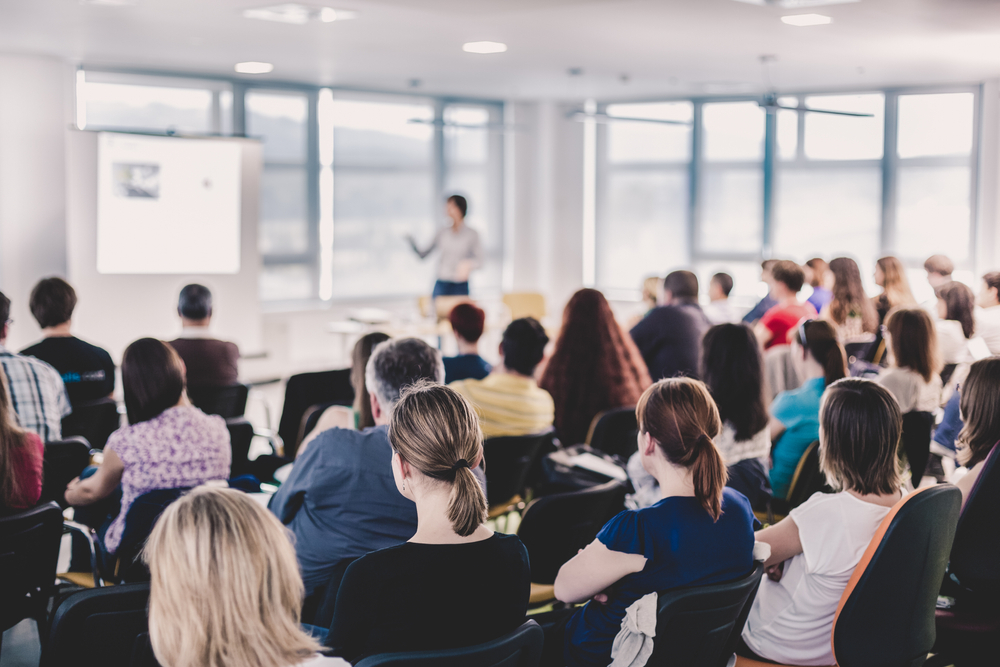 "Conference" is a broad term used to describe various professional events, but there is often confusion surrounding the exact definition of "conference." In this handy guide, we're delving into the details of conferences, covering topics that include:
What is a conference?
Types and styles of conferences
Why professional planners are your best choice for a successful conference
What Is the Purpose of a Conference?
A conference is a "meeting of the minds." Its purpose is to bring people together to discuss a specific topic. Conferences differ from conventions in size. Conventions are large gatherings of people from many different groups, and conferences are generally smaller. You'll often hear the terms "conference" and "convention" used interchangeably.
The goal of a conference is to allow participants to explore new information and share innovative ideas. In most cases, conference attendees all share expertise in a particular field.
Types of Conferences for Your Organization or Business
If you're planning to host a conference, you have several options from which to choose. Each conference type is unique, but all take a purposeful approach to achieving critical objectives. Miller Tanner Associates can help you plan a conference that suits your needs.
Academic Conference
Researchers, scientists, and academicians gather to review research findings or conduct a collaborative workshop at an academic conference.
Business Conference
A business conference is for individuals that work either at the same company/enterprise or within the same industry. At this conference type, the attendees focus on new trends, opportunities, and goals related to the business.
Trade Conference
Usually, trade conferences take place on a reasonably large scale. There may be a diverse range of business people and vendors participating and members of the public. Everyone involved can network and make valuable connections while participating in white paper presentations and workshops.
Unconference
An unconference is a refreshing reinvention of the traditional conference model, inviting attendees who are all equally knowledgeable about a given topic and using an open discussion mode. Usually, this type of conference does not have a speaker that addresses the guests; instead, collaboration is the goal. Unconferences can be an ideal option if you seek to cut costs since funding for guest speakers is not necessary.
Styles of Conferences to Consider
In addition to the various conference types, you can also utilize specific styles when planning your event. Each style comes with its benefits, often suiting particular objectives, occasions, or organizations.
Symposium
A symposium is a very casual event, usually including entertainment and refreshments.
Seminar
Seminars are generally educational and promote the discussion of a specific topic and send attendees home with new information.
Workshop
A workshop zeroes in on hands-on experiences, frequently featuring demonstrations and activities versus extended presentations from a speaker.
Round-table
A round-table conference gathers peers who often share ideas and thoughts on political or commercial topics. The name comes from the physical set-up of the event, which often relies on a round table to create a collaborative environment.
Why Hiring a Professional Event Planning Company Is Important for a Successful Conference
Meticulous planning is necessary no matter what type of conference you're planning. Even for the most casual of conference events, the logistics and experiential aspects should be equally valued – therein lies the key to delivering an exceptional experience for your attendees.
Even if your organization has a fair amount of experience with events, hiring a corporate event planning and management team is a savvy decision that can save you time, money, and stress. A professional planning company can be a total game-changer with extensive expertise in all parts of the planning and execution process and the tools and resources to pull off a flawless event.
It's a great way to work smarter, not harder, and be sure that your conference will be everything you're aiming for and so much more.
Host a Successful Conference with Miller Tanner
Any event is an investment in more ways than one – and why wouldn't you do everything possible to make sure your money, time, and effort are optimized? At Miller Tanner Associates, our talented and multi-disciplinary team has years of experience in professional event planning and management. We are well-equipped to take on virtually any type and size of event, ranging from small workshops to large-scale national conventions.
Transform how you manage event planning when you connect with the Miller Tanner team today!
Image credit: Matej Kastelic