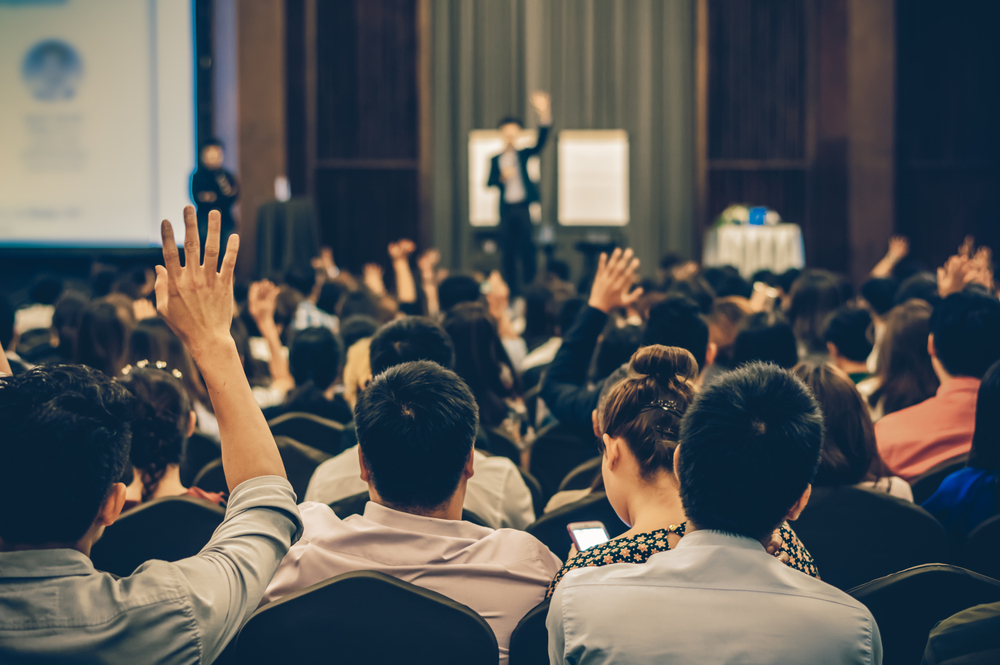 A seminar is a compelling event option for promoting collaboration and thoughtful discussion – but precisely what is a seminar? Defining the concept of a seminar event is an excellent first step in the planning and execution process.
Let's cover the basics of seminars. This guide will explore:
What a seminar is (and is not!)
Types of seminars
Why a professional event planning team is key to a successful seminar
Purpose of a Seminar
A seminar is an event where individuals gather to discuss a specified topic. Generally, these meetings are interactive experiences led by one or two presenters whose role focuses on guiding the conversation along a delineated path.
There are many different types of seminars, and each one has its purpose, including:
Education: Participants may discuss an academic subject to gain new insight or expand their knowledge.

Examples of educational seminars include those that focus on investing, marketing, personal finance, real estate, and others specifically focused on providing new understanding and/or tips.
Motivation: Seminars can inspire participants to improve their lives overall or implement new skills learned at the event.

Examples of motivational seminars can include a business seminar that teaches prospective entrepreneurs how to write a business plan, then motivates them to start the process immediately.
Networking: Another common goal of seminars is networking, allowing like-minded individuals (such as professionals within the same field, community members, vendors, and businesspeople) to make valuable connections.

An example of a networking seminar could be a gathering that brings local government officials together with members of their community with the intent to discuss current issues.
Seminars vs. Workshops
You may have seen discussions of the varied types of seminars and workshops possible, but there are critical differences between these two events.
A seminar is more academic than a workshop and somewhat less hands-on. Generally, a seminar involves one or more speakers discussing specific educational topics. In contrast, workshops tend to be less formal. Workshops require a higher level of attendee participation when compared to seminars.
However, there is also a fundamental similarity between workshops and seminars: both seek to provide participants with new knowledge and/or skills.
Planning a Seminar
Preparing to hold a seminar can be a complex process, mainly because a practical approach is essential in achieving a seminar's goal. In addition to the typical event-planning work, you'll need to put considerable effort into designing a well-rounded experience for participants.
First and foremost, you'll need to determine a clear purpose. Why are you holding a seminar, and what do you want your participants to get out of it? Consider your target audience and precisely what you have to offer them.
You can begin to map out a schedule and work on ironing out details: guest speakers, seminar materials, event logistics, discussion guides, and more.
Why Hiring a Professional Event Planning Company is Important for a Successful Seminar
Because seminars are purpose-driven events, partnering with a professional event-planning team is often the best route. A qualified team will have extensive experience in seminar planning and will therefore be well-equipped to set up a positive discussion environment.
There are so many details to juggle when hosting a seminar, encompassing the usual event planning aspects and additional elements that can make or break your event. With a professional team – like the skilled individuals from Miller Tanner Associates – you can have peace of mind knowing that we are managing your event. And perhaps more importantly, you can be completely confident that every participant will walk away with something of value.
After the Seminar
After the event, the benefits of working with event planning professionals continue. At Miller Tanner, we can help you gather and analyze invaluable data to help you understand what worked and what didn't (if anything!). You can learn from various metrics and make every event even better than the last.
Deliver an Effective Seminar with Miller Tanner Associates
Connect with the talented team at Miller Tanner Associates. Our corporate event planning and management company is well-versed in the art of seminars and other professional events, and we're here to help you pull off a masterfully executed event whether it's in-person, virtual, or a hybrid of the two.
Get more information and discover how we can support your goals when you contact MTA today!
Image credit: TZIDO SUN/shutterstock