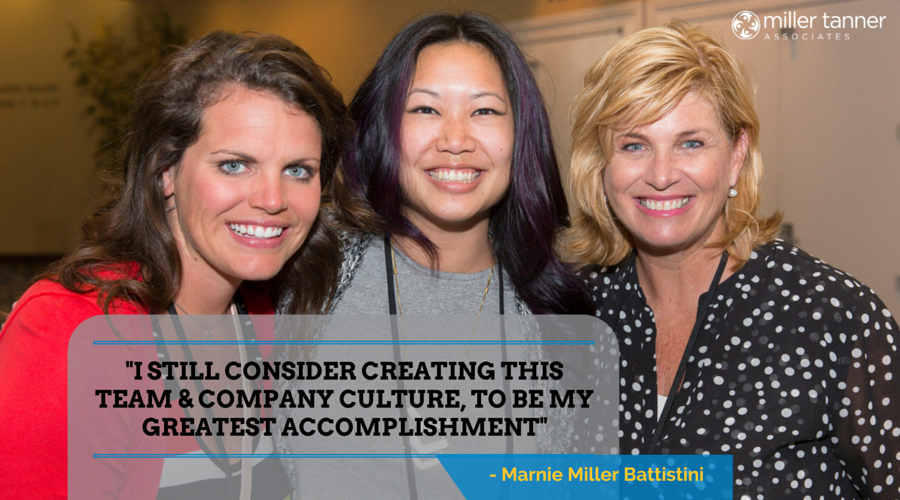 How Our Meeting and Events Company Was Established
By Marnie Miller Battistini:
The day I founded Miller Tanner – May 1, 1997 – really doesn't seem so long ago for me.
It was a bleak, grey day in Nashville as I sat in quiet anticipation at my lawyer's office, readying myself to officially sign the papers required to "start" Miller Tanner Associates. Just days earlier, the lawyer had asked me what I was going to call this company, suggesting I personalize it by including my name so I took his advice. Although I knew I wanted the name to also include the future "team" I had always envisioned in my head. So I decided to combine my last name, with the word 'Associates', and this was truly the first time it was said, out loud: Miller Tanner Associates.
Several years have passed since that May morning, and to this day, I still consider creating this team and company culture to be one of my biggest accomplishments – past and present. The people that have worked with us in the past are just as much a part of our present and future successes, as I see their work product in everything that we do.
Within the last five years, we have added a widget or two, just launched our new website and increased the service offerings we provide including media and production, our virtual and hybrid solution, along with our client-facing portal, paperless meetings and our proprietary On-Demand Trainer – but it still comes down to providing exceptional, personal service which I believe we excel at for our valued and important clients.
As you can see below, I could not be more proud of what we have become and I'm humbled to work alongside such talented, passionate people who continuously raise the bar for excellence. They truly are what make Miller Tanner different:
Above all else, what I want our clients and our employees to know is how happy I am to be here working with them, constantly building a brand I'm very proud of, in a positive environment that encourages work/life balance, family, personal growth and customer-focus. Since day one I wanted to create something special at Miller Tanner. I have had great help in building such a rewarding business, remaining focused solely on helping our clients to do the same.
So heading into 2016, it is incredibly gratifying to know that our 1997 dream comes true – each and every day, all over the world – at Miller Tanner Associates.
Ready to take your next meeting or event to the next level? Contact us today!

Latest posts by Marnie Miller Battistini
(see all)