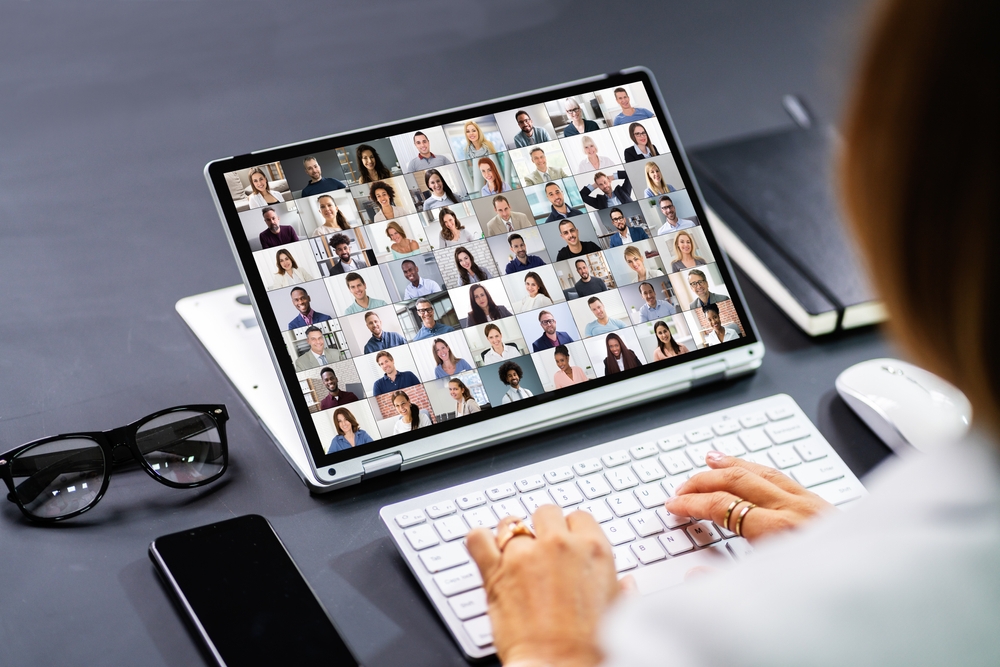 "Hybrid" seems to be one of the latest buzzwords we hear everywhere we go – from hybrid vehicles to a hybrid approach to education, the term is being used in a multitude of ways. But when we're talking about going hybrid in the world of business, it has a distinct meaning all its own.
As a growing number of companies evolve their working and meeting environments, it's becoming increasingly clear that the way we collaborate is changing significantly. And understandably, there are plenty of people that are hesitant about this shift, especially because it seemed to come about so quickly. But interestingly, hybrid events within the professional realm have been around for quite some time. Although the global pandemic pushed this type of event to the center of the work world stage, the idea of the hybrid meeting has been growing in popularity for years.
If you're new to the idea of hybrid events, planning your own can often seem intimidating – and because they are so unique, they definitely do require a measured approach. However, once you learn more about the hybrid event and the long list of benefits it has to offer, it's likely that you'll be feeling more excited than apprehensive about hosting one of your own.
What are Hybrid Meetings?
A hybrid meeting involves meeting attendees participating from two types of locations: some participants are physically present in the meeting space, while others are joining from a remote location. And this blended format isn't just limited to meetings; there are a wide variety of hybrid event types taking place this very minute: hybrid trade shows, seminars, and conferences have all exploded in popularity during the pandemic.
Essentially, the hybrid model combines traditional, in-person events and meetings within a completely virtual setting.
Benefits of a Hybrid Meeting
There are many different reasons to implement hybrid meetings in the workplace, whether you're planning training sessions, networking events, investor meetings, or other kinds of events. And while your company may start hybrid meetings for a certain reason – say, the pandemic or to cut costs – you'll likely realize that there are many benefits you didn't necessarily expect.
Here are some of the benefits of hybrid meetings that you can look forward to:
A collaborative solution to suit everyone
When you unite a team of participants within a shared space and provide them with a common goal, the stage is set for the ultimate in collaboration and innovation. In comparison, trying to replicate that same "magic" while being completely remote is difficult (though not impossible!). And yet, there are many situations in which it's just not feasible to bring all participants on-site for an in-person meeting.
Hybrid meetings are a middle point between these two contrasting scenarios. Both participants that can meet in person and those that are remote can collaborate more effectively.
Flexibility
Technology has allowed businesses to build teams, departments, and entire companies made up of employees from all over the world. Being able to venture beyond your geographical boundaries to find outstanding talent is a major positive for any organization.
However, staff spread around the globe is bound to be in different time zones, with differing working schedules and availability. Live meetings are virtually impossible simply because all participants can't be in the same place at the same time. Hybrid meetings make it possible to bring the entire team together with ease.
Cost-effective and environmentally-conscious
Few companies would want to miss out on the opportunity to practice smarter spending – but if your business has yet to use hybrid meetings, you're leaving real money on the table. Think about how much you can save when you aren't paying for travel, accommodations, and other expenses for meeting attendees. A hybrid meeting can help you cut costs considerably without sacrificing collaboration and networking opportunities.
Challenges of a Hybrid Meeting
Of course, like any kind of event, a hybrid meeting can present certain challenges in both the planning and execution phases. For anyone that's considering using a hybrid approach for future meetings, being familiar with potential difficulties – and having strategic solutions – is key.
Here are some of the most common challenges we have heard associated with hybrid meetings and events:
Technology issues
Even in our tech-savvy society, running into frustrating problems with technology is all too common. In fact, according to 2021 research conducted by Markletic, about 67% of people said that being able to count on technology for a smooth event experience was a concern. Connectivity issues seem to be the most frequent foes of a hybrid event (with close to 33% of organizers reporting a problem), and yet just 12% of people have a backup plan in place.
This statistic is a perfect example of how proactive planning is a necessity for hybrid meetings (as well as any kind of event). We're all familiar with the sometimes temperamental nature of technology, so expecting the unexpected is a must. When you've partnered with an event planning professional, you have the peace of mind of knowing that tech problems – and their solutions – are in very good hands.
Engaging with and connecting both audiences
When you're presenting to a group in a typical in-person meeting room, figuring out how to engage attendees and support collaboration can be tough. But when you expand that meeting to include both in-person and remote attendees, you have an even trickier task on your hands.
Hybrid presentations simply aren't the same as face-to-face meetings, so the entire event approach needs to be different. And because many businesses are still learning how to navigate the best way to host a hybrid event, everyone is facing a sort of "trial and error" situation.
However, this is where working with hybrid event planning professionals can really make a world of difference. When you have someone who understands the hybrid environment's nuances, they can help you develop an experience that will engage everyone involved, no matter where they're physically located.
Why You Need a Professional Planner for a Hybrid Event
When you weigh the benefits of hybrid events, it's easy to see why they've become a part of the future (and the present) of event planning. But at the same time, they come with their fair share of challenges – which makes it important to partner with a professional planning team. If you truly want to take full advantage of everything hybrid meetings have to offer, you'll need an experienced team that knows how to navigate the largely uncharted territory with ease.
For more than two decades, the Miller Tanner Associates team has been planning, hosting, and executing events of every type, size, and style. In the 22-plus years since we were founded, we've handled thousands of events, an immersible number of attendees, and a diverse range of clients with unique needs, goals, and event visions.
Miller Tanner Associates started working with virtual event planning more than ten years ago, building a plethora of experiences that have helped our team grow and evolve into the experts we are today. It is that knowledge and skill that have allowed us to master the art of the hybrid event long before it became trendy, giving us an advantage that most other corporate event planners simply don't have.
Here are some of the perks you'll enjoy when the Miller Tanner Associates team takes your goals for a hybrid event and makes them a reality:
Our in-house production team is always in the wings, ready to design, build, and launch extraordinary audio and visual components that elevate the event experience.
We've spent some serious time crafting events in the virtual space, which means that we know the ins and outs of a wide variety of virtual platforms – so customizing and optimizing your preferred platform to fit your needs is our area of expertise.
We've built our very own training solution, called Virtual Assessment Learning & Training Source (VALTs), which extends on-demand content, provides audit-ready records, and more. It's the tech-driven training option you might not have even realized you needed but is sure to become a staple for your team going forward.
With a globally dispersed team, including partners that are on the ground throughout the world, we have the necessary manpower to ensure the safety and satisfaction of all event attendees (in-person and remote alike). Let us take care of balancing global and regional guidelines, venue policies, and company protocol, so you can get back to what you need to do.
Thanks to our virtual and hybrid event planning expertise, you'll have an abundance of robust technology to incorporate into the overall event experience. As a result, both your in-person attendees and virtual participants will have a closely mirrored experience – nobody will be missing out, no matter where they are.
Miller Tanner Associates: A Pioneer of Hybrid Events and Your Newest Event-Planning Professional
These days, topics like Zoom meetings, remote work, and conference calls often get a bad rap – but that's because so many people in the industry aren't equipped with the expertise, resources, or even the technology to do the hybrid model justice. At Miller Tanner Associates, we're changing all that one hybrid event at a time, proving that a collaborative and positive event experience can happen when you have a professional planning team at the helm.
Discover how a hybrid meeting or event could be the solution you've been searching for when you connect with the Miller Tanner Associates team today.
Image Source: Andrey_Popov