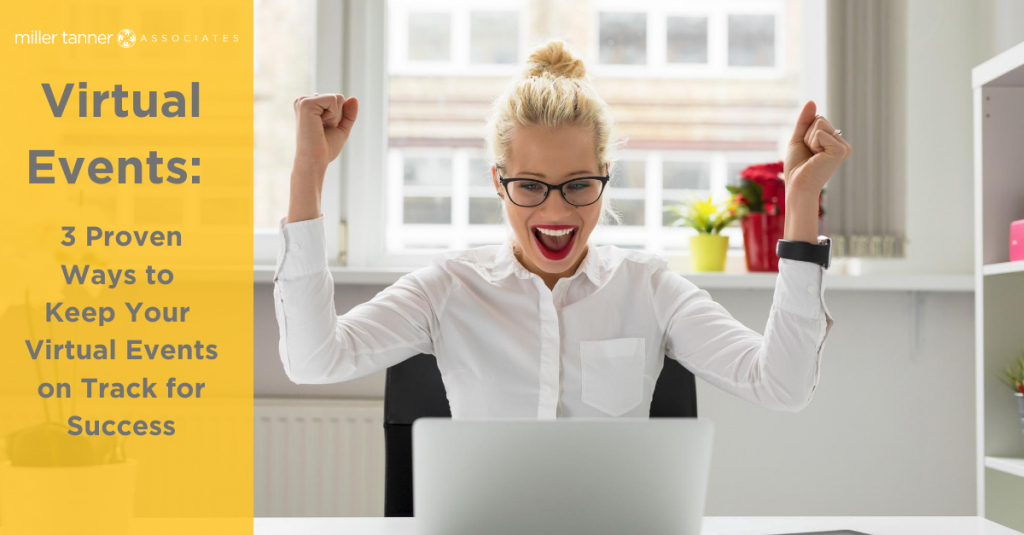 For many people, virtual events are an entirely new way to deliver their message and content. Virtual events require a distinct set of skills. As a result, a lot of people are left scratching their heads to figure out the next steps when planning a virtual event. Do you create the agenda first or determine the platform? Will the presenters be pre-recorded or live? How can you ensure that your technology is secure?
It can be quite challenging without guidance from an event professional. Similar to a face-to-face event, there are many moving parts that have to be thoughtfully planned, rehearsed, and executed; however, unlike a face-to-face event, the flow of a virtual event has to be thoroughly considered in order to maximize the abbreviated time with your audience in a way that creates a connection and not a barrier.
Consider these three proven ways to keep your virtual event on track for success:
1. Rethink Your Agenda
Meeting and event agendas aren't one size fits all. You'll need to approach your virtual agenda very differently from a face-to-face one. "Cultivate the agenda you have to maximize and keep attendees engaged and make the content captivating and purposeful for them to be engaged in a virtual setting," advises Julie Hacker, Miller Tanner Associates' Sr. Global Experience Manager.
Our team can help you align your agenda specifically to the goals of your event in a way that creates an outside-the-box experience for your audience; it's imperative to consider the overall flow in order to create an agenda that delivers a seamless experience.
2. Practice Makes Perfect
Presenting virtually is an entirely different experience from presenting live on a stage face-to-face with your audience. Lighting, timing, cues, understanding how to use the technology tools, and technical rehearsals all play into a flawless production. Make sure that your presenters and moderators are well-rehearsed not only with their presentations but also with the technology tools.
Miller Tanner Associates offers extensive coaching to prepare speakers for delivering their presentations in a virtual landscape. We have developed a speaker's guide and conduct one-on-one coaching as needed. We break down the virtual event minute by minute and walk the presenters through every detail of the virtual event through a full technical rehearsal so that they are prepared, comfortable, and ready to deliver their content in a way that excites, engages, and resonates with their audience.
3. Know Your Technology Options
This is where it gets tricky for most people. It is a full-time job in itself to determine all of the virtual technology that is available as well as learn how the platforms work and understand in such a way that aligns with the goals of your event. You could invest countless hours researching a platform which in the end doesn't reap the outcome you intended. With technology, you have to consider the intentionality behind how it will be used for your virtual event, as well as the potential build-out of the platform itself.
With over 10 years of experience in producing virtual events, our team of experts knows the features, strengths, capabilities, and best use-case for each platform. We guide you through a solution that fits your desired outcomes for your specific virtual experience. Tailor-made to tailor your success.
The Miller Tanner Difference
The Miller Tanner team can determine how to best operationalize your virtual event from beginning to end. We have the training and experience necessary to curate customized virtual solutions that connect with your goals and maximize its impact while maintaining control of your budget – moving beyond a virtual event to an engaging and memorable virtual experience.
Contact us to learn more about how you can make your next virtual event a success!

Latest posts by Marnie Miller Battistini
(see all)