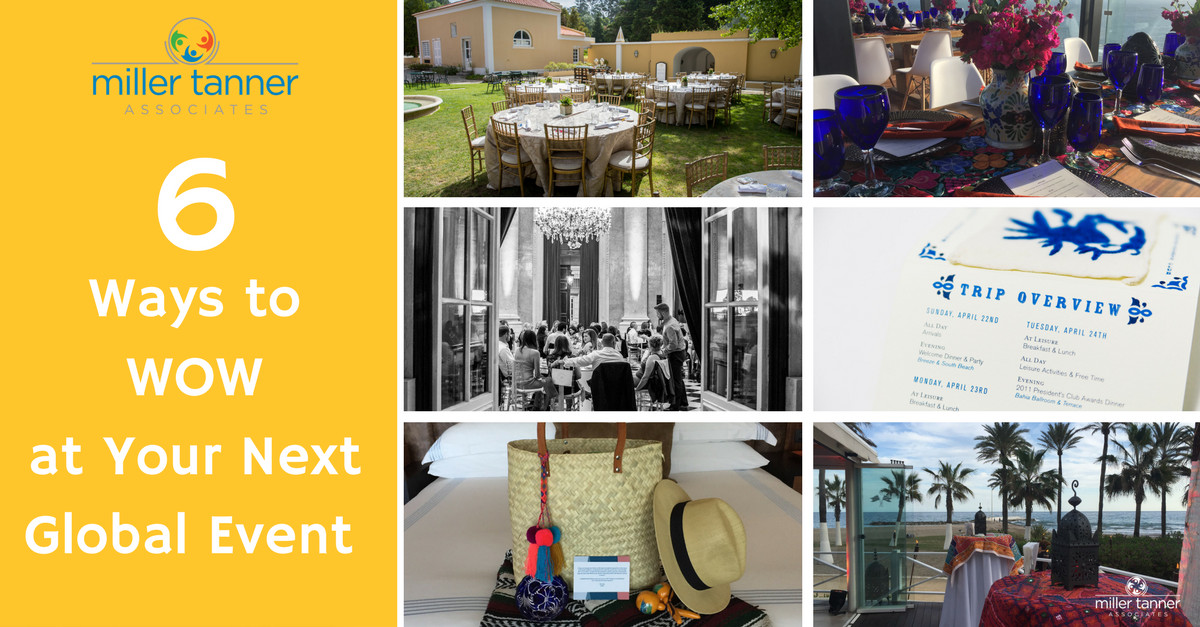 6 Ideas to Make Your Global Meeting Memorable
1. Attention to Details
When you drill it all down, the key to launching a successful event is the attention to the details. Whether you are providing customized gifts for each attendee, designing the space in a way that nurtures conversation, or implementing a theme that resonates with your audience, it's those numerous details that make a lasting impact.
This is where Miller Tanner Associates Team as expert planners can help you add the WOW factor to your event. With over 20 years of experience in the event industry, we know how to execute every detail of any event.
2. Make it Interactive
Want a stronger corporate team? The trend in training these days is to make it interactive and experiential. Not only does this keep your trainees fully engaged but it also helps with learning retention. Get creative with how you deliver your messaging and content. Is it through an interactive tour? Or maybe a role enactment? Make it interactive and you are sure to ramp up the engagement from your attendees.
We planned an interactive training, in partnership with our client that was incredibly well received by the attendees. By collaborating with the team, we helped to bring their idea to fruition. The idea was to create an interactive tour similar to a museum tour – our Miller Tanner team designed the space with white wall panels, rental furniture, and lighting. We also had fresh popcorn available just outside the door along with Bluetooth headsets so that each attendee could learn at their leisure. It was a successful approach to sales training that made a lasting impression.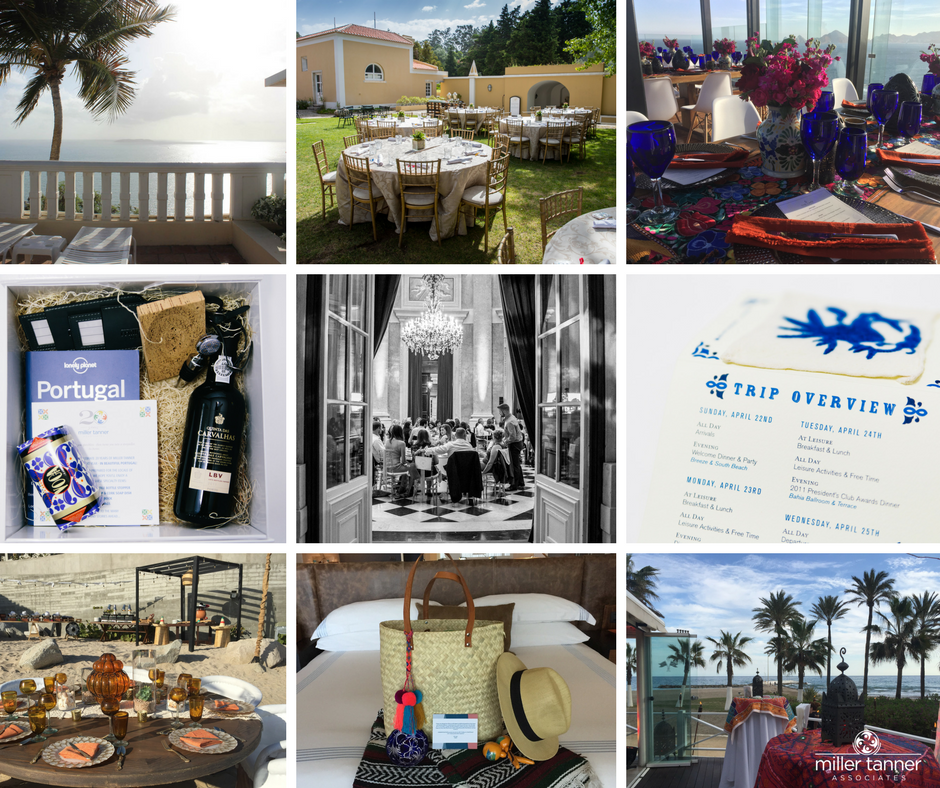 3. Customize it
Cookie-cutter events are so passé. Make your event stand out by customizing it! You can do this a million different ways from room drops to planned excursions. When you take the time to customize your event in a way that speaks to your audience, you've tapped into something special that will make your event memorable for years to come. Not sure how to customize it? Our planning team uses several methods for determining the best way to customize your event for your attendees.
4. Include CSR Activities
One ingredient of creating a meaningful event experience that WOWs is to personalize it through team building. Corporate Social Responsibility (CSR) projects are an excellent way to initiate team building. This is a highly effective approach in that it boosts motivation, builds collaboration, fosters communication, and engages your team. Your company and your employees gain impressive benefits by doing good in your community. And as an added bonus,  companies with engaged employees outperform those without by up to 202%! 
At Miller Tanner, we practice what we preach. CSR activities are an integral part of our annual internal meetings when our team from across the globe comes together for training each summer. We've built bikes for the Boys and Girls Club, collected toys for hospitalized children, worked to spruce up a children's home, built a Habitat house, and have taken part in many other enriching activities throughout our 20 plus years as a team. Our team agrees that this has a lasting WOW effect on any event.
5. Get Outside
Break up the meeting with time outside of the venue. Doing so will help invigorate your teams and keep them more engaged and productive. You can incorporate being outdoors while participating in your CSR activities; or why not take your event outside under the stars, beside the ocean or in the middle of a vineyard. Engaging all the senses of your attendees adds value and makes for a more energizing event.
6. Don't Forget the Cultural Experiences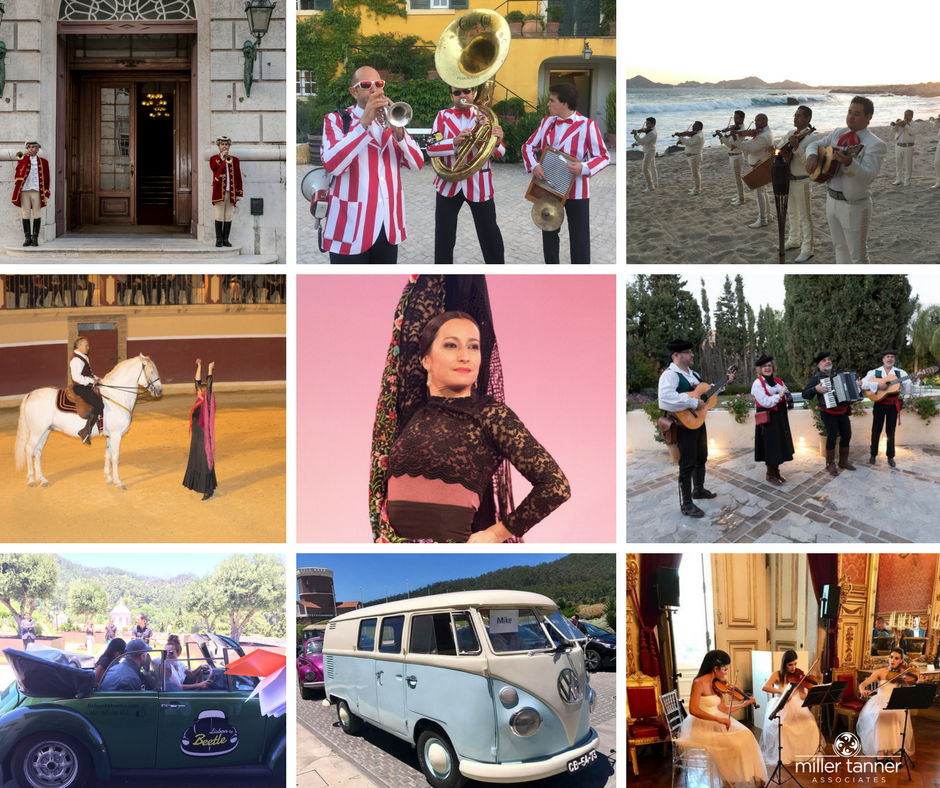 No matter where your event takes place, be it Atlanta or Athens, mixing in some cultural experiences of the location creates a more dynamic, rich and memorable experience for your attendees. It breathes life into your event and builds a connection among your attendees with the destination.
We've planned everything from an antique road rally along the coast of Portugal, an Irish music pub tour through Dublin, and a Spanish Fiesta evening to include a traditional Horse Show while in Southern Spain. If you want to add magic to your event, be sure to include the cultural excursions.
By incorporating these six ideas, you can deliver the WOW factor to any corporate event. We have a team of planning experts located around the world that can help you plan the perfect event in the upcoming year.