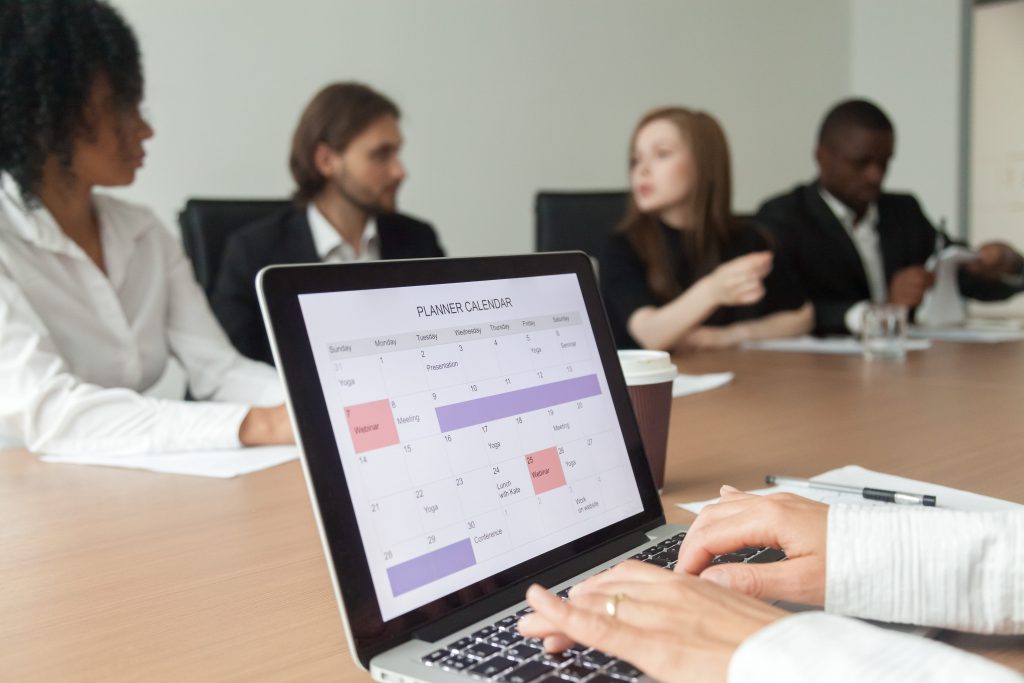 Impactful corporate events are a must for any successful business. Whether the event's goal is to deliver important announcements, gather for networking purposes, or build brand equity, corporate events are an important time for businesses to come together and unify.
Planning a corporate event can be a daunting task that adds stress to an already maxed-out workload. When you hire a professional corporate event organizer, you ensure your next event is a hit while you focus on what matters most: your business.
Miller Tanner Associates specializes in the planning, execution, and follow-up for corporate and executive events. We pride ourselves on crafting memorable, strategically tailored experiences to be purposeful, enjoyable, and impactful. Our team can work with your goals and vision to create an exemplary event that exceeds expectations.
Here are some of the event styles we plan and manage for our clients:
Conferences
A conference can be a powerful catalyst for problem-solving, collaboration, strategy, and skill development, all of which can contribute to company growth and progress. But how do you keep attendees engaged? Miller Tanner Associates offers innovative solutions to help your next conference succeed and enrich your business.
Executive Events
Not all meetings are just fun and games. Executive events usually imply business consulting and strategic planning. These events grow your company and allow you to reach new financial goals. A professional event planner can take care of stressful logistics concerns like venue sourcing, travel arrangements, and catering while you take care of business. Event planners can also offer consultation on event operation, attendee motivation, and unique incentive opportunities to make your event an experience that elevates your team.
Industry Ceremonies
Industry ceremonies are a time for celebration, networking, community, and togetherness. Employees should be basking in their success and meeting others in their industry. Let a corporate event planner take care of the minutiae. Corporate event planners can coordinate every part of the ceremony, from venue selection to elite productions. Talk with our corporate event planners about your next industry ceremony.
Shareholder Briefings
It's no secret that shareholder relations are among the most challenging events to plan for any organization, but mastering these critical assemblies is essential to your company's growth. With the high pressure of shareholder demands, these meetings take weeks of copious, careful preparation to succeed. When a shareholder meeting goes wrong, it can have devastating effects on your company's future. Let the event experts at Miller Tanner Associates make your next shareholder briefing everything you hope for and more.
Social Events
Social events should aim to connect and enrich attendees, and they should also be fun. Consider renting a unique space or building to make it memorable, and brainstorm ways to make your events amazing.
You might include:
Educational and inspirational sessions
Team-building exercises
Charitable integrations
Games and participation rewards
You should also consider diversity, equity, and inclusion (DEI) factors for every event you plan. These considerations should include speakers, vendors, and imaging. You want your event to reflect the audience it's meant to serve, and we live in a diverse and inclusive society, so make sure there is equitable representation across all platforms for your event.
Event planners and managers can assist with all aspects of the event, including invitations, location, catering, themes & decor, performances, and transportation. Don't let your next social event flop. Hire a professional event planner to get to what's important: having fun.
Product Launches
Product launches create public excitement about upcoming products. Don't risk the success of your new product on a lack of event planning experience. Let Miller Tanner Associates put our 25-plus years of event planning experience into your next product launch. We can offer various consulting services to best present your event so that viewers and attendees remember it for years to come.
Annual Company Meetings
Regardless of the size or scope, an annual company meeting sets the stage for training, celebrations, and whatever else you may need. Make the most of the opportunity to level up your organization when you call on the meeting planners and managers from Miller Tanner Associates. Annual company meetings allow corporate executives to showcase their achievements and produce yearly reports to inspire confidence in the company's future. These are often high-stress times for all employees, and efforts should focus on the actual business, not catering. Miller Tanner Associates offers top-class event planning services for companies of all sizes. Talk to us today about organizing your next company meeting.
Elevate Your Next Corporate Event with Miller Tanner Associates
It's time to take your corporate events to the next level — if you're going to invest in an event, you should be able to see a clear and measurable return. Miller Tanner Associates has more than two decades of corporate event planning and management under our belts, with a track record of successful events in Boston, New York, San Diego, San Francisco, and countless other cities worldwide. Whether you're hoping to host an event that delivers increased sales, improves employee collaboration, empowers shareholders, or any different desired result, Miller Tanner Associates is the team you can trust to do it right. 

Miller Tanner Associates can help with in-person events, virtual assemblies, and everything in between. Our expert staff can handle all aspects of your event planning and managing. Don't get bogged down with the logistics of your next event. Contact us today to start planning your next corporate event.
Image credit: fizkes/Shutterstock