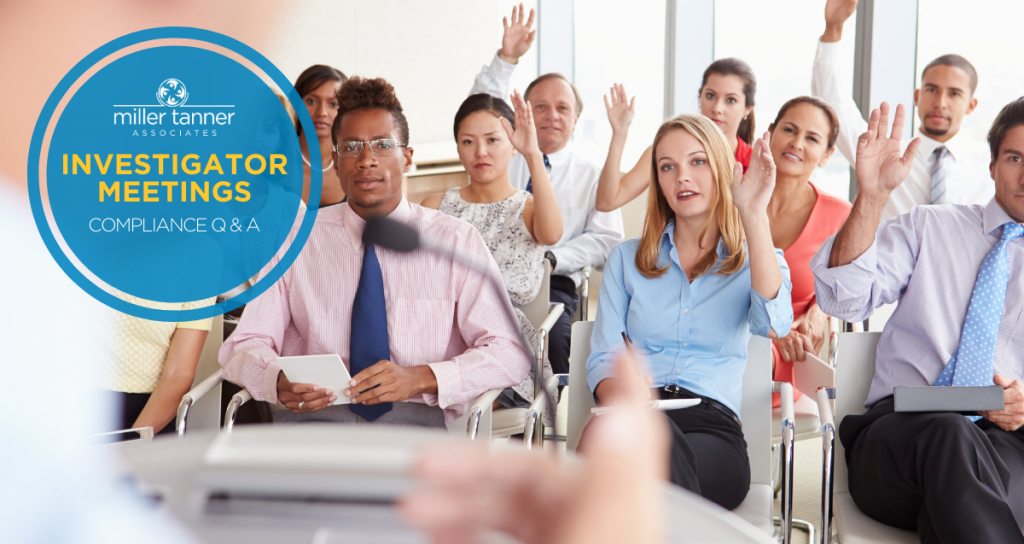 Chief Compliance Officer Mary Long at Miller Tanner Associates (MTA) shares with us the challenges and best practices for addressing compliance when planning investigator meetings (IM).
Frequently Asked Questions About Compliance When Planning an Investigator Meeting
What needs to be considered to approach compliance comprehensively when it comes to investigator meetings?
When initiating plans to conduct an investigator meeting, reviewing the hospitality sections of the Manufacturers Associations' country codes of conduct along with the sponsor's hospitality guidelines (if provided) are essential.
What is currently the biggest challenge for pharma companies regarding compliance and investigator meetings?
One challenge for the pharmaceutical industry is the sites' overall learning plans for compliance with the investigational study. One way to overcome this challenge is to approach investigator meetings with highly-focused agendas and interactive sessions that dovetail with the overall learning plan for the conduct of the study.
How does Miller Tanner assist our clients with ensuring compliance for their IM?
MTA provides our team with written communication of any specific client's guidelines on file, coupled with the applicable country codes related to appropriate interactions with healthcare professionals as used by the industry. The team reviews guidelines early on in the preparations of an event and follows the guidelines to assure compliance.
What are some resources for compliance information for clients?
Helpful resources for review are the country codes of conduct, International Federation of Pharmaceutical Manufacturers and Associations (IFPMA), and European Federation of Pharmaceutical Industries and Associations (EFPIA).
What are some important agenda items that must be considered for all investigator meeting planning?
Create "focused" agendas that provide interactive sessions to enhance learning opportunities and engagement with the sponsor and sites. Remove agenda items that are redundant or that will be gained by different avenues.
If you'd like to learn more about how MTA ensures compliance throughout your meetings, visit our blog Transparency Reporting for Hospitality Made Easy.
If you need help with planning an Investigator Meeting, contact us online or call 877.726.3129

Latest posts by Mary Long
(see all)