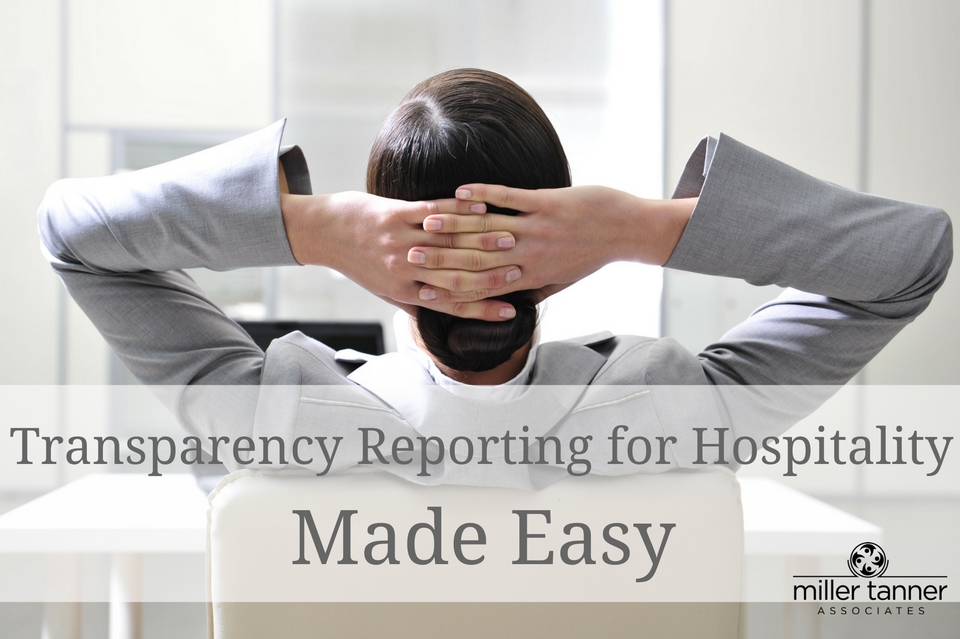 We know how important transparency reporting is to our clients. As pharma-related companies, you want to provide meaningful training and timely product information to your health professional attendees to ensure that they understand how to best care for their patients. We also know that your priority is to conduct investigational studies in a manner as required by International Conference on Harmonisation and Good Clinical Practices guidelines. Miller Tanner can help support you with our thorough compliance and transparency reporting from beginning to end for each of your medical meetings.
How We Make Transparency Reporting Easy
As a result of the reporting requirements enacted with the "Sunshine Act" under the Affordable Care Act, Miller Tanner made significant investments by adding resources and developing processes to provide the type of transparency reporting required at the conclusion of all clients' events.  Resources were added to both our Finance and Operations Departments to support the increasing number of reports provided, as well as, the increasing variation of the report templates and directives across different companies.
Our Miller Tanner Compliance Department provides support to both internal and external teams in regards to compliance with guidelines, procedures, and policies and how it relates to our services and the services provided by our clients and vendors. We comply with the myriad laws and codes governing the financial benefits received by physicians. We adhere to all policies and procedures that have been developed by Miller Tanner, as well as, what our clients and/ or governments' and countries' requirements are regarding hospitality provided to attendees.
How Miller Tanner Ensures Compliance Throughout Your Meeting
Compliance is the foundation of the work we do from start to finish.
Our process and communication begin as early as each event proposal stage. First, we work with the team to understand and document the client's and country's obligations for complying with the hospitality standards set forth by the majority of countries globally.  This document is our "rule book" for the event for all to follow.  Ongoing onsite management of the hospitality provided is key in order to adhere to the guidelines set out per country and per client.  At the conclusion of each event, Miller Tanner implements a collaborative effort between multiple departments to assure the final billing and transparency reporting are correct and accurate.
Face-to-Face Meetings
At every face-to-face meeting, we provide documentation in the following areas to ensure transparency and compliance standards are met:
Individual attendance records to sessions for your audit and inspection purposes.
Documentation of each attendee's preference to partake in certain meal types to support healthcare professional spend reporting requirements.
Documentation and alerts for potential deviations from client's or country's hospitality guidelines for appropriate escalation.
On-Demand Training/Learning Management System (ODT/LMS)
We take compliance one step further. In addition to face-to-face meetings, where training is provided by our clients and their subject matter experts, we can repurpose your training and your voice to our proprietary web-based training system, On-Demand Training/Learning Management System for those companies needing to train and retrain staff outside of a face-to-face meeting. Within our system, we have implemented features to support compliance requirements:
Our ODT/LMS system is built to support 21 CFR Part 11 requirements: for security, electronic signatures, and records.
e-signature requirements – this includes username, the purpose of signature, date and time-stamped.
e-records – training certificates produced by the end-user only when the client's training requirements are achieved. We provide the ability to create certificates which include the user's name, aggregate reporting of the date, time, and name of presentation completed successfully.
We implement security measures within our ODT/LMS system to maintain standards including but not limited to:
We have the capacity to create unique end-user accounts and embed security into the system. 

We can track when the system was entered through login, providing the last date and time that the end-user entered the system.
We've secured the system with a password that is required to be changed every 90 days by the end users.
Our system provides "attention messages" for the end user to respond if they are still viewing or would like to log out.  This is a key security measure when an end user could be viewing confidential information in an open clinic or institutional settings.
Clients are able to measure end users' comprehension of content through assessment questions, with scoring percentage applied by client preferences. End users can reset their assessments if they did not achieve a passing score.
Our team ensures that whether you are conducting a face-to-face, virtual or hybrid meeting, or using our On Demand Training/Learning Management System you're in good hands. You can be confident that our team has extensive knowledge in the areas of compliance, confidentiality, and security when it comes to your medical meetings.
Test Your Compliance Knowledge with These 5 Scenarios:
Want to put your knowledge to the test? Test your compliance knowledge with these 5 scenarios.
Scenario 1. If healthcare professionals from France are invited to an event, what information do you need from your meeting planner regarding hospitality?
Answer: Event details including projected costs, agenda and a list of French attendees with contact details has to be submitted in the local language by your legal representative to CNOM, 30-45 calendars in advance of the event. The approval is tactical.
Scenario 2. If healthcare professionals from Belgium are invited to an event, event details including projected costs, agenda, and detail travel information per attendees have to be submitted how?
Answer: Event details including projected costs, agenda, and detail travel information per attendees have to be submitted online 15 business days to MDEON by the client's legal entity for that country.  Approval in the form a VISA number is issued and is required to be provided with the attendee's travel documentation.
Scenario 3. If physicians or nurses from Germany are invited to an event, each attendee that is employed by a government-owned institution/clinic must receive what?
Answer:  Each attendee that is employed by a government-owned institution/clinic is considered a civil servant must receive an employer consent to attend the training from their managing supervisor.
Scenario 4. If physicians or nurses from Slovakia are invited to an event, what is submitted to the government's database post the event?
Answer: A detail list of attendees and addresses is submitted by the legal entity to the National Medical Information Centre.  This register will be consequently published on the website of the National Centre.
Scenario 5. If healthcare professionals from multiple countries are to attend an event provided by the pharmaceutical/biotech industry, which hospitality codes of conduct apply?
Answer: The most restrictive country's code of conduct for hospitality should be applied to all.
Need help navigating the hospitality compliance regulations for your next meeting? We're happy to help! Reach out to us here.