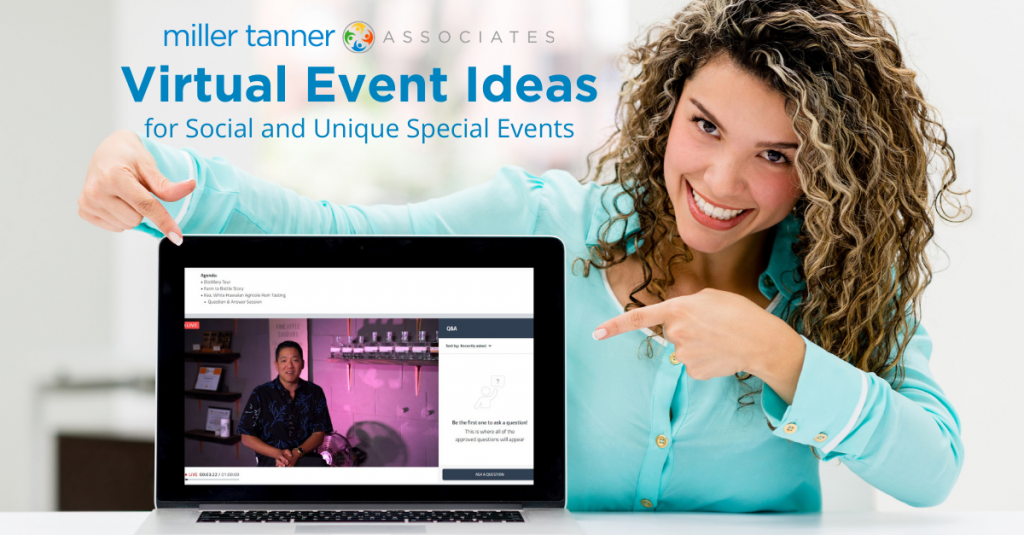 Virtual Event Ideas for Social and Unique Special Events
Virtual events may have originally started as the solution to a global problem, but it's quickly become clear that they're not going anywhere anytime soon. Offering the ultimate combination of convenience, flexibility, and versatility, remote online events are completely changing the way we collaborate.
If you want to host something truly unique, special event ideas aren't limited to in-person experiences. In fact, a virtual event can offer all of the same dynamism and memorability as a traditional, on-site event – as long as it's properly planned and executed. With the right approach and a few handy tips, you can pull off a virtual experience that your attendees never forget.
The Unique Challenge of Planning a Virtual Event
Whether you're hosting remote or in-person events, being able to engage and captivate your audience's interest is the most important thing. You want your event to be something that guests remember as valuable, not as an exhausting waste of time.
If you've ever been a virtual event attendee yourself, you already know that it can be draining. Sitting down for hours and staring at a screen for an extended period of time is tiring, no matter what context it's in. There are constant distractions from the on-screen action (whether attendees are at home or in the office), and the lack of face-to-face moments can make it particularly challenging to stay focused.
Luckily, you're going to be prepared ahead of time with fun virtual event ideas to combat these factors.
Creative Ideas for Every Type of Virtual Event
Just about every one of us has participated in a remote event that's left us half-asleep at our desks, with our mind wandering to what we'll be doing once the screen shuts off. Unfortunately, it's probably that far fewer of us have attended a virtual event with the perfect combination of fun activities, quality content, and thoughtful details – but that definitely doesn't mean these exceptional events are impossible.
Whether the goal of your event is to educate, persuade, or celebrate, putting time and effort into the audience experience makes a world of difference. From the Miller Tanner Associates' event planning experts to you, here are some of our favorite virtual event ideas for planning an online experience that your attendees will love.
1. Create an event look and feel that gives attendees something to get excited about.
Virtual or in-person events should all begin with a design concept. What is the event experience going to look and feel like? Just because your audience isn't going to be attending in-person, that definitely doesn't mean you can't have fun with event design.
The majority of virtual event hosting tools offer a variety of advanced design options that allow you to add a special touch. One great way to make your virtual event stand out is by centering it around a specific theme, incorporating that theme into every element of the design. You can create a fun virtual environment with colors, images, icons, graphics, feeds, and pages, all tied to the theme.
2. Use the invitations as a chance to send the message that it's going to be an event worth attending.
The invitation is the one and only time you'll get to make a first impression on your event audience, so use the opportunity to wow them right away. First, send a fun invitation email with all the pertinent details.
Then, think about ways to keep building anticipation for the event. You could set up a feed to share hints about what's to come, a video of attendees introducing themselves, or even a pre-event message board to encourage conversation.
3. Incorporate entertainment that includes the audience as much as possible.
Think of your event hosting platform as a virtual stage – and it's your job to put on a show. Break up sessions with entertainment to give attendees a short break, keeping spirits up and engagement high.
Think of ways to get the audience involved, whether they get to play parts as entertainers themselves or simply get to participate in the "on-stage" action. Even your speakers can join the fun!
4. Make the most of live sessions and streams with great tech tools.
Don't assume that the entertainment portions of your event are the only time you can make sure people have fun – your attendees can (and should!) have a great time during sessions as well.
There are many different tools that can be used to add interaction, interest, and even humor to your live sessions. Polling, quizzes, and word cloud questions are all smart ways to keep sessions engaging, and real-time Q&A feeds can be both fun and functional.
5. Boost interaction with team-based activities and group elements.
Searching for fun event ideas for small groups? Even when you're going virtual with your event, there are still plenty of options out there.
Build in video breakouts during or after each speaker session, giving each small group a creative challenge to tackle. Or, shake things up with virtual break rooms, where attendees can enjoy some social interaction during their free time. Competitions and games can have the dual purpose of entertainment and engagement and are especially productive when you base them on the event's key content.
6. Keep your eye on the prize: interaction.
Ultimately, the best ideas for virtual events are the ones that take interactivity to the next level. Whether you use one of the many tools available through your event platform or create fun activities all your own, the purpose of your planning efforts should be centered on driving engagement.
In order for your virtual event to really work, people should feel connected, interested, and involved in what's happening on their screen. Keep this in mind, and you'll be well on your way to making your next virtual event a win for everyone.
Let Miller Tanner Associates Help You Host an Online Event that Brings People Together – Even When They're Apart
Here at Miller Tanner, we know a thing or two about well-planned events. We've been in the event planning and management business for nearly a quarter-century, long before virtual events were even a twinkle in a tech-savvy host's eye. When the earliest versions of virtual events started to take off, we're proud to say that we were hard at work pioneering the best way to encourage attendees to have fun, participate, and work together in a remote setting – and we haven't stopped building on the concept since.
With more than a decade of experience in planning events in the virtual space, the Miller Tanner Associates team has learned a lot about what works and what doesn't. We know how to create a remote experience that feels anything but giving guests all of the benefits of in-person engagement without actually requiring them to go anywhere.
From planning programming content to working out the technical details, we'll make sure that you have everything you need to host a virtual event that is a smashing success.
Get more information about how Miller Tanner Associates' services can be your secret to the best virtual event you've hosted yet: contact our team today!

Latest posts by Marnie Miller Battistini
(see all)