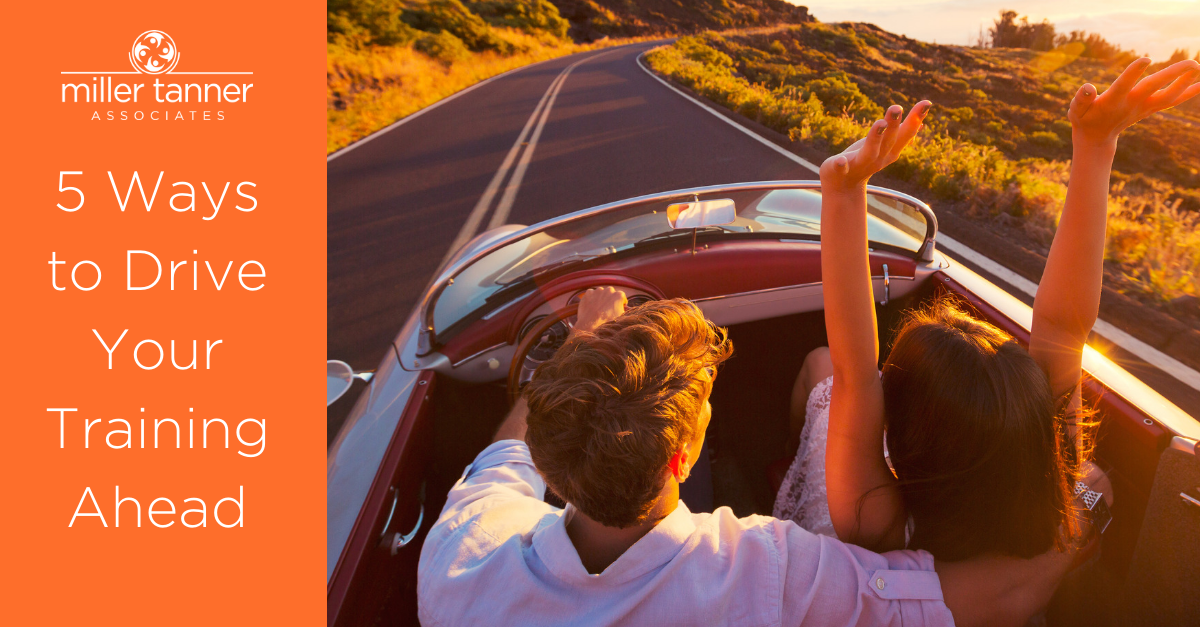 Behind every successful company is an equally successful training program to drive them forward. This year, give your training a tune-up and navigate a new route. Here are 5 ways that you can drive your training ahead in the new year:
1. Put your learner in the driver's seat.
Instead of assuming which training topics should be a priority, ask your teams first. Map out a clear direction with your learners. Survey them to find out what skills they would most benefit from learning. If you get their input, you are more likely to have increased engagement from your trainees throughout your training and, ultimately, you'll have a better return on your training investment.
Additionally, identify gaps and create a training that addresses those gaps.  eLearning Industry suggests using your company's tech help desk as a resource for mining the most frequently asked questions submitted from employees. This allows you to "easily spot general trends that reveal skill gaps and common workflow disruptions."
2. Put your training on cruise control. 
Do you feel like you are spinning your wheels when it comes to delivering your training? Are you repeating yourself? Do yourself a favor this year and take advantage of technology that allows you to automate your training process.
You can put your training on cruise control, using a learning management system like our VALTs, Virtual Assessment Learning and Training Source. This allows you to easily:
Deliver training content
Reach all onboarding  requirements
Create assessments to validate comprehension
Generate completed training documents
Refresh rapidly changing content
Track progress
3. Let training data be your compass.
Your training data can be an excellent guide for delivering successful training. It can get you from point A to point B.
What if you could:
Have instant access to deviations
Know what information or activities your attendees engaged with the most
Manage multiple events within one source and compare data
Identify the gaps in learning among your attendees and address in during your event
Measure, or even change, the behaviors of your attendees
See in real-time how many people per roles per country are represented at your meeting
These are just a few examples of how data can improve the outcomes of your event. You can have your data accessible within a "dashboard" to provide real-time insights about your event anytime from anywhere.
Data paves the road for predicting the success of your training. It helps determine your goals, content, assessments, and trends so you can improve on future events.
4. Test drive other training technologies.
Why not try out a new vehicle for delivering your training. If you've always done a face-to-face meeting, try a more cost-effective virtual meeting instead.
Try using a learning management system like VALTs to conduct a pre-training or to downsize a lengthy face-to-face meeting. Mashup your training with a hybrid meeting (face-to-face + virtual).
To prevent your audience from falling asleep at the wheel, use new technologies such as ARS (Audience Response System), polling, and gamification to engage your passengers.
5. Hire a co-pilot (and by co-pilot we mean a meeting planner).
When it doubt, hire it out. It may be more advantageous and cost-effective to hire an expert to plan your training. The knowledge and time that it takes to design and deliver a seamless meeting can not be overstated – it's a big, detailed job.
A meeting planner is up for the task because they have an event road map complete with backup plans and alternate routes. They have the resources available and the relationships established to make sure your training reaches its final destination with no bumps in the road. ( 10 signs you need to hire a meeting planner) 
Let Miller Tanner Associates help get your training on the road to success this year. Contact our team today to learn more about our training options!
Latest posts by Miller Tanner Associates Team
(see all)