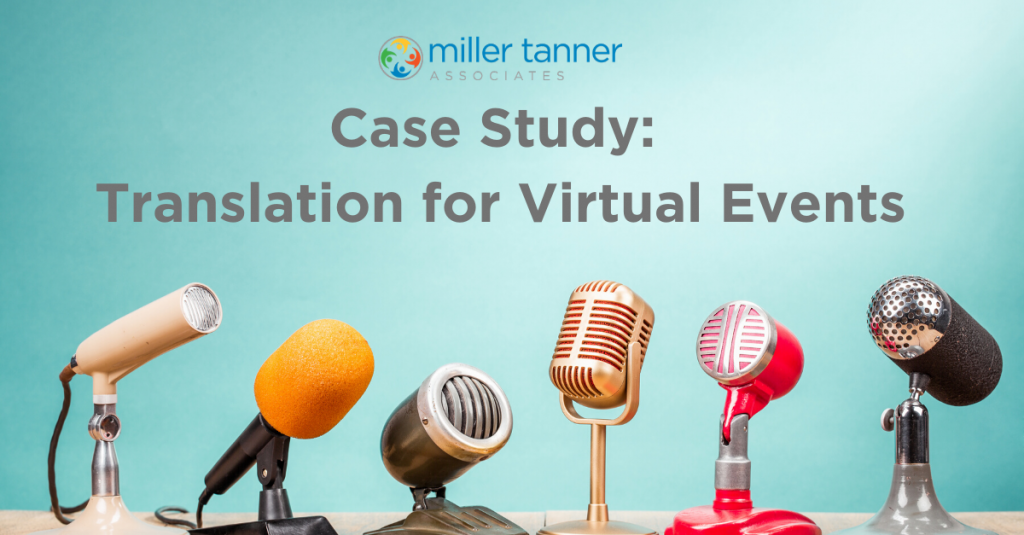 How We Provided Translation Options for a Virtual Event
Virtual events offer an affordable, efficient method for delivering key messaging. The goal of a virtual event is to spread a consistent message where a smaller budget and time constraints might apply. Miller Tanner Associates aims to simulate the key elements of a face-to-face meeting – interpretation being one of those essential elements. When a client wants to offer interpretation to a select group of attendees, it is our job to make sure that happens with ease.
THE CHALLENGE
Virtual platforms introduce a few challenges. Unfortunately, these platforms rarely have multiple audio channels that allow attendees to choose their preferred language translation. For this reason, advanced virtual event translation is important. Additionally, the slides shared with the audience and translation must match the timing of the presenter. The message and instruction to attendees need to be coordinated accurately with the presentation, polling questions, and any attendee interaction with the presenters via text.
THE SOLUTION
Miller Tanner Associates (MTA) has designed a creative solution that meets the translation needs of the attendees.
MTA uses a suite of virtual products that allows us to open multiple meeting platforms and isolate the features in each one.
Our solution offers local and toll-free numbers for countries around the world providing added convenience to attendees during a 4-hour session.
We provide thorough instructions on how to connect for interpretation prior to the meeting, and within housekeeping slides during the meeting.
We also provide presentations and recordings to our interpreters days prior to the meeting, allowing them the opportunity to study the content and presentations.
THE RESULTS
Our clients and their attendees are equally important to us and our primary objective is to provide ease during any event face-to-face, virtual or hybrid events. Using ingenuity, we provided a simple, creative solution for our client which enabled the attendees to listen to a very difficult protocol in their native language while ensuring a better understanding of the study.
Contact our team of experienced event planners to learn more about translation solutions for your virtual events.
Latest posts by Miller Tanner Associates Team
(see all)