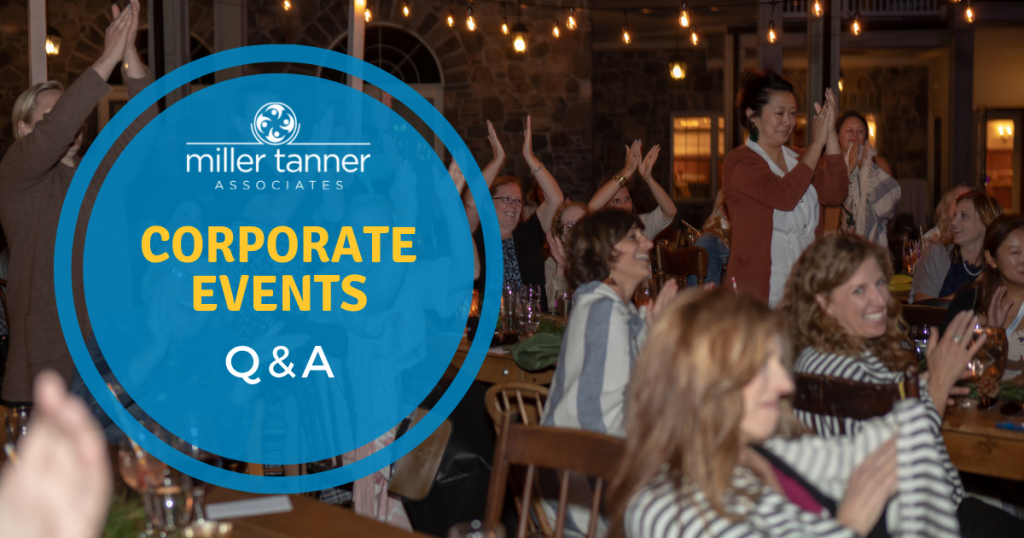 Corporate Events: Q & A
Global Experience Designer Jenny Decker, CMP, shares with us the latest trends and insights for planning a memorable corporate event experience.
What part of the event do you personally handle?
My role begins once the location and hotel have been determined; however, because we have a more continuous relationship with our clients, sometimes we are involved earlier and make suggestions based on what we know about the attendees and goals of the next meeting.
Which details would you consider the top priority when planning a corporate event?
First and foremost, we always like to find out the client's goal for the meeting. Once we know that, we can hone in on more of what the top priorities are for the client. We find that giving the attendees an "experience" that is unique and memorable seems to resonate the most with all clients.
What is one essential that no corporate event should ever be without?
Good food and time out of a hotel ballroom to truly connect are essential. Training and lectures are needed but, especially for corporate events, your attendees are much more productive when they can sit in small groups around a fire pit or in a local pub and share ideas.
In your opinion, what's one benefit of hiring an event planner?
When you are hosting an internal event, your focus should be on connecting with your colleagues, engaging with your team and getting the full experience of the event. There are so many details, decisions, and frankly, too many "fires to put out" when you are on site; It would be difficult to master both – juggling the details and enjoying the full experience. Having experienced event planners plan your meeting allows you to disconnect from the logistics and focus on your team. Our planning team can see "fires" before they start; we know how to pivot when it goes off track. We have plans and processes to make the entire event run smoothly.
How far in advance do you recommend planning a corporate event for companies considering an incentive trip for their team?
For incentive trips, we recommend a year plus. Depending upon the time of year, you usually have a lot of leisure travelers at these locations which are typically more upscale destinations. The options for availability at hotel properties sell out much more quickly so it's important to start planning well in advance.
What are some corporate event destinations that we've planned recently and why were those locations chosen?
Charleston, Scottsdale, Philadelphia, Cayman Island, Mexico, Key Largo, Las Vegas, Santa Monica, New York, Orlando, and Turks & Caicos have been the most recent destinations.
Each client has their own reasons for choosing a location but most of the time it comes down to convenience and ease of travel to and from the city. Also, depending upon the goal of the meeting, sometimes the time of year and weather preferences are high on the list of musts.
The location of the actual property is one of the most attractive things about these events. If attendees are immersed in the culture of the city and able to walk and explore on their time off, it makes the experience of the event that much more enjoyable.
What is the most exciting part of planning and executing a corporate event from your perspective as a planner?
Finding new ways to engage the attendees and bringing in new vendors that offer something completely unique is an exciting aspect of planning.
Based on the feedback from event attendees, what element of the corporate event seems to be the most impactful?
Attendees seem to prefer events where they can "choose their own adventure", have a surprise gift that they can personalize themselves, or choose which gift they want from a variety of high-end options.
What's one activity that was the most fun to plan and see executed?
Any of our incentive trip events would be high on the list. We get to create fun, themed nights for a small group of people and really get to see the surprise and impact that it makes on the group.
What's different about MTA events compared to other companies?
We aren't just checking things off lists—we listen. We make sure that it's the event and experience that our clients want to bring to life. And we use our expertise in logistics and design to make sure that it is truly a remarkable event that your attendees will talk about when they get back home.
Our Global Experience Team can help you design your next incentive trip, global sales meeting, or other corporate event. For more information, contact our team today.
Latest posts by Miller Tanner Associates Team
(see all)