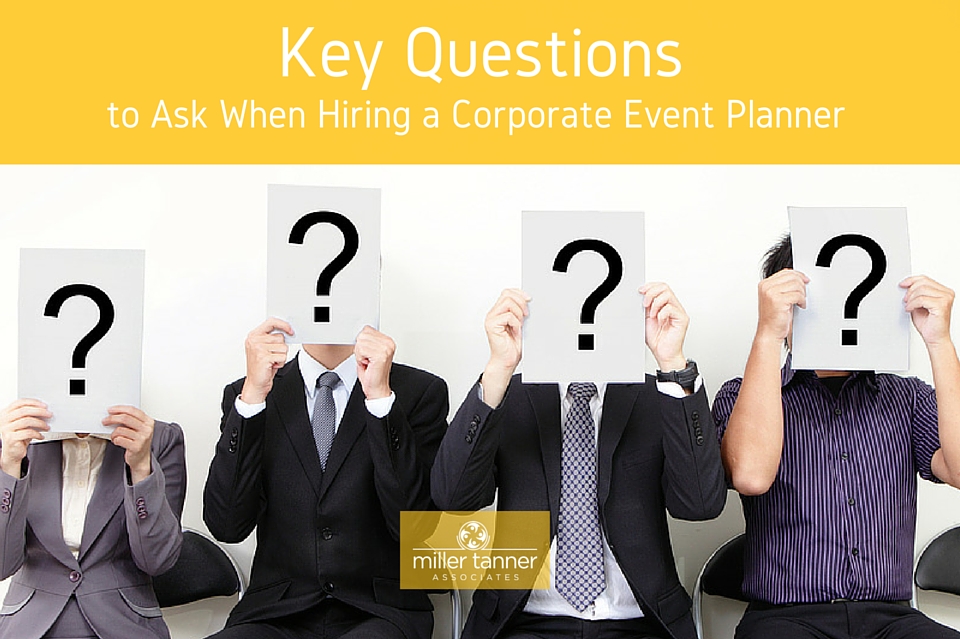 If you are charged with hiring a professional event planner for your next corporate meeting, whether it be for a pharmaceutical investigator meeting or a company's national sales meeting, the task may seem daunting, especially if this is new territory for you. What key factors should you consider when hiring a corporate event planner to execute your next meeting? What are the important questions to ask?
Every single day we are amazed by the variety and depth of questions that we are asked by our existing and potential new clients. Each of their unique perspectives help us to enhance the conversation about what Miller Tanner Associates can bring to the table throughout our partnership development. Plus, it allows us to find potential new ways to expand our global service offerings to fit each client's individual needs.
To help you better navigate this process, we've compiled a list of key questions to ask when hiring a corporate event planner.
However, before seeking out an event planning expert, we first suggest doing some initial homework that will help you and your event planner prepare for a successful event. We recommend having a general idea for these 5 areas in advance:
Key Questions to Answer Before Hiring an Event Planner
1). Timeline for planning
We recommend typically a 12-16 week lead time from client award to desired meeting date in order to accommodate all parties involved.
Proactively planning can also save the client on airfare with tickets purchased 14-21 days in advance too. While Miller Tanner has hosted events, both face-to-face and virtual in as few as 10 days, the lead time is a very important consideration to ensure an event's success as defined by attendance ratios. If an event is planned on short notice, location options and venues may be limited, often resulting in a premium for the venue space.
Additionally, if you schedule an event on short notice, key speakers' schedules, and/or attendees' schedules may not have the flexibility for their attendance. With this in mind, try to plan ahead at least 12 weeks as there is a direct correlation between advanced notice to invited parties and acceptance rates.
2). Number of attendees
We plan meetings for as few as 10 and as many as 1000. The size of your meeting attendance can have several implications.
For instance, many hotels in Europe are well suited to accommodate and host under 200 attendees at once in their meeting space.
For events over 300 persons, hotel options are limited for not only meeting room logistics, but actual hotel rooming under one roof. Putting attendees up at multiple venues can be an added challenge for transfers between properties.
3). Locational preferences
It is nice to have a destination in mind; however, our expertise is making recommendations for unique experiences while staying on budget.
There are some great airport properties to consider if your agenda is short and people won't be leaving the venue. However, many of our clients like to choose city central locations which offer within a short walking distance some cultural activities to get a "feel" of the city's vibe like Amsterdam, Barcelona or Buenos Aires.
4). Budgetary considerations
If travel budgets are limited, meetings can be conducted virtually. Alternatively, if your attendance ratio is tracking lower than you desire, Miller Tanner can record the meeting and post on our proprietary On-Demand Trainer/Learning Management System for future training use to ensure 100% completion of required training. We have innovative approaches that can have a positive impact on your budget's bottom line.
5). Program success
Most importantly, understand your program's goals.
When working with our clients at Miller Tanner, knowing our clients' goals enables our team to hear their needs to make recommendations based upon our prior experience to help shape their agenda to achieve them. Understanding our clients' preferences and how they define success upfront is key!
Key Questions to Ask When Hiring an Event Planner
1). General Capabilities and Support Provided
You'll want to find out their general capabilities and how an event planner will support you during your face-to-face, virtual and/or hybrid meetings. You might consider asking:
What is the company's area of expertise?
What is the process for deploying a meeting and what specific services will be provided?
What factors should I consider when determining a virtual or hybrid meeting versus a face-to-face meeting?
2). Operations Structure
Different meeting planners offer different operational structures. You'll want to know upfront how an event planner's organizational model works and if it's a good fit for your event needs.
Will I have one contact person or be working with a team of planners throughout the planning process?
How many planners will be available on the day of the event?
What method of communication is preferred?
3). Media and Production Services
Additionally, it's useful to understand how a meeting planning company leverages their in-house media and production team and the full array of services offered to enhance the attendee experience at each event. Does the media and production team include services such as:
Equipment/technician oversight?
Graphics, design, and support?
Technical direction of the event?
What will I be responsible for providing?
4). Compliance and Security Measures
Ensure that the company you are considering takes seriously the security of your valuable proprietary information and attendee data, make sure it is "best in class".
Does the company you are considering offer compliance as a service?
Are standard operating systems in place and available for review?
Where is your meeting data stored and how safe is storage?
5). Financial Reporting Procedures
It's wise to understand the full scope of a meeting planning company's financial reporting services to ensure that they capture all the details for regulatory required reporting. Questions you might consider asking are:
How often will billing updates be provided?
Are final bills paid, documented, and provided as a single package?
How are Sunshine Act reports handled, if required?
6). Company Philosophy
Lastly, it's important to consider an event planning company's philosophy and determine if it is ultimately in sync with your company's values and your event goals.
Will our company values align?
Do I feel like a VIP when interacting with your event planner?
How are the small details handled?
At Miller Tanner, our company's philosophy is simple, "do the right thing and good things will come". We believe that deep partnerships over the long-term yield the best results for both our clients and our team. We are interested in relationships that span decades, not just pieces of business.
We hope this blog post gives you more insight into the right questions to ask before hiring your next event coordinator. If you are interested in partnering with Miller Tanner Associates to plan your next event, then bring your ideas, and let's talk about solutions to help you achieve your next meeting's goals.
Frequently Asked Questions
In effort to help readers to summarize the information found within this post, we've recapitulated the article in question and answer form.
What is the Importance of a Timeline for Event Planning?
With tickets bought 14 to 21 days prior to a conference or event, you can help save the attendee money on flights. The lead time is a critical factor in determining an event's success as measured by attendance ratios. Additionally, when planning an event on short notice, location and venue choices may be restricted, resulting in a higher price for the venue space.
How Does the Number of Attendees Impact an Event's Success?
Hotel choices for gatherings with more than 300 attendees are restricted, not just in terms of meeting room logistics, but also in terms of hotel accommodation under one roof. Transfers between properties may be made more difficult if participants are housed at several locations.
How Does Location Preference Affect My Conference?
If your agenda is short and no one will be leaving the venue, there are several excellent airport properties to consider. Many of our customers, however, choose city center areas that provide cultural activities within a short walking distance to acquire a "feel" for the city's atmosphere and dining experiences.
Which Budget Considerations Should I Consider for My Conference?
Meetings may be held online if travel costs are restricted. Alternatively, if your attendance rate is falling short of your expectations, you can save it on an on-demand management system for future training, which guarantees that all necessary training is completed.
How Do Event Planners Ensure Program Success?
Knowing client's goals enables an event planning team to understand specific needs to make recommendations based upon prior experience. This helps shape the agenda to achieve said goals. Understanding upfront client preferences and how each client defines success is key to a well organized event.
Latest posts by Miller Tanner Associates Team
(see all)