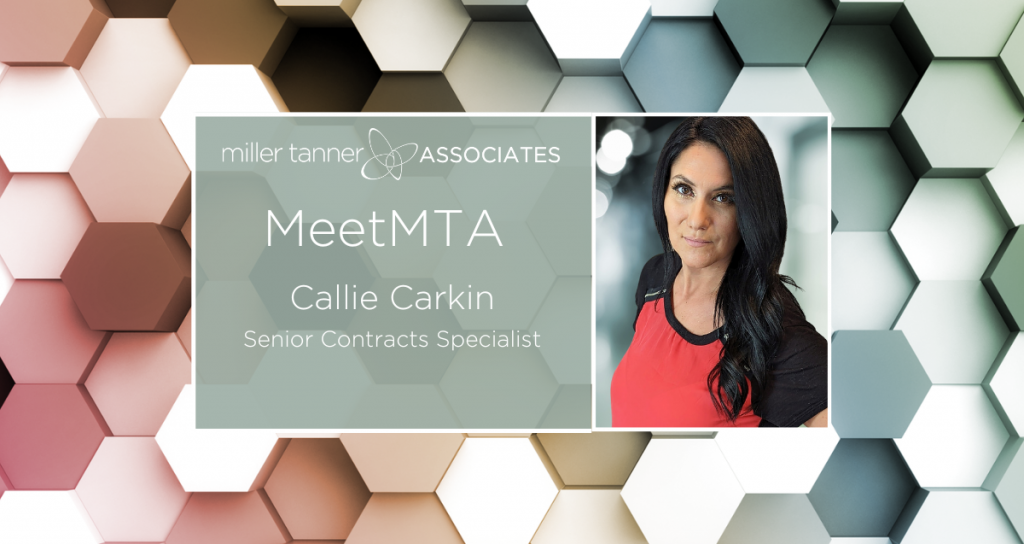 The Miller Tanner Associates' (MTA) difference is our people. That's why we want to introduce you to our team of superstars that brings our corporate meetings and events to life for our customers. Today we introduce you to Senior Contracts Specialist Callie Carkin. Callie's extensive knowledge of contract processes and efficiencies combined with her adeptness for laser-sharp problem-solving, undoubtedly contribute to Miller Tanner Associates overall seamless process for launching any successful event.
Meet Callie Carkin
Tell us about your current role with MTA. What are your primary responsibilities?
As the senior contracts specialist, I work closely with many areas of the Commercial Team. Primarily focusing on contract management and Salesforce process automation. I coordinate with finance/proposals/account management to ensure that our contracts and change orders are processed quickly and efficiently.
What did you do before joining MTA?
I worked in a similar capacity at a Pittsburgh area startup company. While many of the job functions were the same, I primarily focused on legal operations and contract negotiation.
What do you feel are the most fulfilling aspects of your job?
For me, getting to learn and understand a completely different line of work, to grow and streamline a lot of current processes, while also helping to make the lives much easier for my co-workers, is fulfilling aspect of my job.
What's the biggest mistake that you feel companies make when planning an event?
I think many companies rely on in-house teams to plan events when they should be relying on the experts like MTA.
What do you do for fun?
I enjoy many different things and like to keep myself busy. Whether its taking out the paddleboard for the day, going to festivals, camping, hiking or just a relaxing day at home with my animals in my backyard oasis – I love to have fun, laugh and enjoy life!
What makes Miller Tanner Associates stand out as meeting planning company?
The diversity and skillset of Miller Tanner Associates' employees is astounding! How everyone works so cohesively and smartly together to ensure that our customers have the best experiences is truly something to admire.
Why do you think that the annual MTA Workshops are important? What do you get most from this time together?
Being a fully remote company, it is important to take that time yearly to get together to laugh, learn, smile, and truly enjoy the company of the people with whom we work so closely, but don't get to see in person all the time.
Visit www.millertanner.com to learn more about MTA and our associates. Get to know our associates by following us on Instagram for behind-the-scenes with our team.