The Event
A Global Commercial Leadership Meeting for 150 attendees with a focus on strategic leadership planning in Dublin, Ireland.
Challenges 
Based on the attendees' feedback and surveys from the previous year, our customer's goals for this event were to both provide engaging content, and also have intentional time to reconnect. Additionally, they wanted their meeting to have elements of sustainability.
Solutions
Miller Tanner Associates (MTA) used the attendee feedback and customer's goals as a framework to design an event and curate activities that would engage and connect the attendees of the Global Commercial Leadership Meeting in Dublin.
To accomplish the goals of the two-day event, including sustainability awareness and increase overall engagement, interactive technology was a key core component.
All signage was digital using QR codes.
Attendees relied upon a customized app to optimize communication and conveniently accommodate last-minute changes and updates.
Six monitors were set up and easily accessible throughout the event's designated space. These monitors were used for event communication and brand awareness (brand marketing videos, pre-recorded informational videos, and more).
Designated room for office space was made available for attendees to use for meetings and client calls; Meeting Owl camera was set up for group video conferencing enhancement.
TV monitors available for each breakout sessions.
Textured lighting and multi-dimensional AV features were used throughout the event to elevate general sessions and gala experiences.
LED video wall display used for a more interactive experience with content.
To kick off the event, guests enjoyed an evening welcome reception at the Westin Hotel Dublin. To showcase the evening's entertainment, a traditional Irish band performed from a circular stage and event attendees enjoyed an interactive beverage activation.
General sessions were held throughout the following day. Our team incorporated multi-leveled (3 levels) lounge furniture to create stadium-style seating designed for a more highly engaging experience.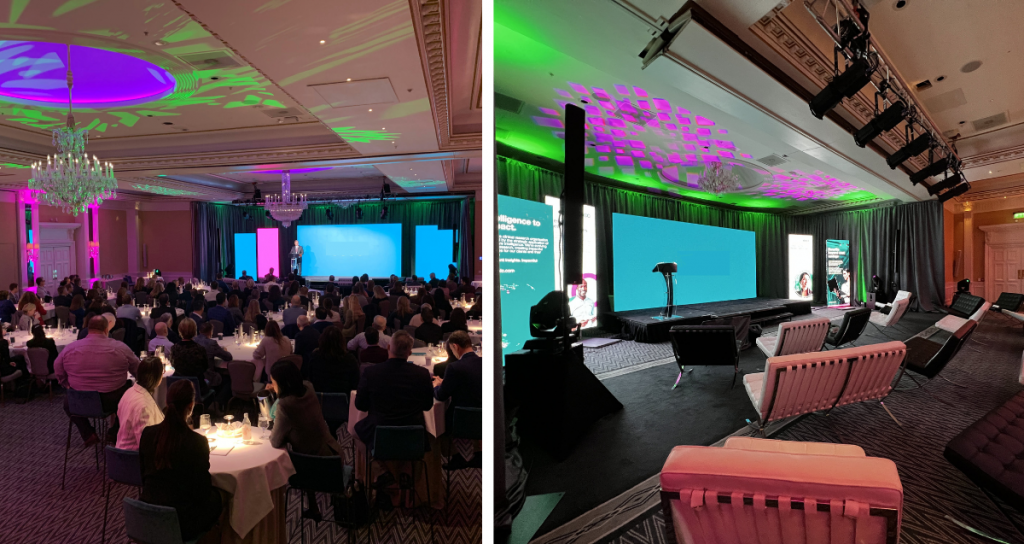 With content engagement as a primary focus of this event, the MTA's Production Team designed a novel concept for our customer. Using an LED video wall (main screen with 4 side screen panels) presentations were more interactive and engaging. Side screens were used to reinforce company messaging and branding through video and moving graphics for a more interesting content display.
To further support the goal of interactivity, the day ended with a collaborative CSR teambuilding event supporting the Jack and Jill Foundation. Attendees were divided into groups for a friendly competition in which they had to work together to create country-themed LEGO® projects. The night ended with these same groups then enjoying off-site dinners within walking distance from the hotel.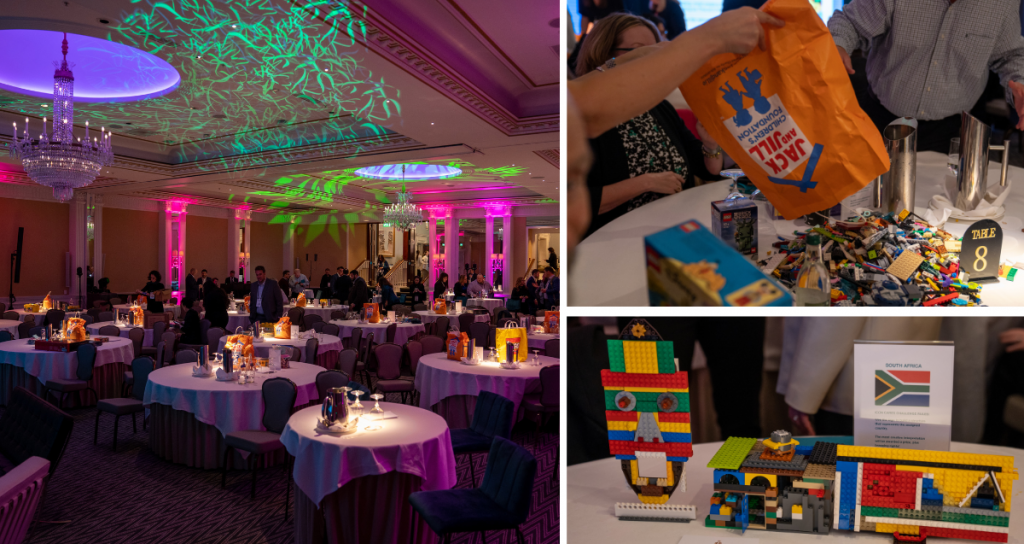 The final day started with breakout sessions and a unique team-building musical activation. Our MTA Team didn't miss a beat when asked to create an innovative, outside-of-the-box, team-building activity for 150 corporate attendees. Our team drummed up something uniquely inspiring and engaging. The attendees were each given an Irish instrument and were led in a 1.5 hour team- building activity resulting in a full performance. This was an opportunity for the attendees to have fun, laugh, and connect through music.
Sessions ended mid-afternoon to allow time for attendees to network, work, personal time and team time.
On the final evening, attendees enjoyed an elegant black tie gala dinner and awards. The experience began at the historical Trinity College Long Room Library home to the oldest book in the world. From the Long Room, attendees were escorted by an Irish bag piper to Trinity College's 18th century Dining Hall for dinner and awards. The night was capped off with a grand farewell celebration event including an energetic band performance. AV production was an integral feature of the gala event, using textured lighting to create a fascinating ambiance.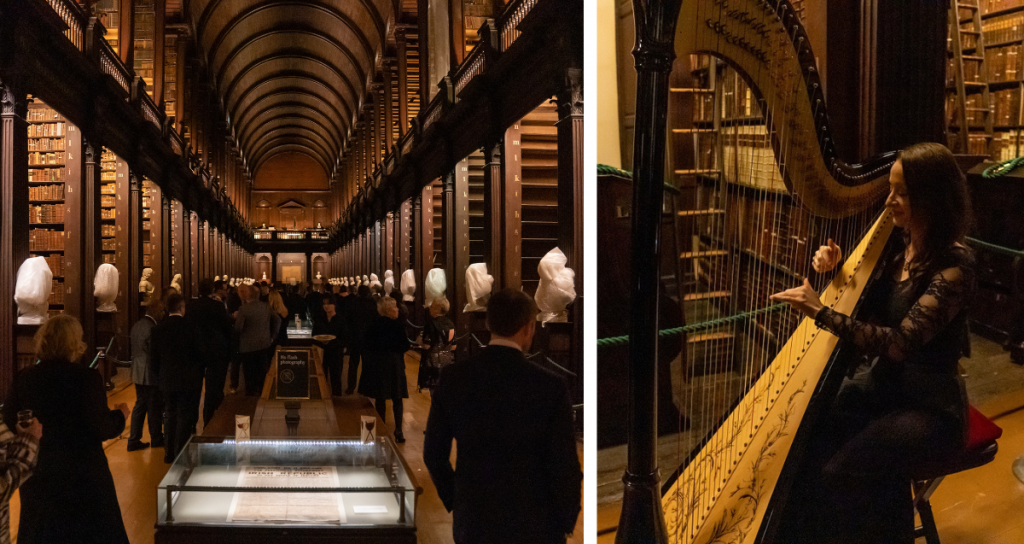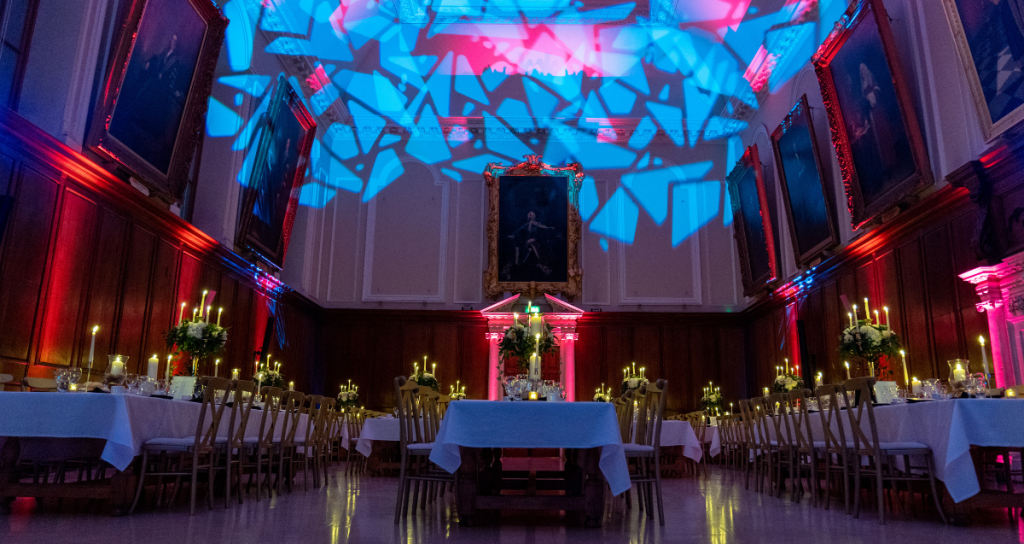 Using the customer's goals as a framework, the MTA Team designed an extraordinary Global Commercial Leadership Meeting that intentionally incorporated connection, sustainability, and engagement powered by the dynamic creativity and stellar production expertise of our MTA team.